Inspiring Exterior Wood Cladding Ideas
Natural wood can be used in many different ways. The beauty and versatility make wood unequalled building material. As both an interior and exterior design element, it adds a warm and welcoming touch to any building.
Along with technological advancements, the recent trends in sustainable architecture and "green" design have brought the oldest construction material back into the spotlight. And rightfully so. There is no better alternative than wood, a renewable and eco-friendly building material with low environmental impact, for creating healthy and sustainable living environments.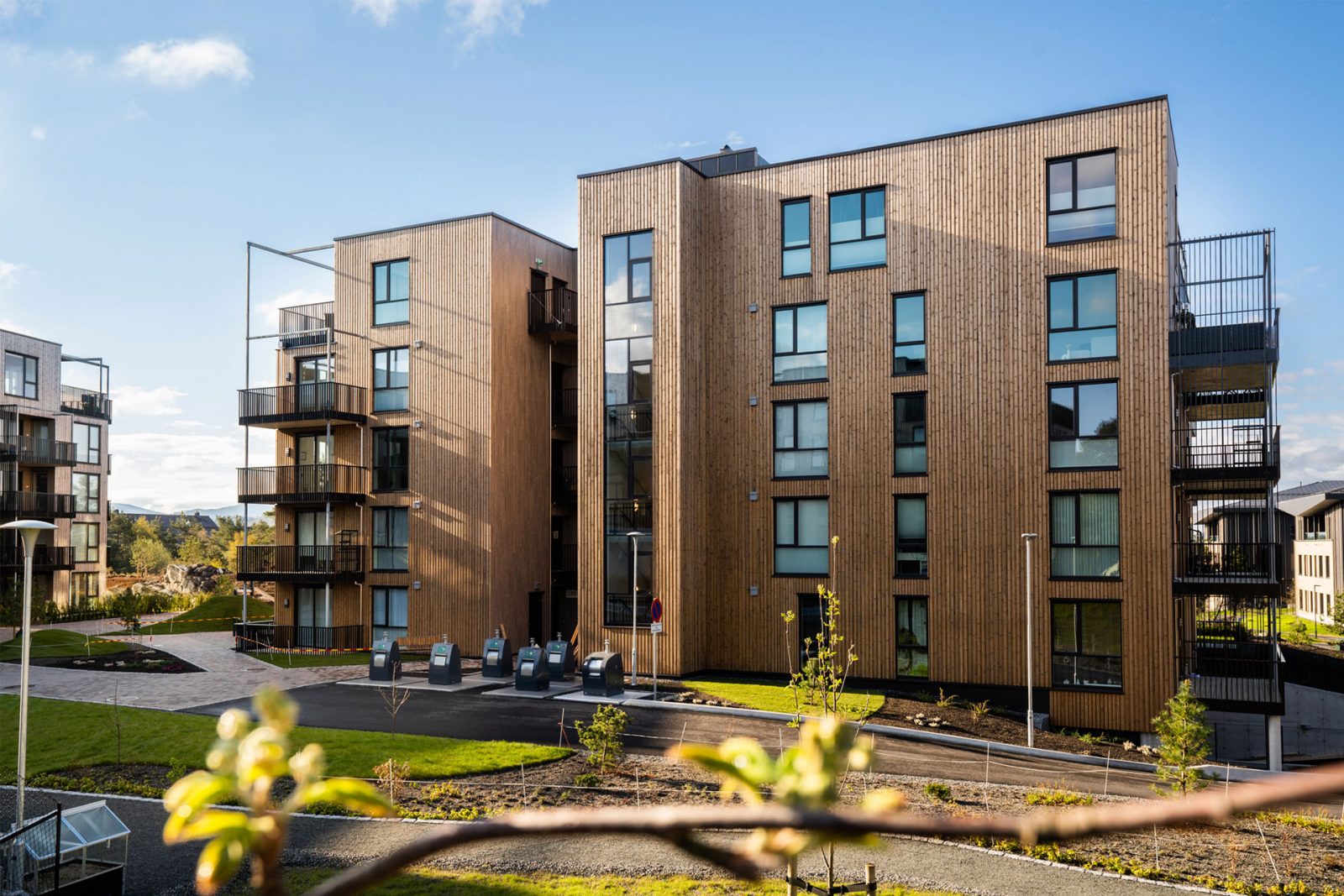 Choosing exterior cladding for your home is a crucial decision. While looking for a visually attractive finish, you also need it to be durable, solid and dimensionally stable, and suitable for various weather conditions. The numerous advantages of thermally modified wood make it a perfect material for outdoor applications such as timber cladding and decking. With an ideal combination of aesthetics and functionality, it's no surprise that thermally modified wood has become the favoured building material for many architects worldwide.
There are plenty of inspiring ways to clad your building in natural wood. If you're considering using timber for the exterior finish, take a look at the following trends. We've collected a variety of exterior wood cladding ideas from across the world to inspire your future project.
Simple vertical lines
It doesn't always have to be conventionally horizontal. Consider vertical exterior cladding for a more contemporary feel. Clean vertical lines give your house a sleek, modern look while also generating the illusion of height. Or take it a step further and play with different cladding orientations to create a design that speaks to your needs.
Together with the architectural shape of the building and its large windows, the heat-treated wood cladding creates the look of a modern family home. Vertical timber boards guide the eye up across the façade and toward the towering mountains, giving the majestic landscape centre stage.
Radiata pine, which is knot-free and dimensionally stable, adds a playful honey-coloured wood pattern to the house while providing solid protection to the walls.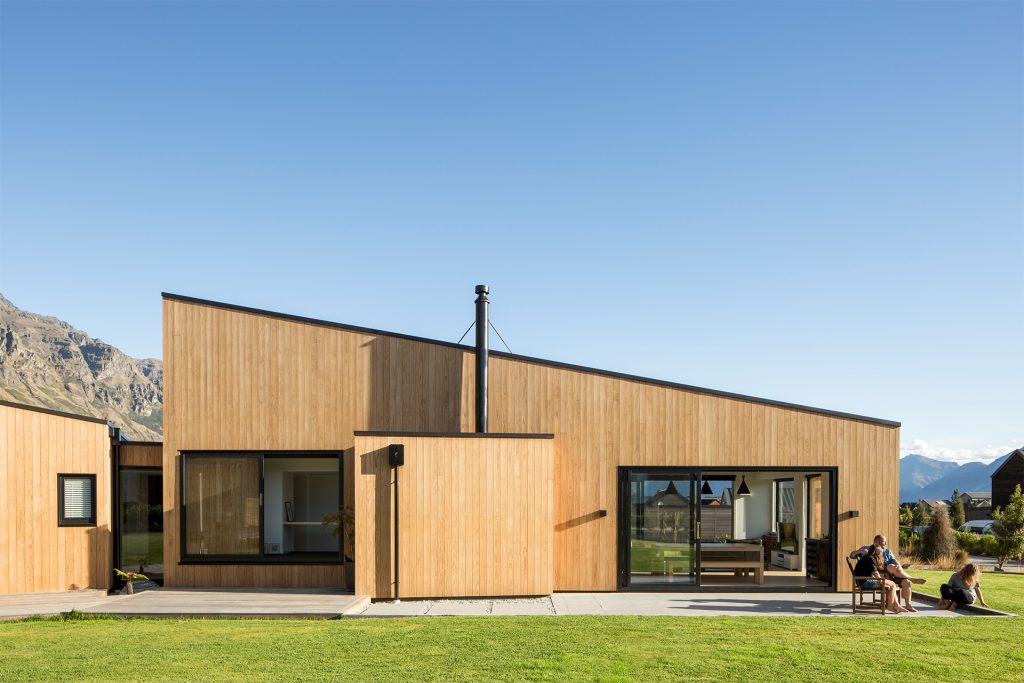 Wood as an accent
When combined with other modern construction materials like concrete or brick, exterior wood cladding can be used as an accent to add warmth and softness to your building.
Mixing different textures and surfaces, colours and grain patterns, or styles and shapes is a perfect way to generate contrasts, break up long and flat façades, or highlight different planes for added dimension.
The dark wooden feature walls against the white finish of this building create a striking contrast and deliver modern aesthetics. The exquisite look of thermally modified ash cladding brings to mind luxury and balance; clean lines and simple geometry complement it with a modern, minimalist touch.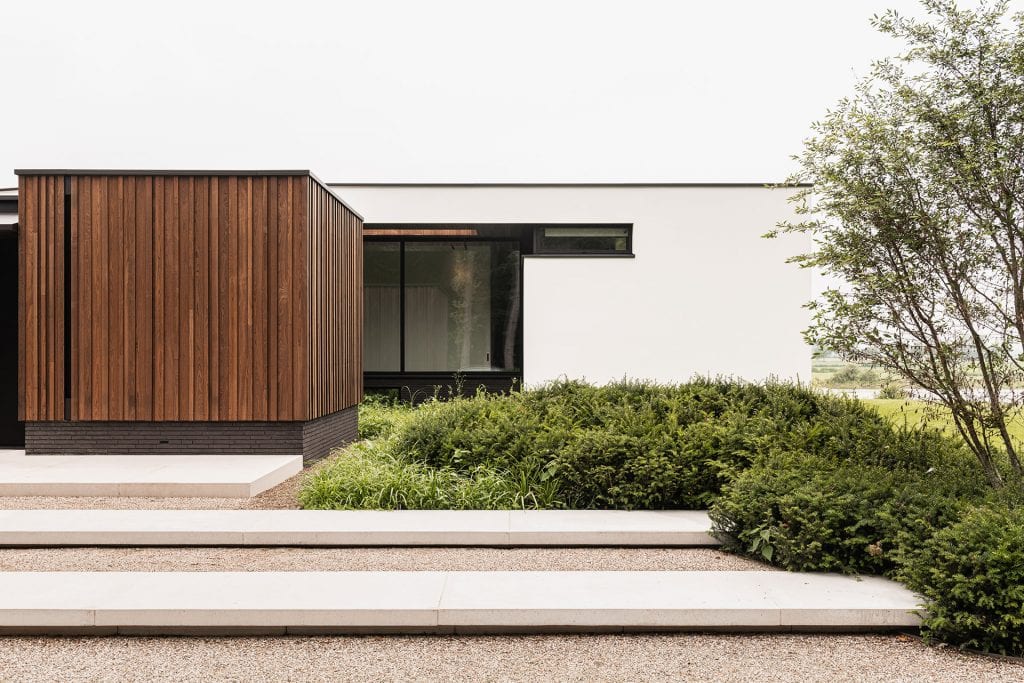 Embrace short cladding board lengths
Many architects and builders prefer long cladding boards, but short lengths are beautiful in their own way. Short cladding boards made of deep brown thermo-ash create a visually vibrant façade. The panels have a slightly distinctive, rich brown tone and a gorgeous wood grain, bringing your home's external walls to life with a dynamic display of natural hues and light reflection.
The process of cladding your house is easy and effortless, thanks to clever installation options that deliver a smooth and screwless finish. The outcome is creative and unique.
This modern take on country-house style echoes the naturally rich colour palette of the surrounding nature, making it seem like it has always belonged here.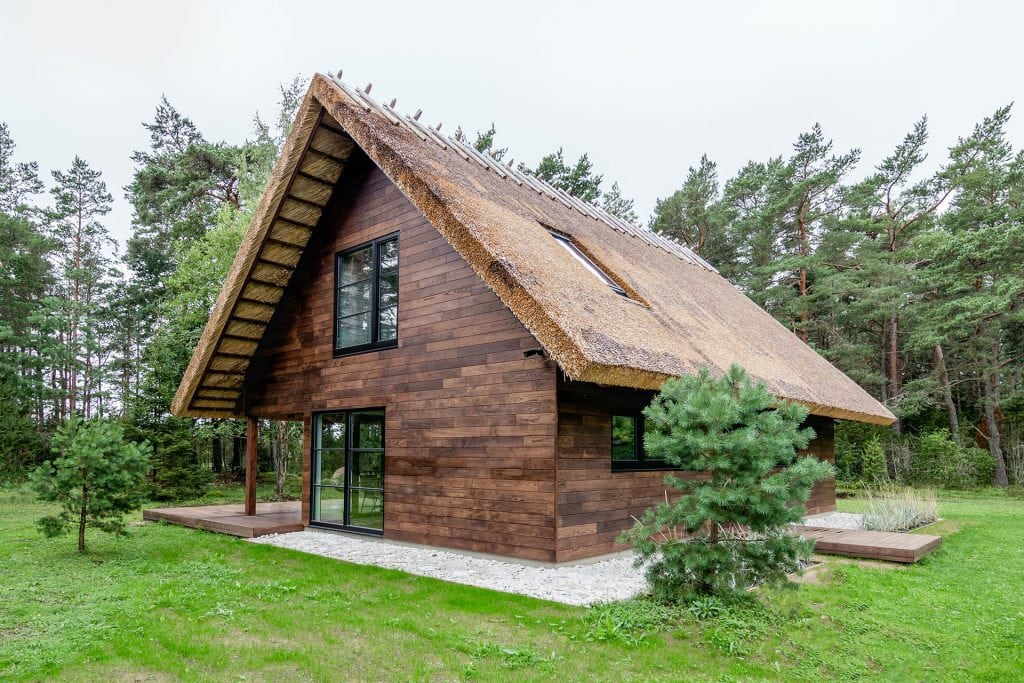 Clad in wood from top to bottom
One of the best features of wood is its versatility. Use it for decking, cladding, roofing, extend it to the garden or interior design to add visual appeal and natural beauty to your home.
For a uniform look, the same timber can be used for all components of the building. Immersed in nature, this tiny guest house is entirely clad in thermally treated ashwood. The narrow vertical timber boards cover the façade and continue on horizontal surfaces, from decking and steps to wooden pathways over the bog. The same warm-coloured thermo-ash has been used in interior design to create a sense of unity, harmony, and belonging.
Without the slightest hint of monotony, the villa in the woods offers a perfect hide-away for those on the lookout for wildlife and nature retreat.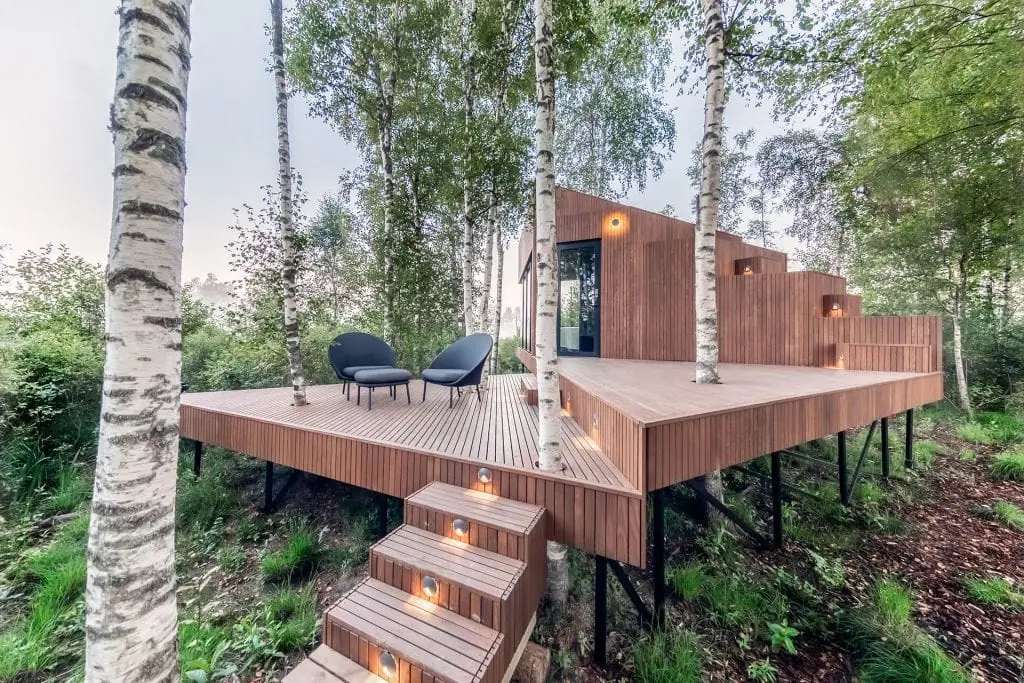 Mix and match profiles to create texture
Mix-and-match installation of wood cladding profiles creates a genuinely unique and textured façade, giving depth to an elegant display of shadows.
This upmarket waterfront restaurant boasts an ambitious contemporary architectural design. Elegant thermo-ash cladding lends its exterior a noble, exotic look rich in texture and dimension. This solid and stable hardwood is heat-treated and features superior quality to stand up to the harshest climate conditions. The rich chocolate colour of thermo-ash cladding can be preserved with regular coats of UV-protection oil.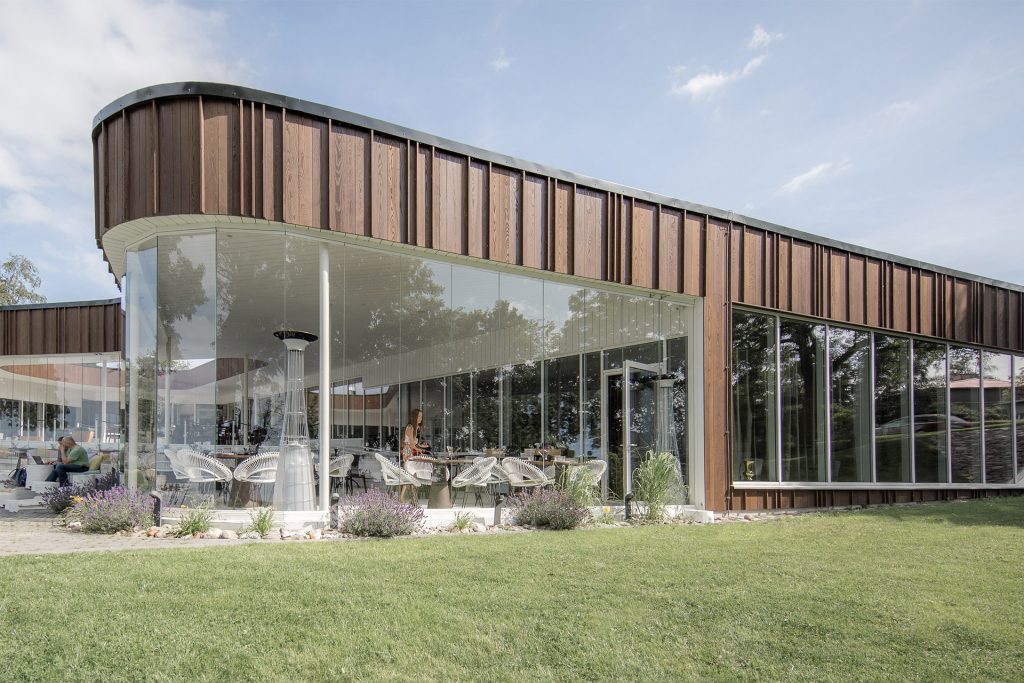 Combining different wood claddings
There are a great many ways to clad buildings in natural wood. Playing with different wood species and cladding profiles, as well as incorporating various textures, finishes, colours, and installation patterns, provide practically endless options for customising your exterior walls.
Shingles, used in construction for centuries, are now making a powerful comeback. Combine shingles and cladding boards to create an exterior wood cladding full of playful textural and dimensional contrasts.
This school building draws inspiration from a traditional historic farmhouse design in Sweden. It features a mix of different surfaces, textures, and colours on the exterior wall to deliver a dynamic and visually vibrating effect.
Considering the site's ecological and cultural sustainability, the building's architectural design takes cues from the past while giving off a modern vibe. Everything about this place speaks of a warm and welcoming learning environment that is safe, healthy, and child-friendly.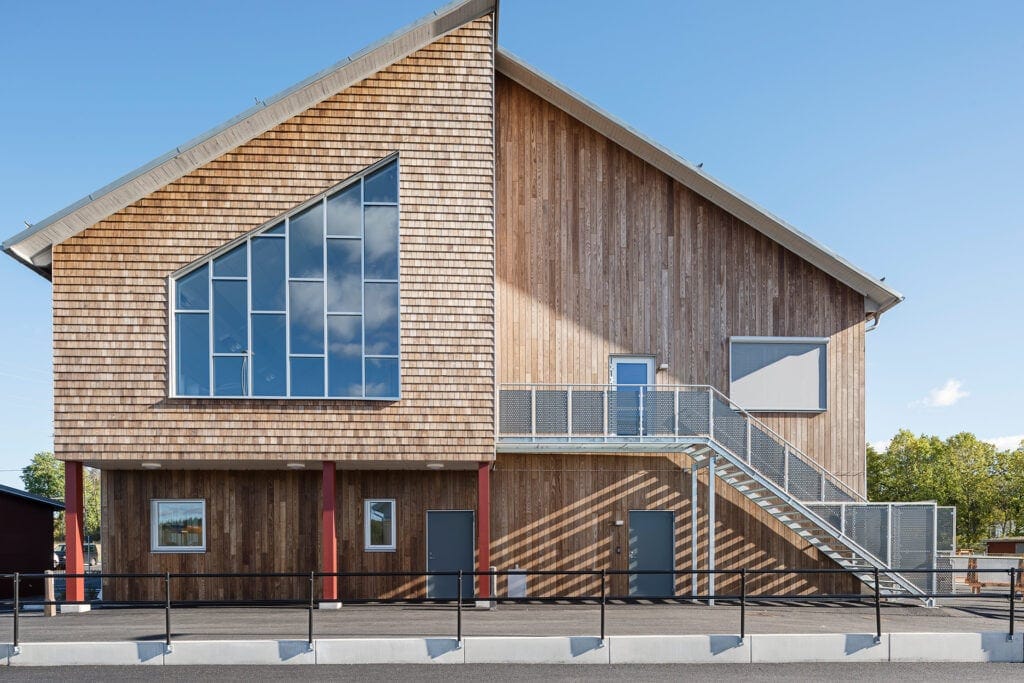 Wood slats
Natural wood slats can be used in many inspiring ways. They can be installed both horizontally and vertically, used to clad the whole building or just for cladding individual sides. Covering the façade with thin timber strips with spaces between them provides a uniform look without compromising the view from within.
Mindful of the environment, this carbon-negative building makes a strong statement. Almost the entire structure is wrapped in wood slats of thermally modified pine that provide natural shade while letting plenty of light in. This co-working building is a stunning manifestation of cutting-edge architectural design and technology.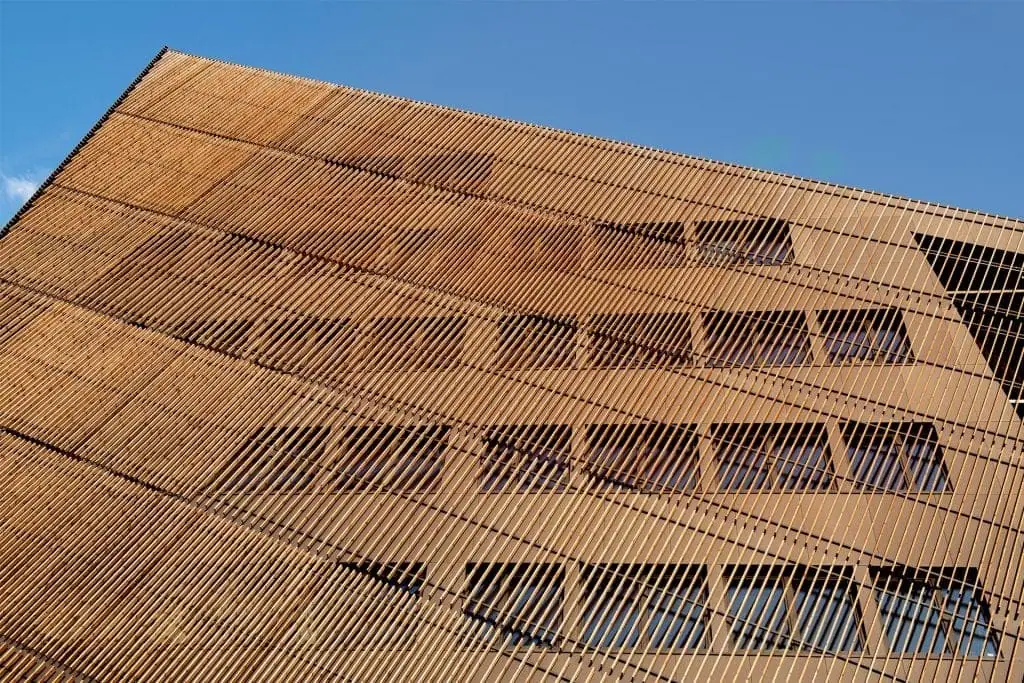 Rustic look with distinctive knots
Embrace the beauty and uniqueness of the wood. Distinctive knots of pine and spruce give any structure a natural look and countryside charm. Designed to blend into the wilderness, this softwood cladding is perfect for cottages, huts, and lodges.
The responsibly sourced softwood has been naturally modified to make it a durable, strong, and biologically resistant building material. High-performance thermowood withstands the roughest weather and requires very little protective maintenance. Time will add its finishing touch, and untreated cladding boards will take on the platinum grey hue of naturally aged wood.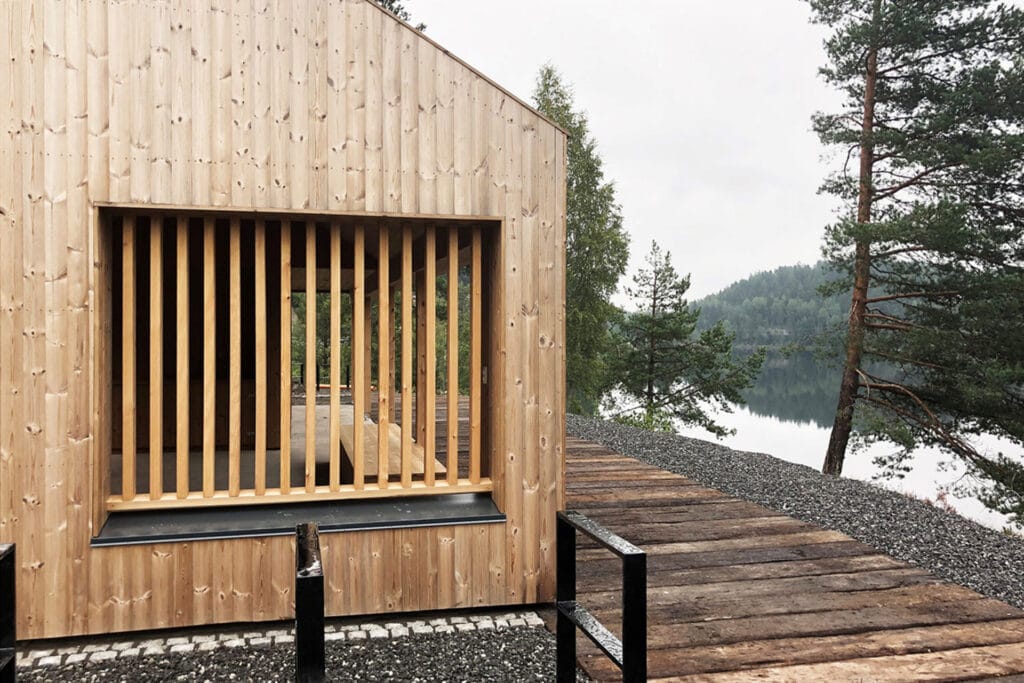 Naturally grey wood cladding
The exquisite aesthetics of weathered wood lends charm and timeless appeal to the walls. The colour of thermally modified timber ultimately fades when left to age naturally. As time goes by, the untreated natural wood cladding develops a silvery grey patina without losing its durability and weather-resistant properties.
Fuse the elegant, uniquely aged colour into the overall exterior design and surrounding nature to create a noble look that speaks to your needs. Moreover, naturally grayed cladding doesn't need any maintenance.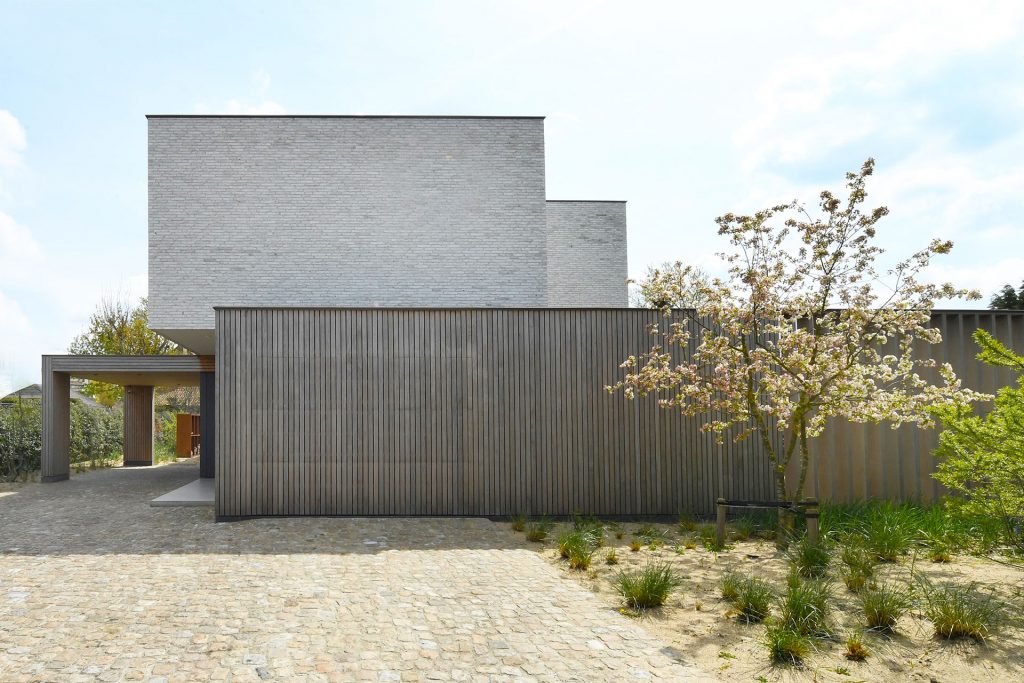 Embossed timber
What about a charcoal-black façade in homage to ancient masters? This bold look of charred wood borrows inspiration from yakisugi, the time-tested Japanese tradition of burning wood. The realistic texture and durable core are achieved with modern technology that uses an entirely flame-free, environmentally friendly thermal modification process.
Regardless of whether you go for an accent wall or wrap the entire house exterior in bold black, the charred cladding is an eye-catching and characterful choice with everlasting style.

Oustanding colours
Wood is a very versatile and customisable material. Creating colourful, attention-grabbing facades is easy with painted timber cladding.
Thermally modified wood is a safe choice to protect your house from any weather conditions, but coating it with weather-proof paint enhances the performance of thermowood cladding even more, providing long-lasting protection and care-free maintenance for years to come.
Let your creativity run free when choosing a colour scheme to brighten your house exterior.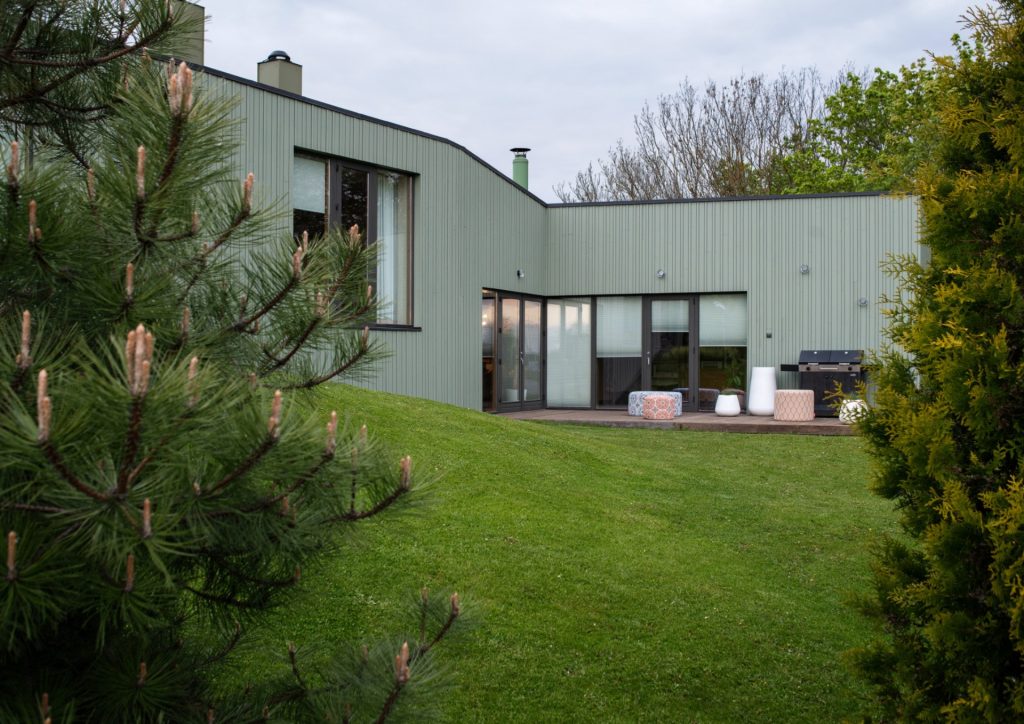 Thermo-brown for less maintenance
The thermal modification gives the wood a distinctive chocolate brown colour. Coating it with translucent paint helps preserve it while showing off its natural beauty and letting the wood pattern shine through. You will love the fresh and natural look of thermally modified wood and the ease of maintenance.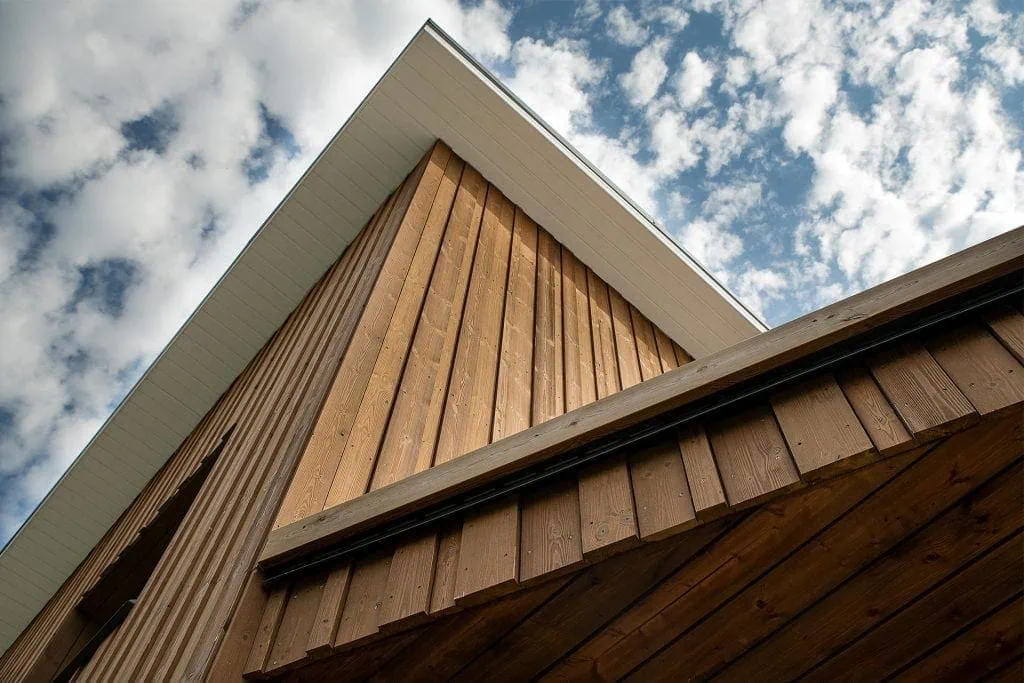 Black timber cladding
The black finish is currently one of the leading wood cladding trends. If you want to make a strong statement, a black finish is an option that makes your building stand out in any neighbourhood.
Integrating black accent walls into the exterior design, contrasting them with other colours, or cladding an extension in a dramatic black-painted timber adds a crisp and attractive accent to your home's exterior.
This stunning example features a unique combination of different materials, textures, and colours that create a striking visual contrast. The house is clad in thatch and timber, merging traditional and contemporary, rural and urban.
With "natural" written all over it, the building symbolises a harmonious and environmentally-friendly living space, honouring traditional materials, contemporary ambience, and modern comfort.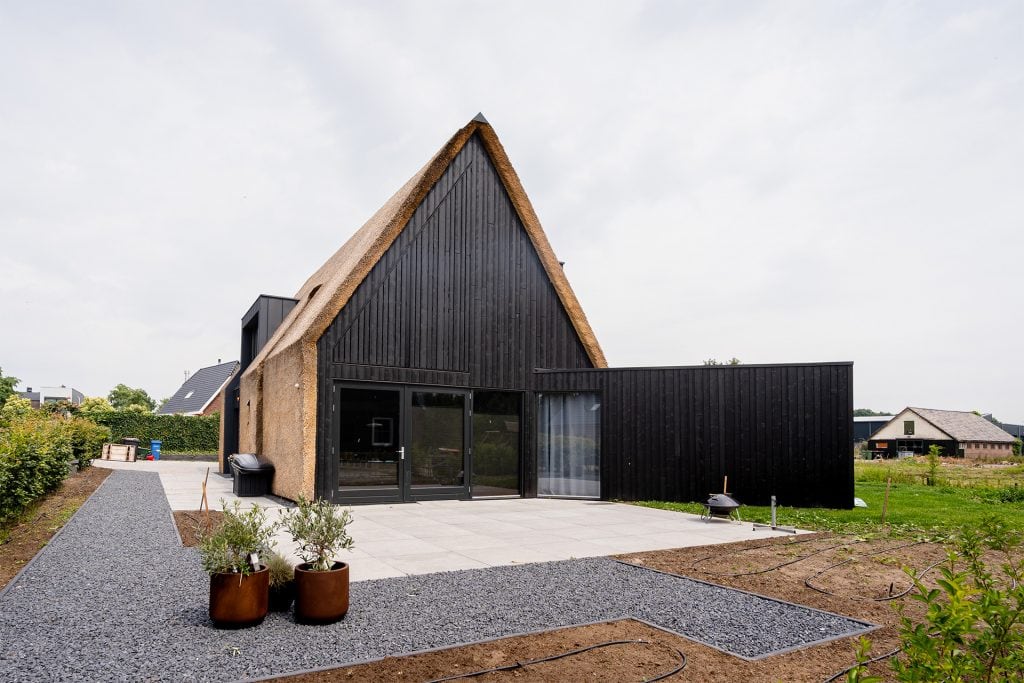 Contemporary wood extensions to historic buildings
Wood cladding is no new invention. When renovating or building extensions to old, historic houses, wood is a suitable companion that works well in all settings.
This new extension pays tribute to the historic school building. This project showcases a beautiful symbiosis of traditional and modern architecture. The two buildings, roughly a century apart yet linked by a contemporary architectural solution, harmoniously complement each other. It embodies the connection between the past and the present.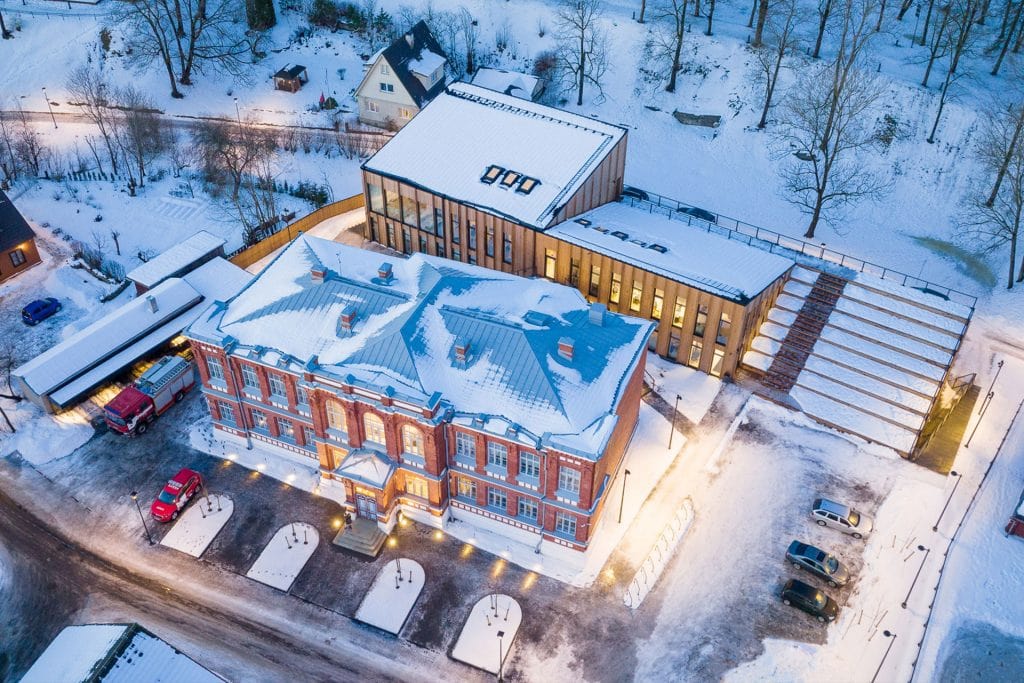 Architectural shapes
No matter the shape and size of the building, timber cladding can be used to bring out the building's best features and emphasise its architectural lines. This modern house blends in effortlessly with the surrounding woods thanks to its sleek and tall shape, clean lines, and natural wood in its exterior cladding solution.
Vertically installed natural wood cladding mimics the surrounding pine trees. Floor-to-ceiling windows open to the garden and let the forest in, creating a sense of harmony and living with nature.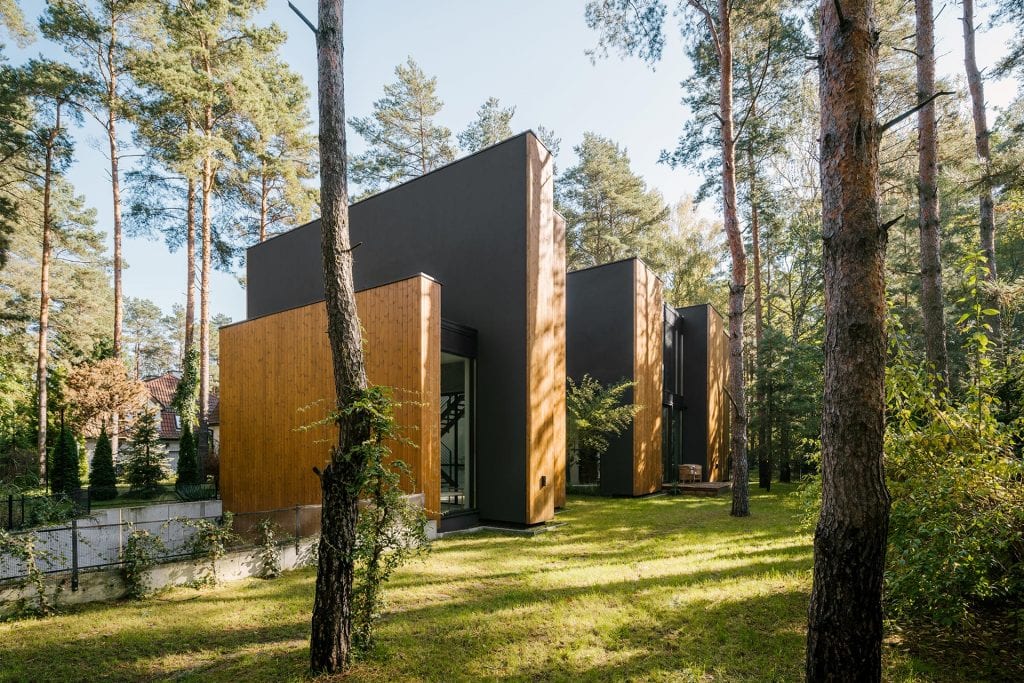 Combining wood with other natural materials
Combining wood cladding with other materials, such as natural stone, glass, or steel, adds texture and dimension to the exterior walls, and creates interest for the eye.
The house represents a skilful fusion of natural stone and heat-treated timber cladding. Naturally aged thermo-pine slats that are used for cladding and roofing have taken on a silver patina, adding an extra touch of character and natural appeal.
Overall the harmonised colour scheme together with the textural differences make for an eye-catching facade. Needless to say, all is in perfect tune with surrounding nature.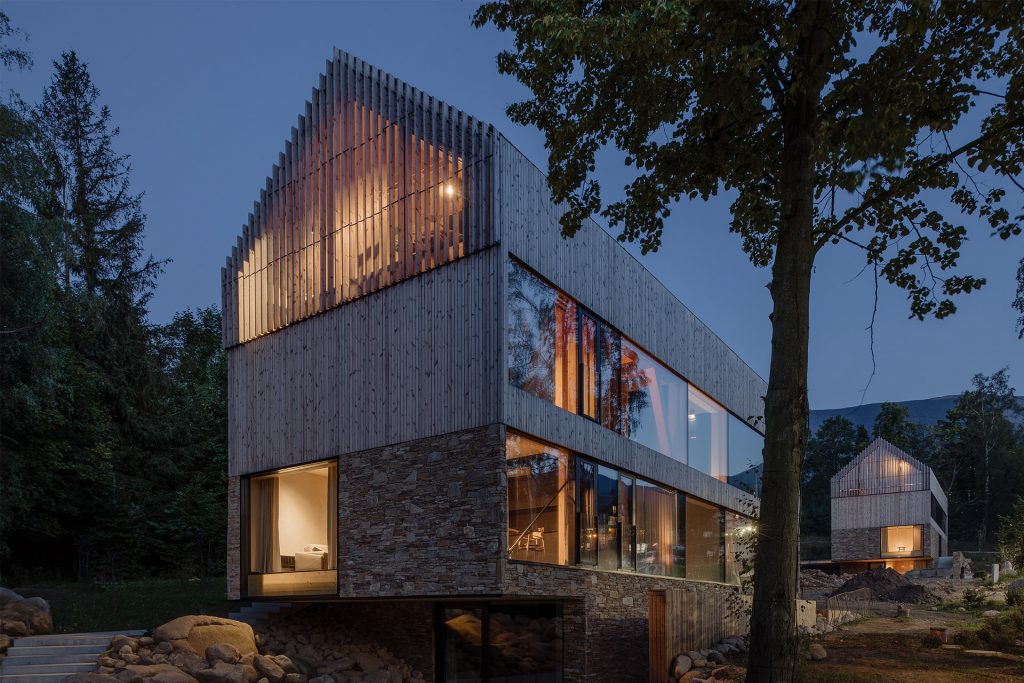 Urban living
Wood cladding is not just for private residential houses. Multi-storey apartment buildings also benefit from using wood, as it is a simple means to reintroduce nature to urban environments.
Thanks to technological innovations in the wood building industry, timber can be successfully used to construct high-rise buildings. Urban landscapes with high-rise wood structures symbolise the new chapter in construction history and sustainable architecture.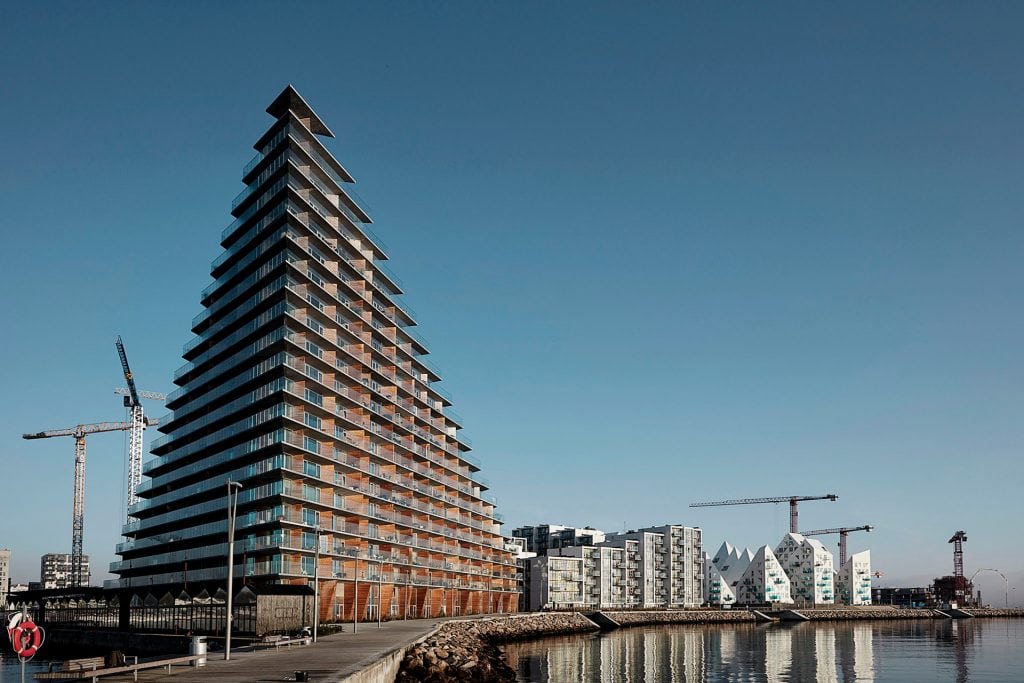 Narrow board widths
Are you looking for new exterior wood cladding ideas? Consider using narrow cladding boards if you fancy a modern and sleek look. Installing thin timber slats add warmth and sophistication to the building, creating rhythm and forming aesthetic volumes.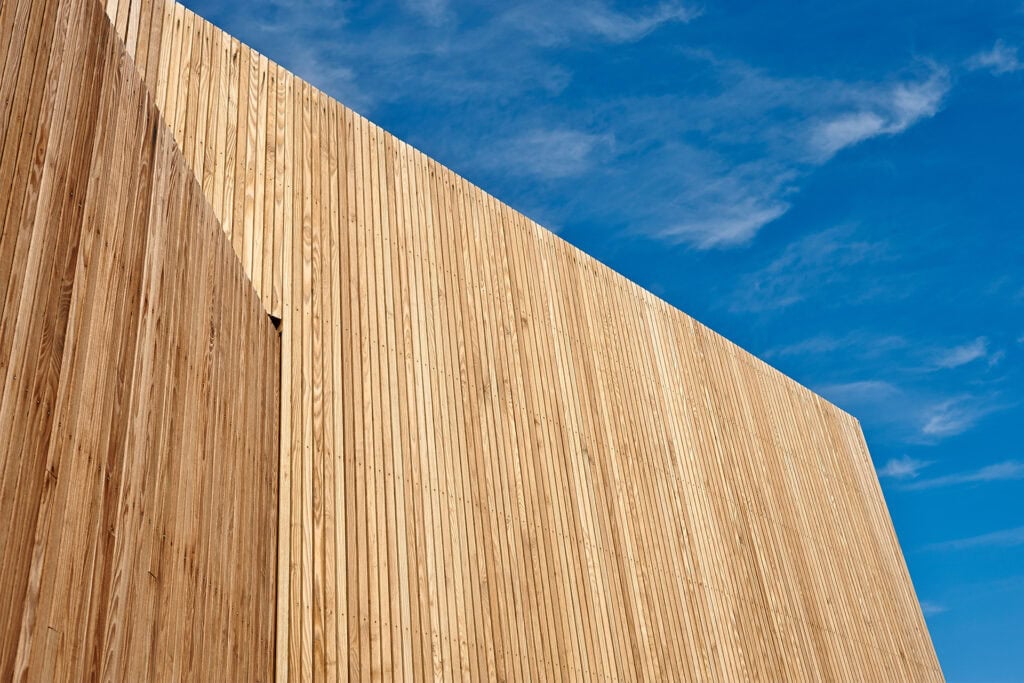 Wide cladding boards
Wide cladding boards are your best choice if you're drawn to the timeless, more traditional look. Real wood cladding with a hint of rustic appeal conveys the idea of living in nature and with nature. Use these extra-wide cladding boards with a slightly rugged look and brushed texture to bring a touch of rural charm to your home.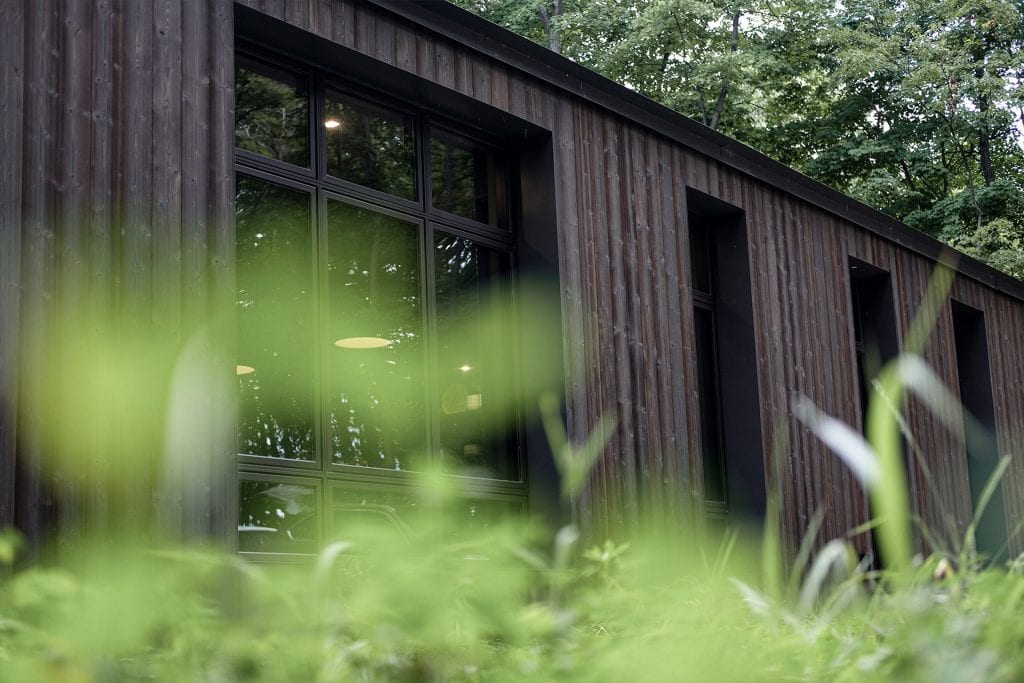 Creating patterns
Wood cladding can be installed in exciting patterns. Get creative and try mixing up different orientations for your own unique style. Innovative installation solutions and concealed connections make the installation process easy and effortless. The result is a smooth and flawless finish.

Let your imagination fly
The aesthetics and superior quality of thermally modified natural timber cladding have inspired so many innovative and creative exterior wood cladding ideas.
Thermory's wood cladding can be used in countless inventive ways to create healthy and environmentally friendly public and home environments. Consider extending your home's exterior walls to the garden and building a wooden fence or dividing wall to complement your house. Or use it for crafting garden furniture, railings, a patio, or an outbuilding to create an outdoor haven that reflects your sense of style and personality.