How does thermally modified wood perform in different climates?
No matter where you live when you're choosing a decking or cladding material, you'll have to be mindful of how that material will change over time from exposure to weather. When it comes to building with real wood, heat and humidity can have a huge impact on the cellular structure, which can damage it over time in extreme environments. What is the durability of thermally modified wood in different climates?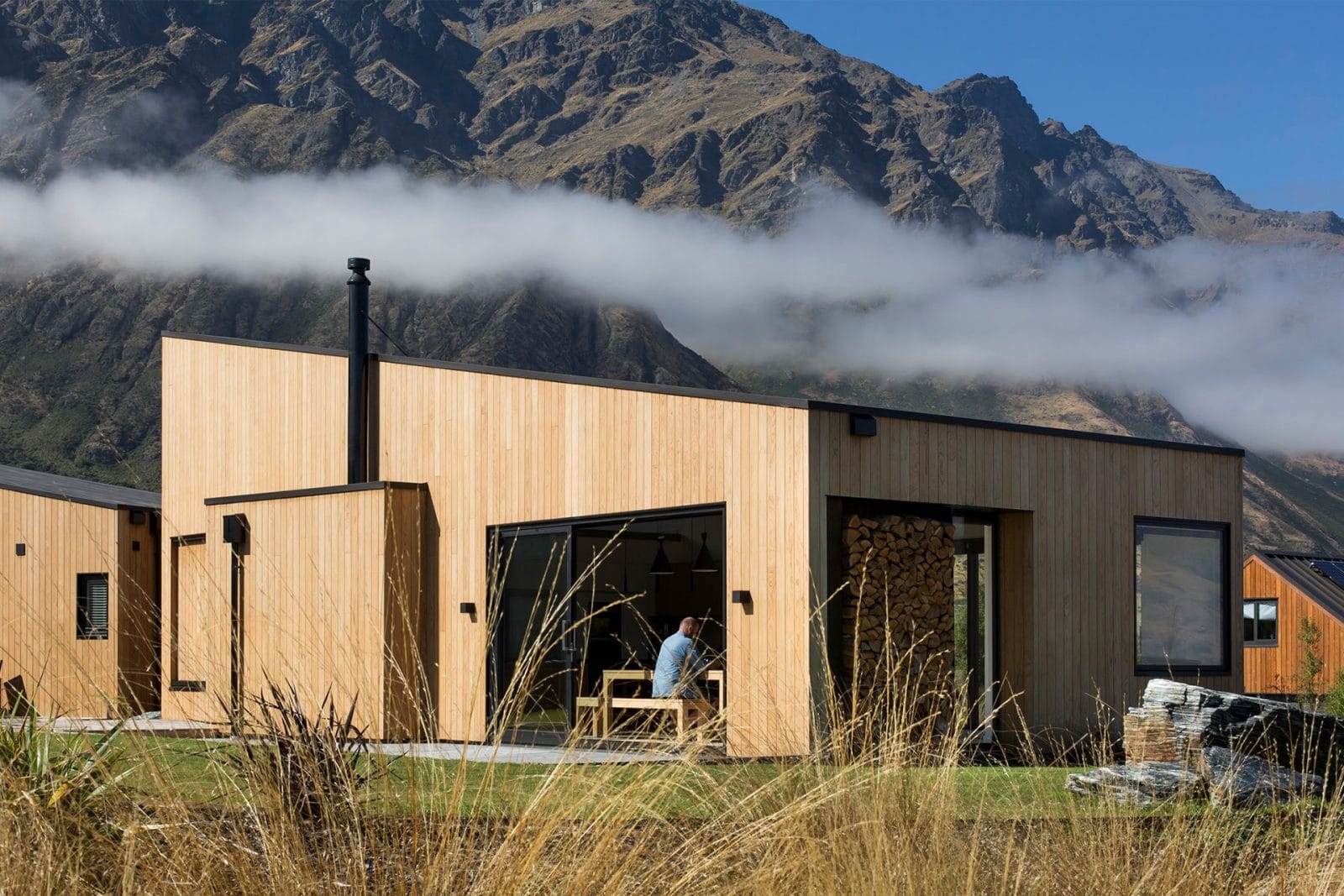 We understand that many of you are looking for a material that will hold up no matter where you live. We want to provide the information you need, and hopefully give you some inspiration to think big and design whatever you can dream up, with fewer limitations.
What Sets Us Apart
All wood products retain some moisture, which means there could be cracking, swelling, or potential shrinkage. How well lumber can cope with temperature and humidity changes depends on many factors, like the wood's species and even grain direction. Its natural resilience can also be further enhanced with a range of treatments.
Our thermal modification process isn't magic; it was developed based on scientific principles and evidence. According to a study by Zhang et. al, wood that is modified with heat absorbs much less moisture than untreated wood. This study also found that drying lumber in an oven (or a kiln) causes the chemical composition of the wood to change, making it not only absorb less moisture but weigh less overall.
At Thermory, we start with kiln-dried wood, then use heat and steam to remove the sugars from the wood that may lead to rot. Those sugars are what fungi and insects love to feed on; but our process changes the composition of wood on a molecular level. In addition, our process reduces the amount of moisture in the wood, which would normally cause warping, shrinking, expanding, or splitting. For Thermory, this means that you get exceptional rot resistance in a lightweight, easy-to-work-with product with astoundingly little thermal expansion.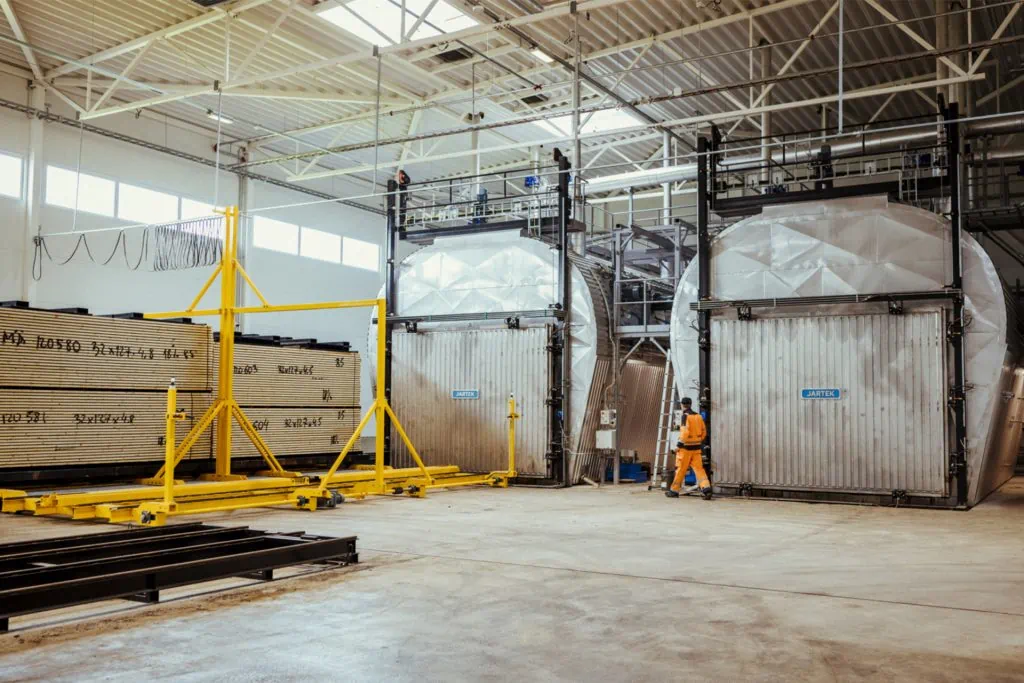 The durability of thermally modified wood in extreme climates
Everything made of wood is affected by the weather. So how does thermally modified wood perform in your climate? We've broken down some of the more extreme weather regions to help you decide if Thermory is the right choice for you and your project.
We wanted to hear about Thermory's performance in extreme climates from those who intimately understand the challenges of these environments. We talked to our distribution reps in areas known for harsh climates – southern Ontario, the Pacific Northwest, and Nevada.
Harsh Winter Climates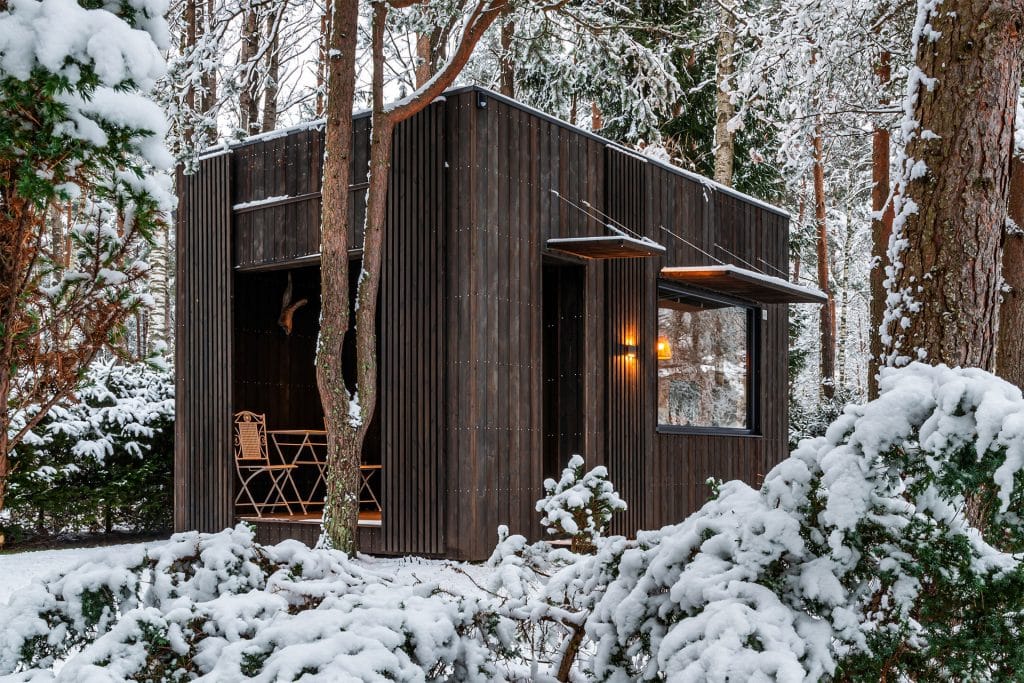 Canada is famous for its harsh winters. Sandy Mills from Stella Jones, our Thermory distributor for Canada, told us that in a place like southern Ontario where they experience all four seasons, such extremes can really affect exterior lumber products. Mills explained, "We get it all here. Summers can get up to over 100˚F (37°C) with 100 percent humidity. Winter can get down to -40˚F (-40°C) with 0 percent humidity."
The freeze/thaw cycles can wreak havoc on traditional lumber products, damaging their structural integrity and creating issues with the fasteners and installation hardware. The cold and dry air can make wood brittle and cause it to split or check, while the hot and humid conditions can make boards swell and warp. Mills reinforces the idea that Thermory's products will not swell up or shrink away from itself nearly as much as non-thermally-modified wood will, because of our process. Removing moisture and sugars from the wood helps lessen the possibility of warping or rotting.
Normally, a lot of pre-finishing and lumber treatments would be required in this kind of climate to combat those extremes, and wood is expected to be a very short-term material. While you don't need to worry about pre-finishing the cladding, we certainly recommend extending the life of your products by keeping your wood well-oiled. Even in this environment, you can expect your Thermory boards to stay in great condition for decades.
Rainy, Humid Climates
The Pacific Northwest is known for having more rainy days than anywhere else in the U.S., making wood rot a major concern for builders and homeowners. Wood in an extremely humid climate has the tendency to soak up that moisture and swell. It also makes it susceptible to rot and fungi. Rot, mold, and mildew flourish pretty much wherever there is water, food, and oxygen. Bill Bone is the Specialty Wood Products Sales Manager for IWP, one of our distributors in Portland, Oregon. Bone explains that his climate tends to be humid and rainy most of the year, with cool, rainy and snowy winters.
Thermory is a great choice for this region because of our modification process. Bone points out that with that process removing all the sugars out of the wood, it becomes very resistant to rot for the long-term. Additionally, our process removes moisture from the boards, so that it actually becomes resistant to outside moisture.
To help repel even more moisture, treating your decking or cladding with a penetrating oil can extend Thermory's life. Rainscreening can especially help protect your cladding projects from unwanted moisture. A rainscreen is essentially a double-wall construction, made up of siding with an air gap via furring strips, and a sheath.
Dry, Arid Climates

Deserts can be unforgiving with their heat, direct sunlight, and drastic temperature changes. The big fluctuations in temperature between day and night mean that typical woods will expand and contract rapidly and cause the grain to split and splinter. The dryness in the air due to the lack of humidity can also cause wood to become very brittle.
Unlike most wood, Thermory is able to stay durable and avoids getting brittle in an extremely dry, sun-soaked environment. Sandy Jensen with Greenline West in Las Vegas, Nevada also pointed out that there really isn't much of an acclimation process needed, since the wood already comes at such a low moisture level. Jensen said, "Like all wood, it will move, but Thermory will move very little, which is very important for Nevada; it doesn't shrink." Also like most wood products, Jensen noted, "Thermory might get some hairline cracks on the face but that is simply aesthetic, not structural."
Jensen remarked that in a desert climate like Las Vegas, Thermory may silver very quickly because it is exposed to the sun all the time. If you're looking to maintain the original brown color, we recommend applying a penetrating UV-protectant oil, every six months (at first) to keep it looking fresh.
Stable in Any Climate
Compared to other materials, Thermory stays cool to the touch during the hot, summer months and is as aesthetically pleasing as it is high-performing. The heat transfer (or lack of it) was a huge highlight pointed out by our distributors.
Across markets and climates, Thermory is a stable wood product that can be used anywhere. It's so stable that in many climates, you can even leave it untreated if you want without a worry of rot, warping, shrinking, or splitting. While most products may have to be treated every single year or completely replaced every five to ten years, Thermory has been rated for 15-25 years of rot resistance (depending on the species). However, with a little maintenance and care, it can last much longer.
All of these features allow for designers and architects to use real, solid wood products in outdoor spaces where they might not typically be used, like snowy Ontario, rainy Portland or dry Nevada. You can rest assured that if you want to build it with wood, Thermory can help you see that project through, no matter where you are in the world.
Sources
How heat affects timber. (2020, September 21). International Timber.
Wengert, G. (2014, January 24). Cold Weather and Woodworking. Association of Woodworking & Furnishings Suppliers.
Zhang, Y., Xu, D., Ma, L., Wang, S., and Liu, X. (2017). "Influence of heat treatment on the water uptake behavior of wood," BioRes. 12(1), 1697-1705.
Originally published on Thermory USA.