How to keep your Thermory cladding looking great
To ensure that your Thermory cladding retains its natural warm and authentic character, it's important to apply the correct maintenance techniques. The warm, dry conditions of summer make this the best time of year to carry out any maintenance, so we've put together a handy guide to help you keep your cladding in good condition and looking its best for years to come.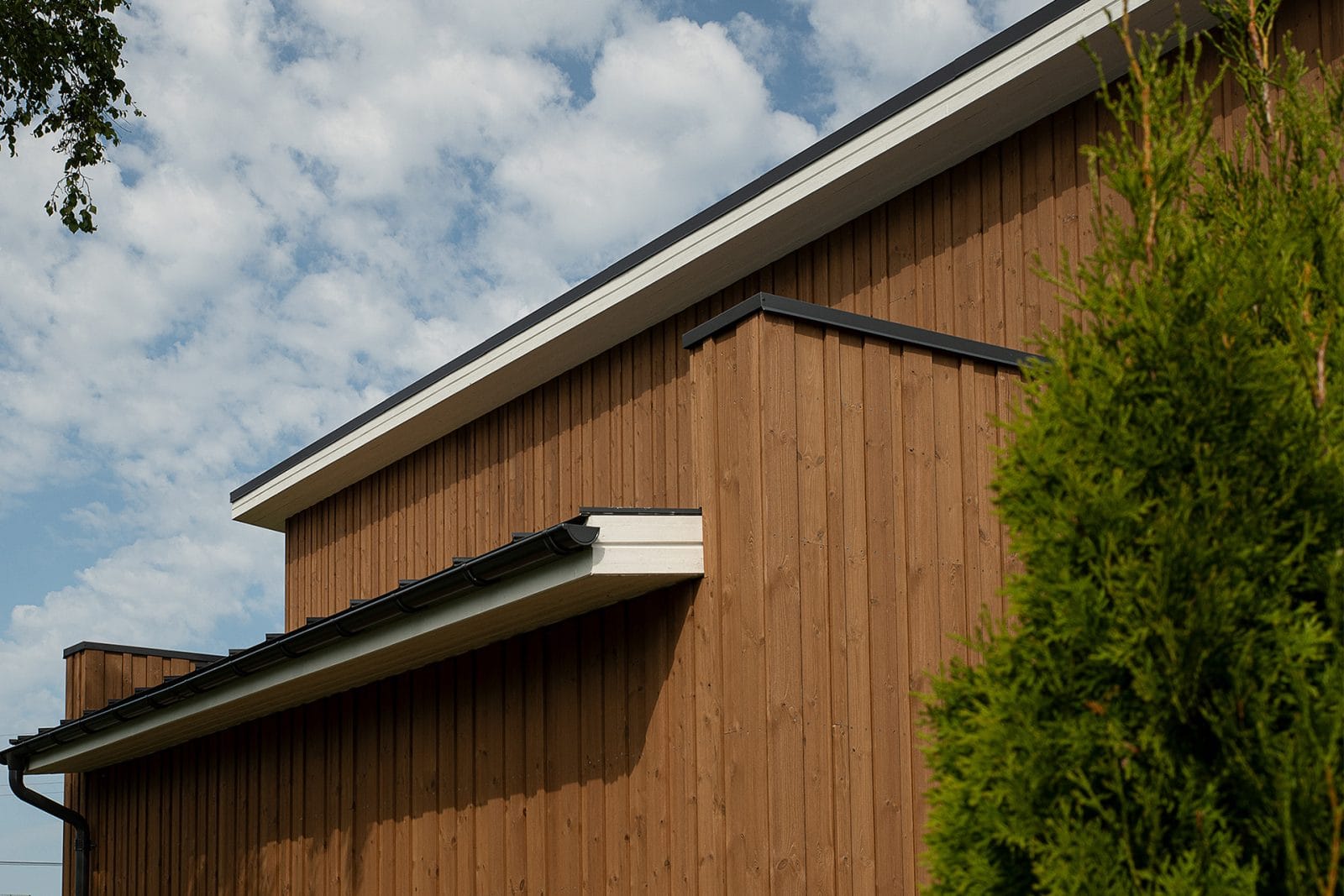 Always read the instructions
Thermal modification enriches the natural tone of wood as well as enhances its durability and stability, making it perfect for both indoor and outdoor use. Proper installation and good maintenance will help you get the most out of your cladding, so remember to follow the instructions that come with your Thermory products!
Thermory wood naturally changes color over time

Like any wood product, thermally modified wood will change color when exposed to sunlight and the weather. This a natural process that doesn't affect the durability of the material. Over time, unpainted Thermory boards will age to a beautiful silver-gray shade with some light cracking on the surface. This aging process starts as soon as the boards are installed and can take anything from a few months to a few years depending on the intensity of the sun and the weather conditions.
Keeping your Thermory cladding clean
If you have Thermory cladding boards installed indoors, you'll get to enjoy the beautiful deep wood tones for decades. And looking after them couldn't be simpler – whenever they need a little TLC, use a clean cloth to wipe off any dirt or dust or wash down with water and a soft brush. For outdoor cladding, you should look to clean the boards at least once a year. If you find that they're getting particularly dirty or mossy you can, of course, clean them more often – but an annual clean should usually be enough to keep them in top condition.
As with indoor cladding, cleaning Thermory boards that have been installed outdoors is pretty straightforward. Start by scrubbing off any dirt, moss and debris with water and a soft brush. Once this is done, clean the boards with a dedicated wood cleaner and warm water and then rinse. When it comes to rinsing, keep in mind that strong jets of water can damage the wood's surface, so we recommend that you avoid using a pressure washer. Instead, rinse your cladding with a garden hose using a spray tip on a low-pressure setting.
Looking after the environment
At Thermory, we don't use any chemicals in the production of our thermally modified wood, and all of our products are made with the environment in mind. For this reason, we recommend avoiding solvent-based products when carrying out maintenance on your Thermory cladding boards. Water-based alternatives are much more environmentally friendly and there are many products available for you to choose from.
Finishing uncoated Thermory cladding
If you've installed uncoated cladding boards, there are a few ways to minimize any cracking and color changes, and wood that has faded over time can also be restored to its natural shade. If you prefer, you have the option to change the color of the wood too. To slow the color-fading process, protect your Thermory boards with a UV-resistant pigmented finish such as a wax, stain, paint or mineral oil. However, remember to steer clear of organic oils as they can be a food source for bacteria and mold.

If you want to delay cracking while still allowing the wood to gray, finish it with a colorless oil. Alternatively, if you have a specific shade in mind for your Thermory cladding, apply a UV-resistant wood preservative tinted with your desired color. Finally, if you're thinking of painting your Thermory cladding with a solid color, choose a paint that's suitable for use with thermally modified wood – there is a range of products available on the market. In all cases, remember to apply your finish to a clean, dust-free surface and always follow the manufacturer's instructions.
Finishing coated cladding
If you're looking to apply a fresh finish to oiled Thermory cladding boards, we recommend using a product that matches the original shade. The oil coating will usually last between one and three years, depending on the weather, so you should replenish at least once every three years. However, if the wood surface starts to look worn or uneven before then, you can choose to refinish the boards sooner.
Before applying paint or oil to cladding boards, the surface must be clean, dry and free of dust, so start by removing any loose paint, dirt and other debris with warm water and a scrubbing brush, then leave them to dry thoroughly. If applying paint or a tinted oil product, give it a good mix and test it on a small area first before applying it to the rest of the façade. Apply the finish on the cladding boards using the tools and application methods recommended by the manufacturer. Remember that drying times will vary from product to product, so it's important to follow the suggested waiting times before applying an additional coat.
When to treat coated boards

The maintenance schedules for coated Thermory cladding will depend on the type of board you have installed. Drift and Vivid Silvered boards don't require any additional finishing – the coatings on these products are designed to harmonize with the wood's aging process until it reaches a beautiful silver-gray finish.
For Vivid Translucent 7 boards, touch up the finish when the surface starts to look worn or uneven, and at least once every seven years, using a translucent water-based paint that matches the tone you're looking to achieve for your façade.
If you've installed Thermory Ignite boards, you'll no doubt be keen to maintain that unique charred look. To do this, replenish the finish when the surface starts to look worn or uneven – at least every five years for Ignite 5 boards using a water-based, semi-translucent black paint, and at least every seven years with a water-based, opaque RAL9005 paint for Ignite 7.
Vivid Opaque boards should be refinished with a water-based opaque paint whenever the wood surface starts to look worn or uneven – at least every 10 years for Vivid Opaque 10 boards and every 15 years for Vivid Opaque 15 boards.
We hope you've found this guide useful. You can refer back to it any time for an overview on how to keep your cladding boards looking good as new, giving your façade that authentic warmth that only wood can bring, for years to come.