Add texture to your interior or exterior walls
Shingles by Thermory, with their resawn surface, are a trendy way to add texture to your interior or exterior walls. Intense thermal modification increases the panels' dimensional stability and durability while bringing out the wood's natural beauty.
Like all Thermory products, the shingles will naturally gray over time, bringing a uniquely elegant tone to your design.

THERMALLY MODIFIED
You have to touch it to believe it

STABILITY
Dimensionally stable in changing weather conditions

SUSTAINABLE
Responsibly harvested with chemical-free modification
Why choose Thermory Shingles thermo-ash panels?
Thermory Shingles panels are a combination of thermo-ash shingles and Baltic birch plywood with a vapor-permeable roof membrane. They offer a superior panel solution for an eye-catching result with the most common and simple installation practices.
The shingle panels are tongue and groove fitted and can be nailed onto joists or flat surfaces with ease. This reduces installation time considerably, provides strong wind resistance and creates a water barrier for a longlast- ing quality product.
Thermally modified ash is an environmentally friendly alternative to tropical wood – our wood comes from sustainably managed forests and we never purchase timber that originates from endangered woodland, tropical forests or rainforests.
Thermally modified ash has similar durability characteristics to tropical wood (Class 1, 25+ years) with superior dimensional stability.
Thermally modified wood's lower moisture absorption capability and rate results in less moisture-induced deformation, which means that the wood shrinks and expands less when used outdoors.
Our thermally modified ash is a nature-friendly material as no chemicals are used and no harmful waste is generated in the thermal modification process.
View products

Contact us

Thermally modified ash is a responsible alternative to tropical timber
Tropical timber is considered the gold standard for durability in wood. This wood is of course valuable, but millions of hectares of rainforests are cut down to acquire it. We offer the alternative of using a tree species that, after thermal modification, offers wood with comparable durability and functionality to that of tropical tree species – without destroying rainforests.
Our thermo-ash cladding is naturally as durable as tropical wood, or even more so, with a rich deep color. Unlike tropical hardwood, thermo-ash is environmentally friendly, non-toxic and rot resistant for at least 25 years if installed properly.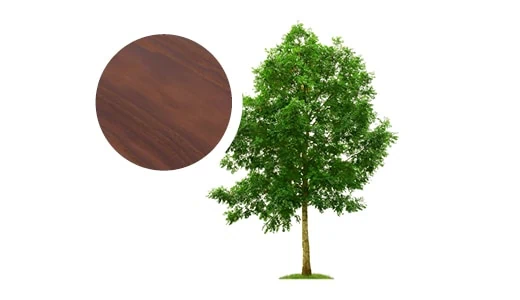 Ash is lightweight and durable
Ash (Fraxinus excelsior or Fraxinus americana) is a deciduous tree of the Oleaceae family that grows in Europe and North America. Ash wood is valuable, durable and strong, and with its decorative look and attractive texture, it's the perfect material for wall and floor surfaces.
Thermal modification gives ash exceptional durability and an exotic tone, making it an environmentally friendly alternative to tropical deciduous trees.