Discover five cozy forest cabins made with wood from Thermory
Sometimes, the best place to unwind and get away from it all is a secluded forest cabin in breathtaking surroundings. Find inspiration for your next get-away!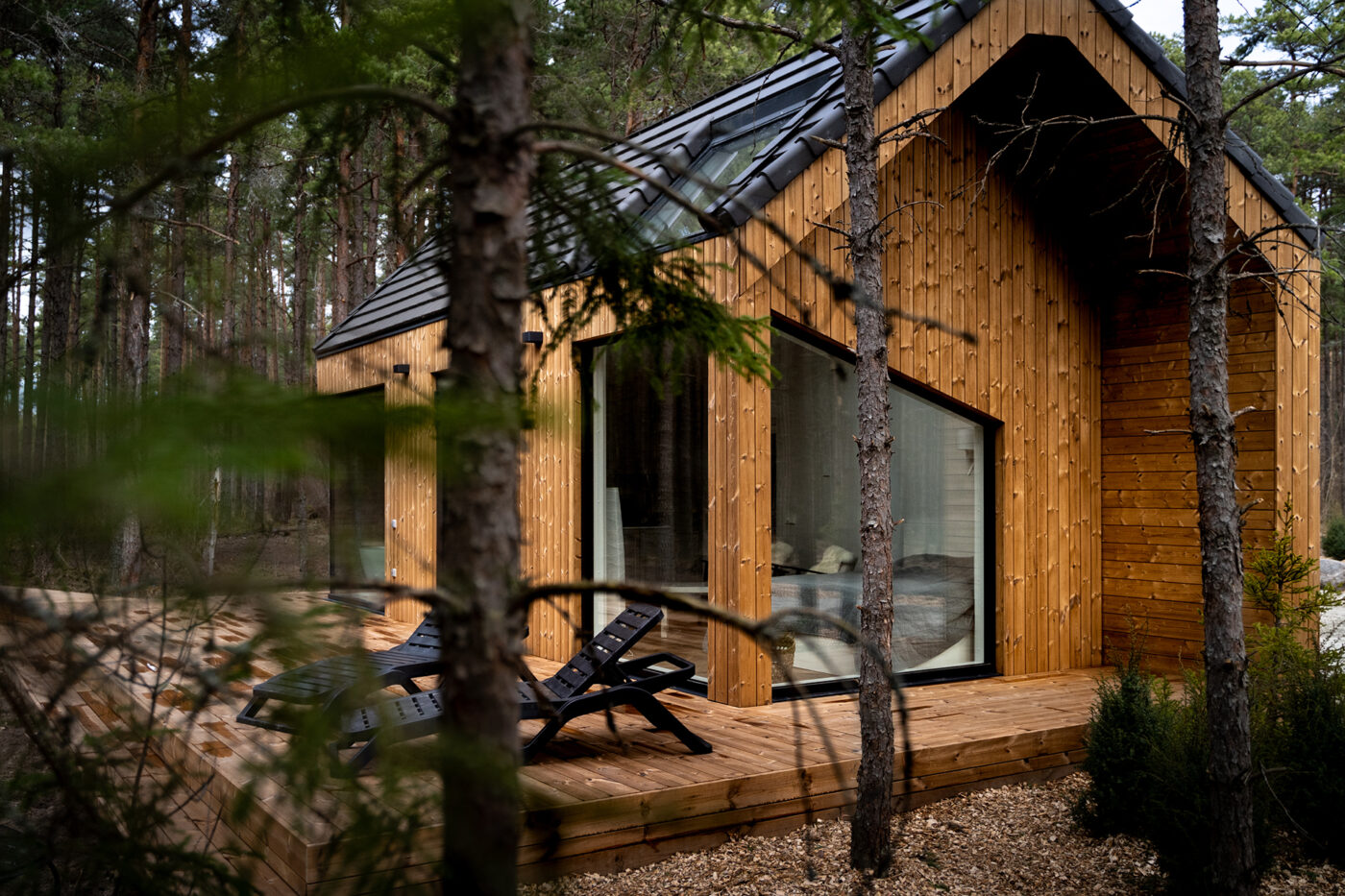 It's no great surprise that nature breaks are becoming increasingly popular for families seeking a more down-to-earth gathering or getaway – after all, spending time in buildings that make use of biophilic design principles can help us feel closer to our natural heritage, and ditching the hustle and bustle of city life for a while to reconnect with nature can work wonders for our mental health.
To get you inspired, we've put together a collection of luxurious forest cabins with designs that make use of our wood. These cabins show off a range of snug styles and intimate features that are sure to bring you a feeling of warmth and relaxation just by looking at them – and by using wood as their main construction material, their designs also have the added benefits of mirroring their natural settings and offering impressive sustainability credentials.
Wuud Stay

Wuud Stay is the place to come for enchanting relaxation breaks, immersed in the forest of Muhu island in the West Estonian archipelago. With large windows enabling stunning natural views beyond its four walls and all the creature comforts you could desire within, Wuud's forest cabin is the ideal place to get away from it all.
The exterior walls of this luxurious "mini-house", which features a full-size bathtub and a sauna, are clad in Thermory's thermo-pine and thermo-spruce. With distinctive knots and a characteristic warm golden-brown color, these durable cladding boards match perfectly with the cabin's opulent interior features while also allowing it to blend seamlessly into the surrounding pine forest.
ÖÖD Hotels

ÖÖD Hotels offer inspiring and relaxing vacations in some simply breathtaking locations, with a wide variety of unique, nature-inspired cabins dotted around eight different countries in Europe and North America.
The majority of ÖÖD's wooden cabins are made with Thermory's thermo-ash cladding, which offers 25+ years' rot resistance and a smooth, knot-free surface with a rich, deep tone that adds to the cozy aesthetic of the cabins' interiors.
ÖÖD is a family-run business, and the concept was first inspired by a lack of suitably stylish and relaxing accommodation that sits comfortably within its natural environment. In their own words, "it's not just an overnight stay – it's an experience".
Idyll Reserve

Idyll Reserve, nestled among the picturesque surroundings of Hocking Hills, Ohio, is the ideal place for a natural getaway that blends style with sustainability. Idyll Reserve's five beautifully designed cabins make generous use of our wood throughout, with Thermory hardwood floors indoors and stylish black-stained Thermory cladding around the buildings' exteriors.
Meanwhile, the owner's meticulous material selection adds to the sense of luxury, with the interior spaces featuring various entertainment areas and fully fitted kitchens with stylish furniture and cozy fireplaces. Guests also have access to Idyll Reserve's outdoor Thermory Barrel Saunas, clad with our Ignite finish, so there's no excuse for not feeling warm and toasty while staying here!
Maidla Nature Resort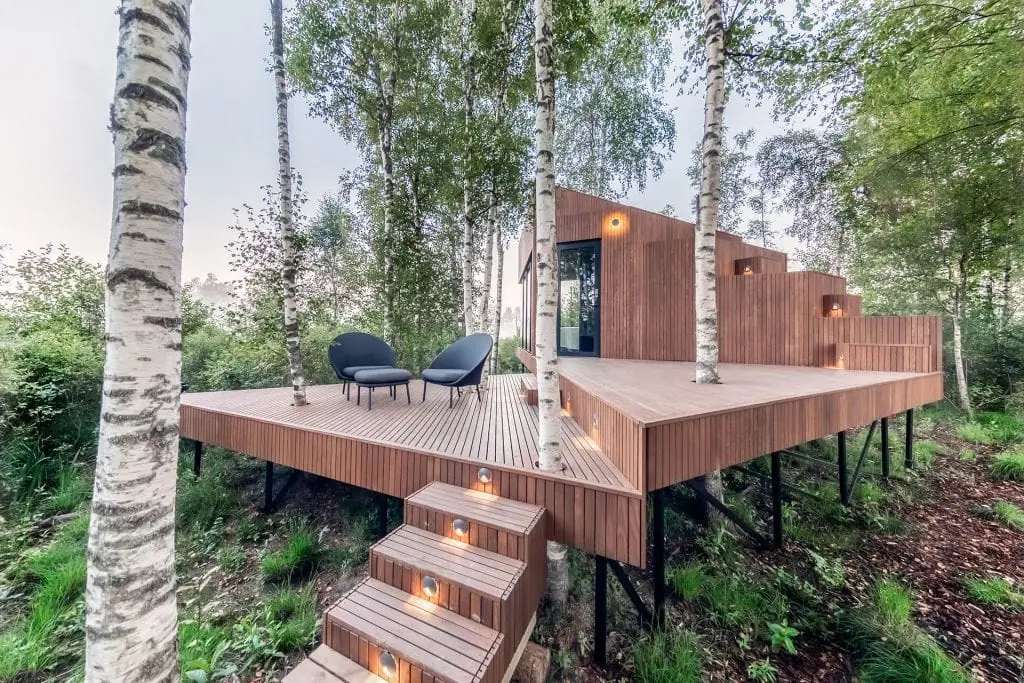 Nature Villa Kaseke was built in the heart of a birch forest at Estonia's Maidla Nature Resort without a single tree needing to be cut down, highlighting the resort's commitment to creating a treehouse experience that's in harmony with nature.
Thermory's thermally modified ash was used for the villa's interior and exterior cladding, as well as the outdoor decking, lending an attractive visual appearance and impressive sustainability performance to the unique, multi-award-winning design created by architects b210.
Kaseke boasts the ultimate in luxury and comfort throughout its diminutive 22 m2 footprint, which houses a king-size bed, fireplace, shower and air conditioning unit.
Yoki Treehouse

HomeTree offers unique breaks in locations across Texas, California and Hawaii, with a range of accommodation options designed to get guests feeling closer to nature, including treehouses, huts, safari tents and glass houses.
The Yoki treehouse is right at home among ancient cypress trees at HomeTree's Austin location. The construction uses Thermory Drift cladding, with the weathered "reclaimed" look belying the thermally modified wood's impressive durability rating of 25+ years.
Deceptively spacious within, with large windows opening up incredible views of the forest, Yoki features a full-size bath, a kitchenette and a roof deck that adds to the exhilarating experience of relaxing right on nature's doorstep.