Apartments in Wolf Clearing
Polish mountain town gets contemporary rental complex for visitors. Apartments in Wolf Clearing is a residential design in the Polish town of Karpacz, which is a popular destination for hiking and skiing the Karkonosze Mountains. The idea behind the building was to offer design-forward rental accommodation in the area, which is rich with accommodation and restaurants, for those who are looking for a unique travel experience.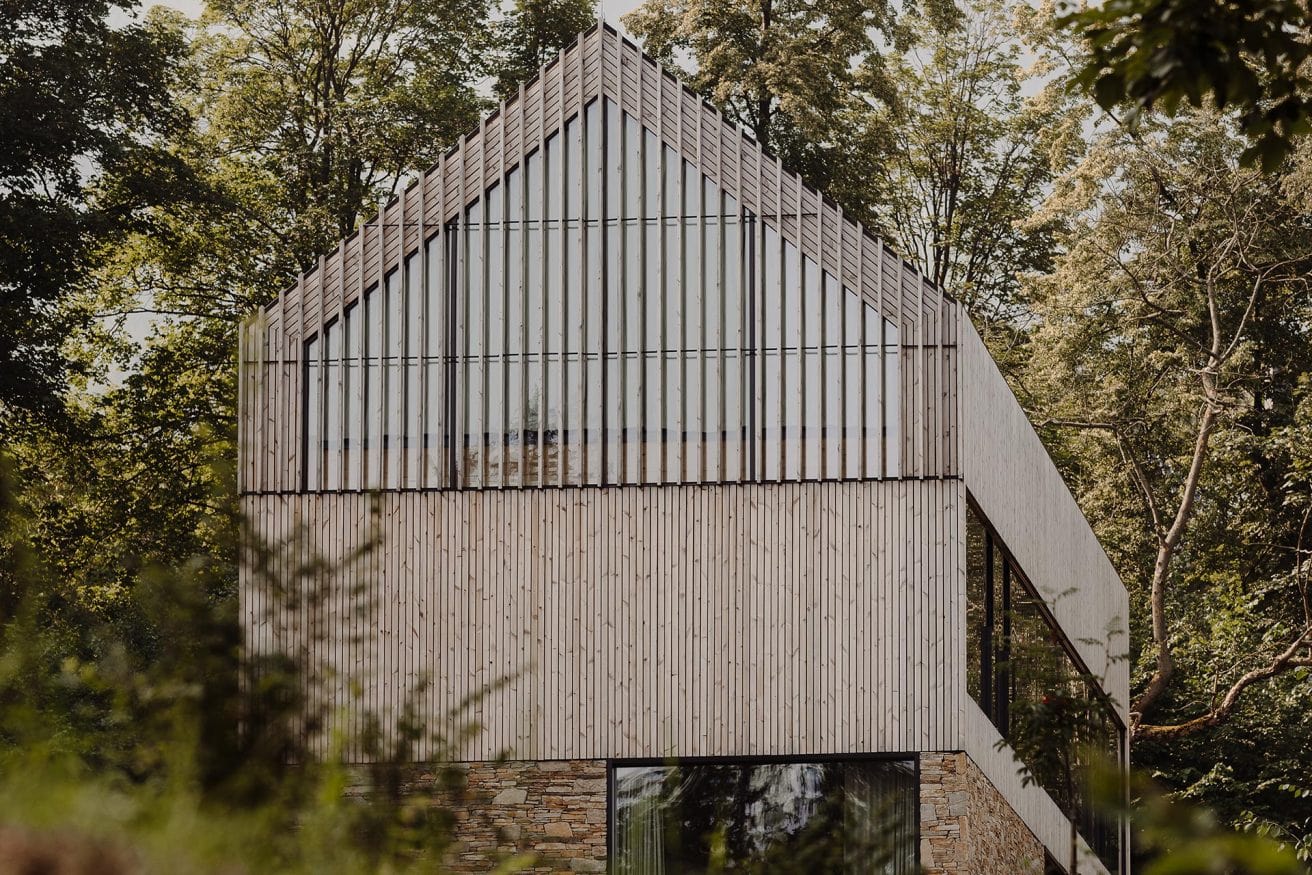 Architect
STUDIO DE.MATERIA
Product
THERMORY BENCHMARK THERMO-PINE CLADDING AND ROOFING
The architecture comprises two, gabled buildings that mirror each other and are similar in size: each has four levels and contain several one-bedroom suites. The structures are nestled into a grassy hill in Wolf Clearing, and split gneiss rocks cover their bases while the rest of the exteriors and rooflines are clad in vertical pine boards by Thermory. The wood-covered roof design is rare and a modern interpretation of the shingle roofing that was once widely used. The result is a balanced look of contemporary and natural, of being rooted in the mountainous terrain and also relating to the surrounding trees.
The architecture firm behind the project, Studio De.materia in Poznan which is led by Adam Wysocki, selected Thermory's panel cladding because of its wood technology that still resembles the natural pale timber he was after. The thermally treated pine has a significantly longer lifespan than conventional wood and is easier to maintain. Other benefits are that is especially resistant to bark beetles and fungi that are common in the region, and there was no need to coat or paint it after construction.
"Normal wood is often dimensionally unstable and prone to deformation under various weather conditions," Wysocki said. "Because Thermory wood is treated to the process of thermal-modification, it loses these undesirable properties. It is very dimensionally stable and practically does not twist or deform."It has been a year since the project was first built, and the cladding has taken on a weathered look that the architect loves: "To be honest, I like the appearance of the wood much more than the initial colour – the wood slowly turns into a silver patina which I personally love."
The two rental buildings vary somewhat inside with the placement of kitchens and bedrooms. Each has two, one-bedroom apartments on the top three floors, while the site of the first building allowed for an outdoor parking lot, while there was no place for this with the second building so it contains a garage on the bottom level. The interiors are warm and cosy and feature large windows, dark floors, walls are covered in concrete plaster in a cream tone and minimal details like black cabinets, grey sofas and pale wood furniture.