Villart Micro Office
A micro-dwelling that is a pleasant experience inside and out. Margus Vilisoo created a building company in 2000 in Estonia and has now developed another direction in his construction business that offers tiny, prefabricated structures for garden studios, detached home offices and saunas under the name Villart. The designs are customizable and can also serve as holiday homes and rentals.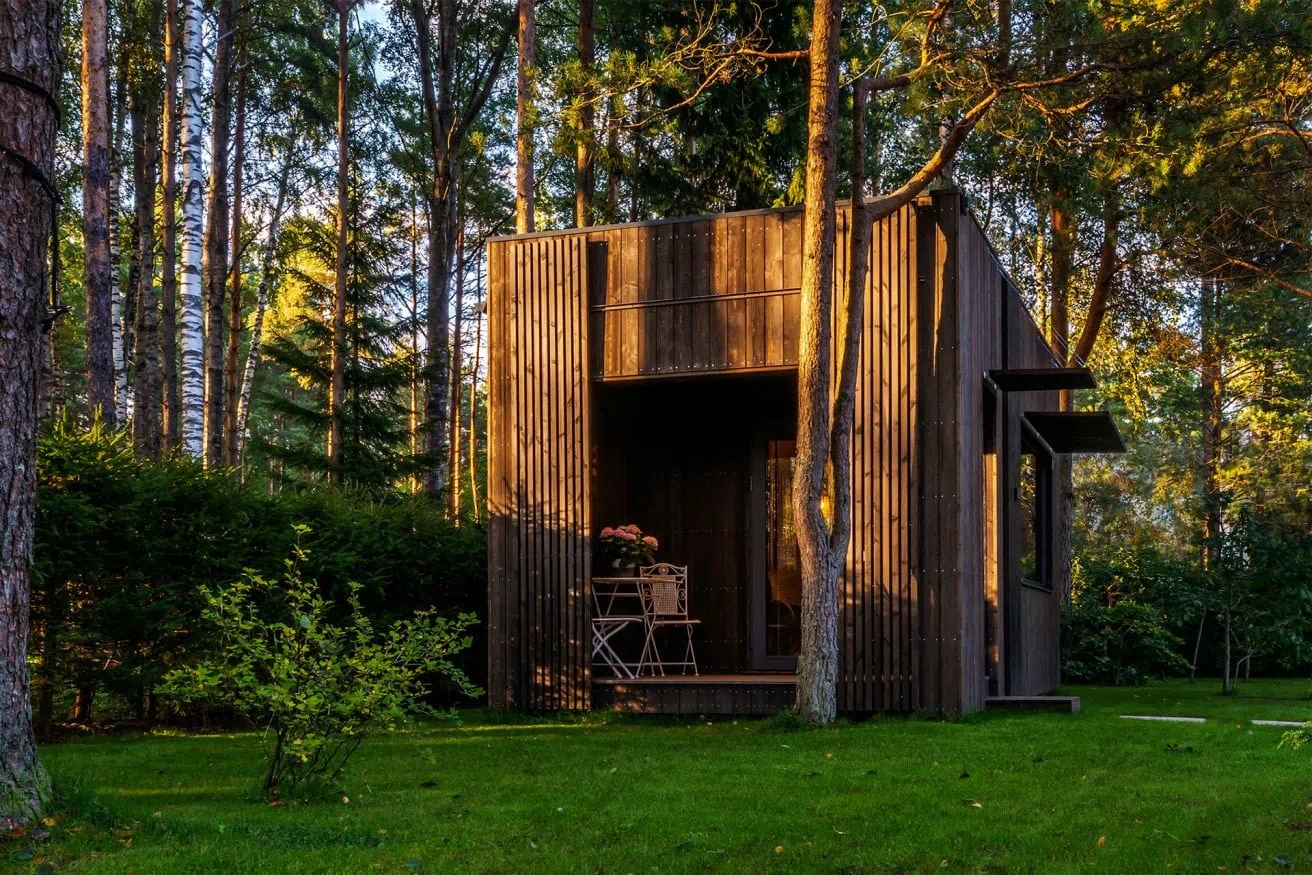 Product
THERMORY BENCHMARK THERMO-SPRUCE BRUSHED CLADDING, THERMO-ASH DECKING AND FLOORING
He started off of building a first model – a home office in his own back yard, which offered him an opportunity to try and test many layouts and features, to make sure that everything was well-built and as durable as possible before introducing the model to clients. It took Vilisoo just a few months to build his detached suite as a proof of concept, which he has used regularly.
Central to the design of Vilisoo's home office, and all of Villart's offerings, are a range of Thermory products that enable the easy-to-build structures to be durable, sustainable and basically maintenance-free. Vilisoo designed his unit to be light on the eyes and on his land, and because of this, he chose Thermory's heat-treated ash wood for the decking outside and interior flooring and brushed spruce exterior cladding, which has been finished with semi-natural oil.
"The goal was to blend into the environment and go unnoticed," he said. "Construction is the creation of something whose results can be touched, felt, experienced," he added, noting that the prefab concept was a natural next step for him. "The completed small house is purely the result of my own experience and pencil strokes."
Vilisoo's garden studio, which measures 20 square meters, comprises a terrace and a small indoor space that has been constructed with a flat roof, a wooden frame and mineral wool for insulation. The exteriors are dark, vertical boards that blend in with the trees that surround the site. A stone pathway passes across a grassy area for the entry.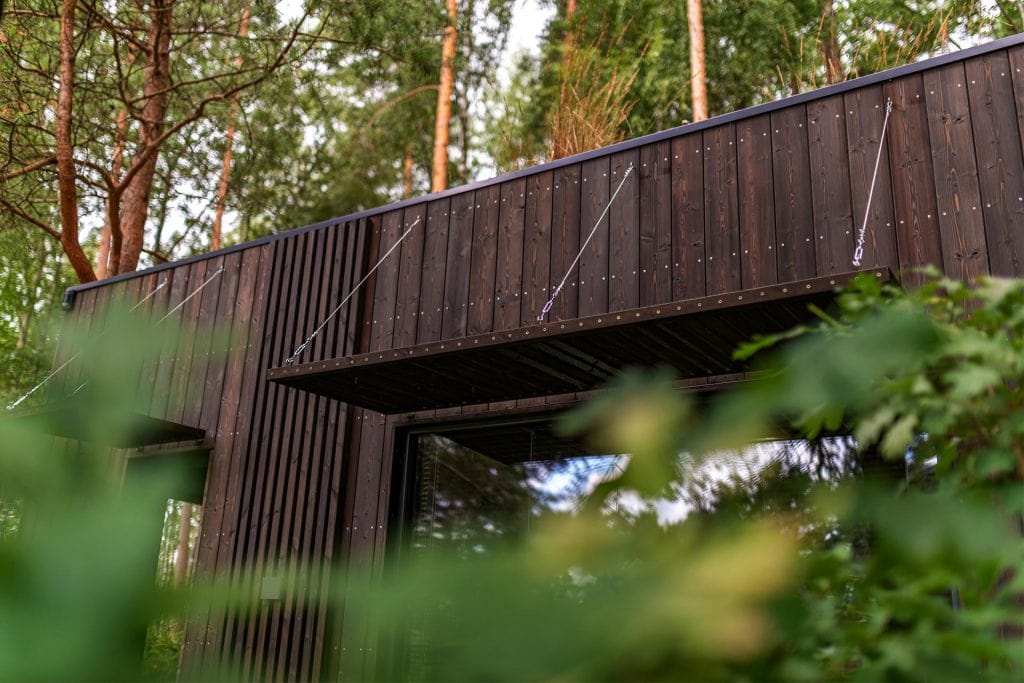 Sliding wooden doors outside allow the terrace to be opened up to the garden or closed off, depending on the weather or the desired privacy. The front door and window also feature awnings that hang on cables to shield from rain, snow, and sunlight. Inside, Vilisoo's work area is a single room with a desk and two upholstered chairs overlooking the garden and a natural palette, resulting in a calm and relaxed space that's ideal for working and decorating. The walls are finished in plywood and clay plaster, and the ceilings are covered with chipboard tiles.
"The commute to the office has become a walk in the garden," he added. "The solution this little house provides is calming the mind and experiencing the good feeling we all need. There are also time and financial savings that used to be spent driving."
For Vilisoo, it was important that the micro-dwelling be a pleasant experience inside and out. The unit can be built in a couple of months, does not require a building permit and is able to be built by one person if they are a good and diligent craftsman.
About ten years ago, he was introduced to Thermory and he has used its products again, while he noted, "Thermory products are still largely undiscovered especially in interior solutions such as steam rooms." In addition to their versatility and range of offerings, he admittedly also enjoys the smell of the boards themselves: "It might sound a little strange, but I really like the smell of the products. It gives me a nice feeling that I want more and more."
Whether it be for a home office that is used daily or a sauna to escape to on the weekends, Villart units are tailor-made, depending on the size needed. They also come with two different roof options – flat and covered in glass or a pitched version with shingles.
Because of the collaboration with Thermory, the Villart designs are highly suitable for those who wish for a private sauna. All across Europe, is it common to own a tiny sauna in a beautiful place tucked away in the woods, or sited next to a lake. "The same is true for a holiday house that can also be used as a rental house," Vilisoo said.
In addition to the advantages of added space, functionality and ease of construction, the prefab structures can also be easily moved, repurposed, or resold. In essence, they are great for someone looking for more space but scared to commit to an extension. However, the one requirement is some available spare land.