How do you build the perfect floor for your outdoor space?
It takes more than just a good-looking product. Thermory thermowood decking boards are designed, treated and milled with the perfect outdoor experience in mind. Each board is naturally beautiful, expertly modified and highly functional – the perfect mix of art and science.
Our decking boards undergo intense thermal modification, which gives them unrivaled durability and stability that runs all the way through to the core.
Our decking solutions are easy to install and provide the long-lasting comfort and visual appeal for which Thermory products are so well known. We offer a variety of durable outdoor decking solutions, including modular systems and boards with a broad selection of profiles and widths. Expand your living space and move one step closer to nature.
Thermory thermowood decking benefits

REAL WOOD PRODUCTS
Our products are made from 100% real wood

THERMALLY MODIFIED
Thermally modified wood is more durable with a lower moisture content

SUSTAINABLE
Wood from sustainable forests with chemical-free modification

END-MATCHING AVAILABLE
Reduces waste, saves expenses

EASY INSTALLATION
Innovative and simple fixing methods
BENCHMARK SERIES
Attractive thermowood decking that ticks all the boxes
Timeless, functional, durable and environmentally friendly. These are all qualities that a decking product should offer – and that's exactly what our Benchmark Series is all about.
Each board is thermally modified, resulting in environmentally friendly products with a natural beauty that lasts for generations.
Depending on the profile, Benchmark thermowood decking boards can be installed with screws, clips or PaCS – the world's simplest screwless system. Most profiles can be ordered with an end-matching solution, meaning that the joints don't have to rest on joists, dramatically reducing wastage, labor costs and installation time.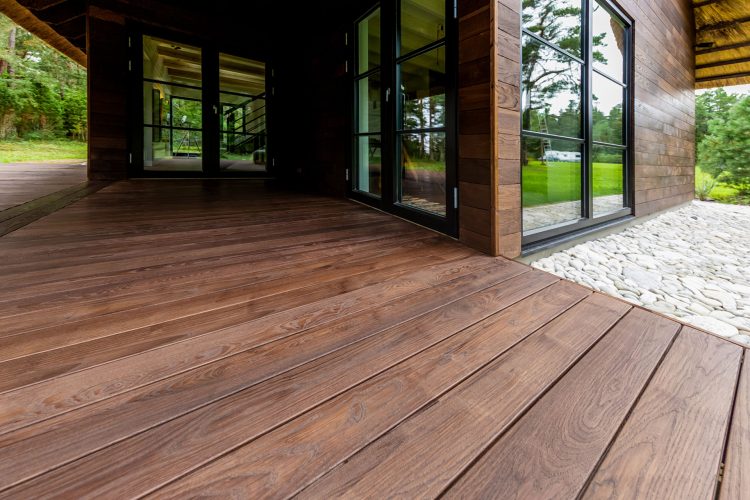 BENCHMARK THERMO-ASH
Your unequalled hardwood decking choice
Our Benchmark thermo-ash decking is exceptionally durable and dimensionally stable with a deep, rich color. It would be no exaggeration to say that Benchmark thermo-ash is the dream real wood decking material – timeless, stunning, long lasting, barefoot friendly and easy to install.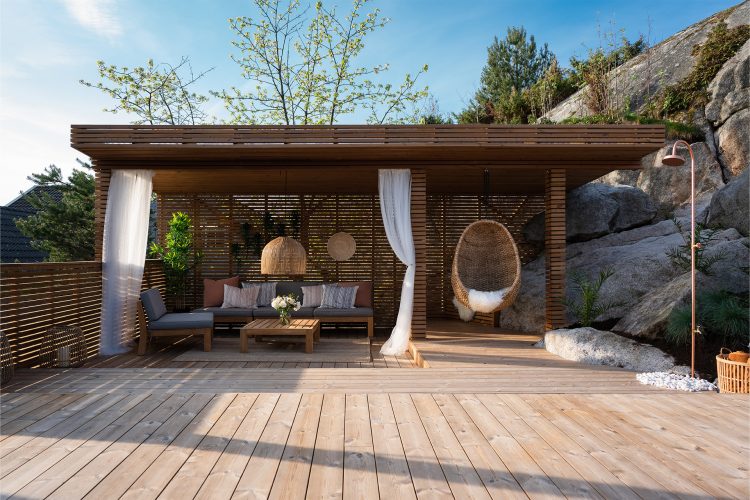 BENCHMARK THERMO-PINE
The new durability standard for softwood decking
Benchmark thermo-pine redefines expectations for softwood decking. With unbeatable durability and stability, our thermally modified Scots pine decking benefits from distinct knots, a beautiful golden-brown color and no visible sapwood.
We can offer our thermo-pine decking with the Nordic Swan Ecolabel. Wood carrying this Ecolabel comes from responsibly managed forests, is chemical free and offers great durability in outdoor conditions.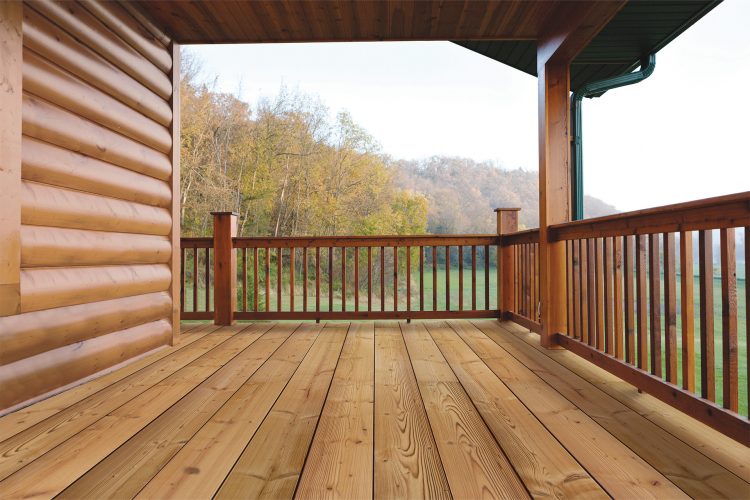 BENCHMARK THERMO-SPRUCE
Just exceptional softwood decking
Our Benchmark thermo-spruce, sourced in Scandinavia, offers a softwood solution with exceptional rot resistance and longevity combined with rustic knots and a naturally light color. When installing, it's important to ensure that the heartwood (the side of the board closer to the center of the tree) is facing downwards.
We can offer our thermo-spruce decking with the Nordic Swan Ecolabel. Wood that carries this Ecolabel comes from responsibly managed forests, is chemical free and offers great durability in outdoor conditions.
REBEL SERIES
Sophistication untamed – the look you want, the stability you need
You're a boundary-pusher – a free-thinker with big ideas, who leaves behind a legacy that others can only dream of. You're here to break the mold, and you didn't come all this way to sneak along well-worn paths. You're the kind of person who tears up the map and fiercely follows your passions. Let's be disrupters. Let's be fearless and make some waves.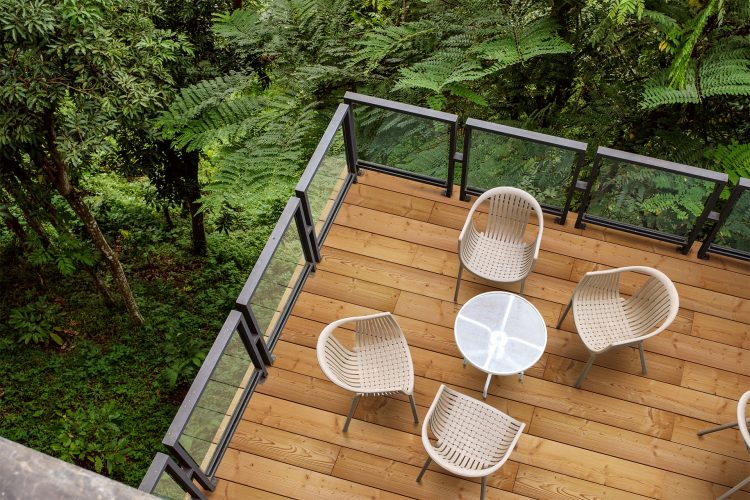 KODIAK THERMO-SPRUCE
Big, bold and rugged thermo-spruce decking
Rugged Kodiak thermowood decking dominates its surroundings. The extra-wide boards showcase its outrageous strength and impressive stability, as well as making installation a breeze. Feel the wilderness under your feet, with a tough, solid look to match.
We can offer our thermo-spruce decking with the Nordic Swan Ecolabel. Wood that carries this Ecolabel comes from responsibly managed forests, is chemical free and offers great durability in outdoor conditions.
DESIGNER SERIES
Symmetrical patterns and unique lines for an attractive geometric style that's easy to install
For those seeking a look that's extra special, our Designer Series could be just what you're looking for. With products made from durable thermally modified ash and arranged in eye-catching geometric patterns, Thermory's Designer Series allows you to completely transform the style and atmosphere of any space. In addition, we've made an extra-special effort to ensure that all of the products in this series are easy to install.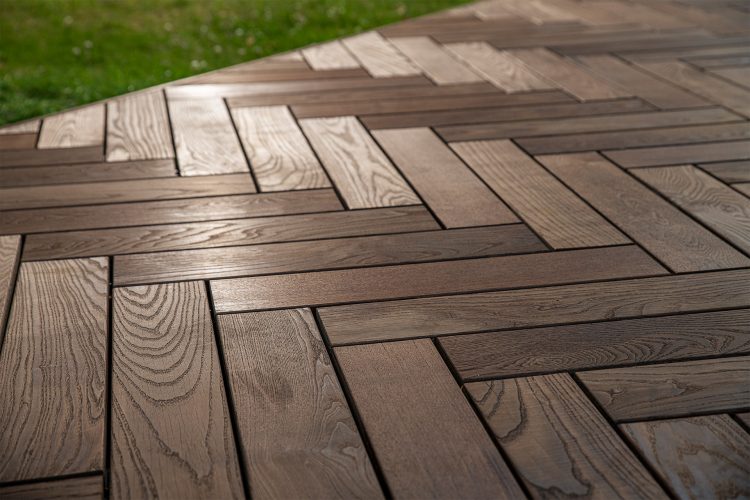 HERRINGBONE THERMO-ASH
Create an elegant herringbone patterned deck with ease
Herringbone by Thermory makes it exceptionally easy to create a herringbone-patterned deck. It's quick too, requiring less than a third of the time that would normally be needed.
The product comes with a detailed installation guide, although for best results we recommend using a professional installer.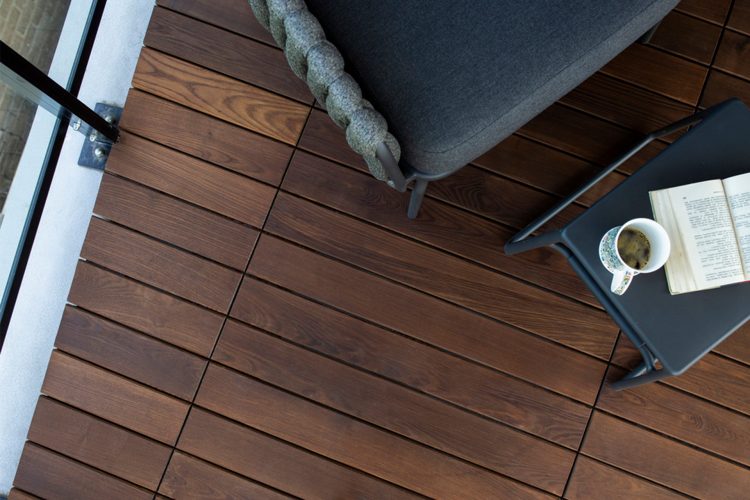 QUICK DECK THERMO-ASH
Building a stunning deck is now astonishingly easy!
It's now super easy to build a deck with the Thermory QuickDeck® Mosaic. These modular decking tiles feature weatherproof plastic supports underneath, which are used to easily snap the tiles into place. The modules can be laid on any even surface, indoors or outdoors, and they are easy to install with no tools or screws required.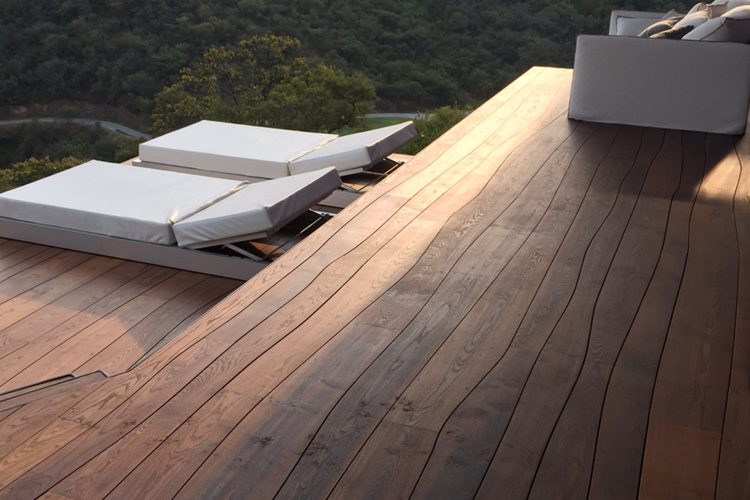 FLOW THERMO-ASH
A truly beautiful and eye-catching curved design
Thermory Flow decking combines the dimensional stability, durability, rich dark tone and gorgeous grain of thermo-ash with the stunning curved design from Flow. The complex design and production process create the curves by machining the boards, piece by piece, into six different shapes. Each Thermory Bole six-piece curved decking module slots perfectly into the next, creating an endless repeating pattern with a natural look.
Width 90-180 mm, length 2400 mm. Six boards per pack, covering an area of 1.83 m².
We export our products all over the world – find inspiration in our photo gallery
Why thermally modified wood?
Thermally modified wood (thermowood) is the most reliable option if you're looking for a durable and dimensionally stable material for outdoor conditions. The high temperature of thermal modification changes the structure of the wood, significantly improving its durability and resistance to weather conditions.
The biological resistance of the wood increases as the nutrients in the wood become more difficult to reach for pests and molds.
The wood's moisture absorption capacity and speed decreases, resulting in reduced moisture deformations. The wood maintains its dimensional stability, meaning that it doesn't cup, twist or bend as much as other wooden decking products.
Thermal modification leads to less internal stress in the wood, significantly reducing material consumption during construction.
The thermal and sound insulation performance of the wood improves.
Thermal modification also gives the wood a delightful darker tone.
Thermal modification is chemical free.
See the benefits of Thermory thermowood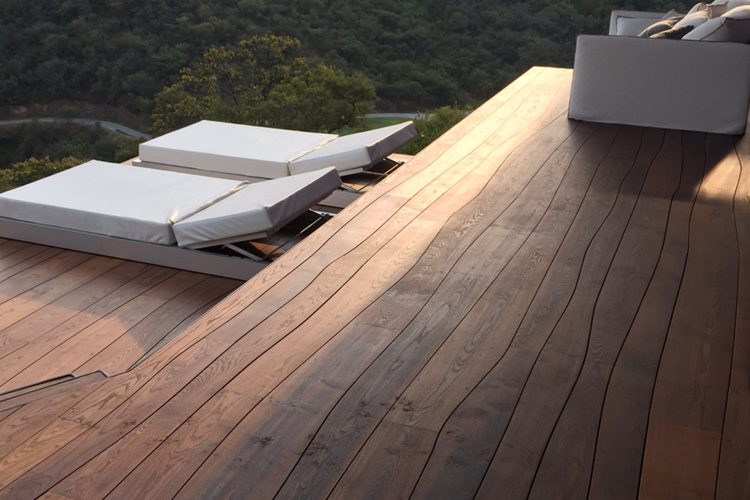 First-rate Thermory thermowood decking boards deserve exceptional installation solutions
Our highly rot-resistant real thermowood products are easy and efficient to install. We've developed a number of innovative installation systems and methods that offer solutions to some of the industry's most pervasive problems. More importantly, they'll save you time and money.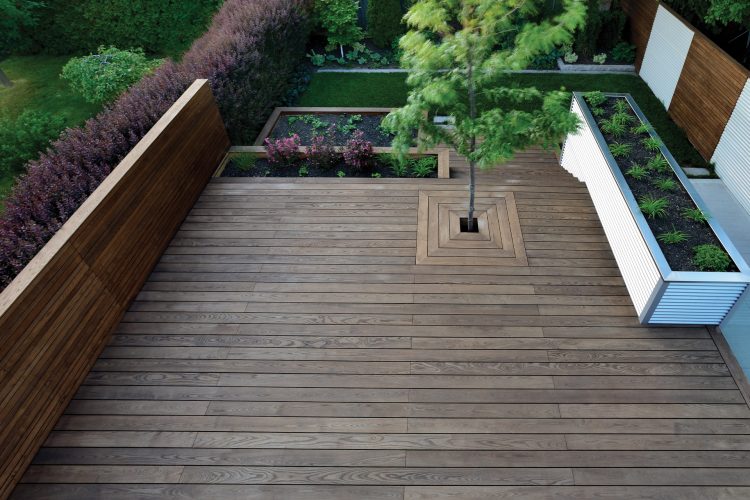 Deck maintenance. To oil or not to oil?
Thermory thermowood decking boards don't require surface treatment. Like any wood, the surface of Thermory products will naturally turn silver-gray over time – this process starts immediately and can take anything from a few months to a few years depending on the levels of UV radiation they're exposed to. However, this does not make the wood less durable. If you want to preserve the wood's original color, or change it, you can do so by treating the products with a UV-protection oil every year.
We recommend cleaning and maintaining the deck before the start of the summer season
Lightly sanding faded boards will remove the silvery surface colour and restore the wood's original appearance.
If you would like to preserve or change the tone of thermally modified wood, apply UV-resistant oil to the boards once a year.
If you would like to preserve the tone of boards that have turned grey over time, use colourless oil without a UV filter on the boards.
The oil should be applied only to clean, level, dust-free surfaces.
Download decking maintenance guide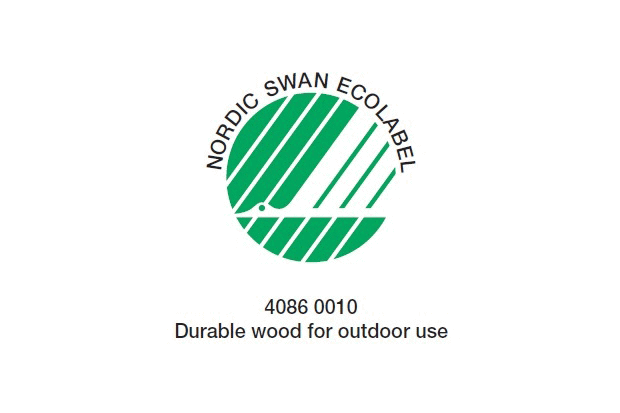 We source our raw materials with care in order to preserve forests and provide unrivaled products, and our lumber surpasses industry grading standards to ensure that our products exceed even the highest expectations.
Intensely modified thermo-spruce and thermo-pine can be ordered with the Nordic Swan Ecolabel. When you buy products with this Ecolabel, you consume more responsibly and thus save nature.
Thermory's thermally modified products have been tested by CATAS and awarded the following high durability classifications:
Thermory Ash and Thermory Spruce: Class 1, highest durability rating (25+ years)
Thermory Pine: Class 2, high durability rating (15+ years)

Contact us