Biophilic design – for what and whom?
A trend is taking root in the worlds of architecture and interior design based on using natural materials and living plants to better connect people with the outdoors. Introduced in the 1980s by American scientist Edward O. Wilson – and known today as biophilic design – the concept is not however new, as the modernist movement also advocated for designing spaces around fresh air and natural light.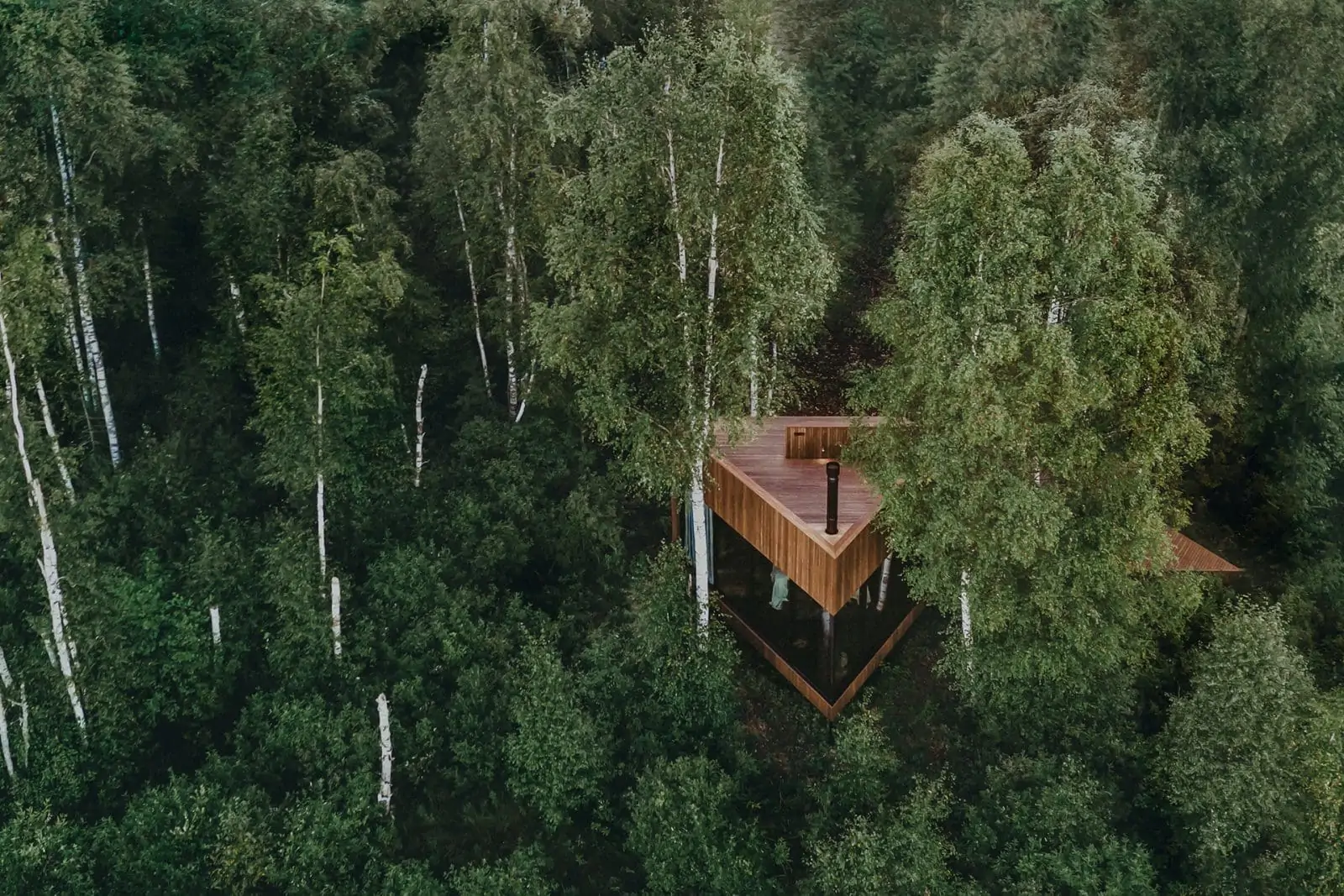 Recently though many studies have proven that integrating biophilic design principles in places where we live and work can improve our well-being, especially as we spend more time inside and connected in the virtual world rather than the natural world.
This negative impact of not being close to nature is becoming a key concern for architects and designers. Examples of biophilic designs range from a wall covered with ferns to cladding with thermally treated timber and using engineered wood. Such advancements in technology and building materials enable us to harness nature's beneficial qualities even more.
Biophilic design principles
Environmental features
Incorporating nature in and around the built environment is one of the most successful strategies for fostering the human-nature connection in biophilic design.
Using natural elements and characteristics of the natural world like water features, sunlight, actual vegetation, etc., can improve comfort, enhance mood and reduce stress and stress-related illnesses. They enhance the moments of connection, reflection, and respite.

Natural shapes and forms
Using naturalistic shapes and organic forms that are naturally found in nature is an important element used in biophilic design. Today, most of our modern buildings' materials are dominated by straight lines and right angles, which are rarely found in nature.
Building curved shapes and natural forms that we find in waves, flowers and shells, is more expensive, even though we have a deep affinity for these shapes and their sense of order, complexity, and beauty.
Not everyone is able to bring natural forms in the shape of a building, but natural patterns can be added decoratively as motifs and be a way of bringing nature into our life.
Restorative patterns and processes
In this principle, the natural sensory experiences are varied with transitions and complementary contrasts. This is achieved by having central focal points, patterned wholes, and clear boundaries in architectural design.
Light and space
This element of biophilic design focuses on the many diverse qualities of natural lighting and spatial relationships. The use of natural light in abundance creates stimulating, dynamic, and sculptural forms in the space.
Place-based relationships
The biophilic design focuses on connection to natural landscapes, ecology and prominent natural features like mountains, deserts, estuaries, rivers, and plants.
Evolved human-nature relationships
Biophilic design is a new approach to restoring our connection with the natural environment. Good biophilic buildings address the affinity toward nature and natural systems.
The prefabricated cabins of ÖÖD house also pair large portions of glass with thermally treated panels to incorporate the biophilic design principles and connect visitors with the natural world.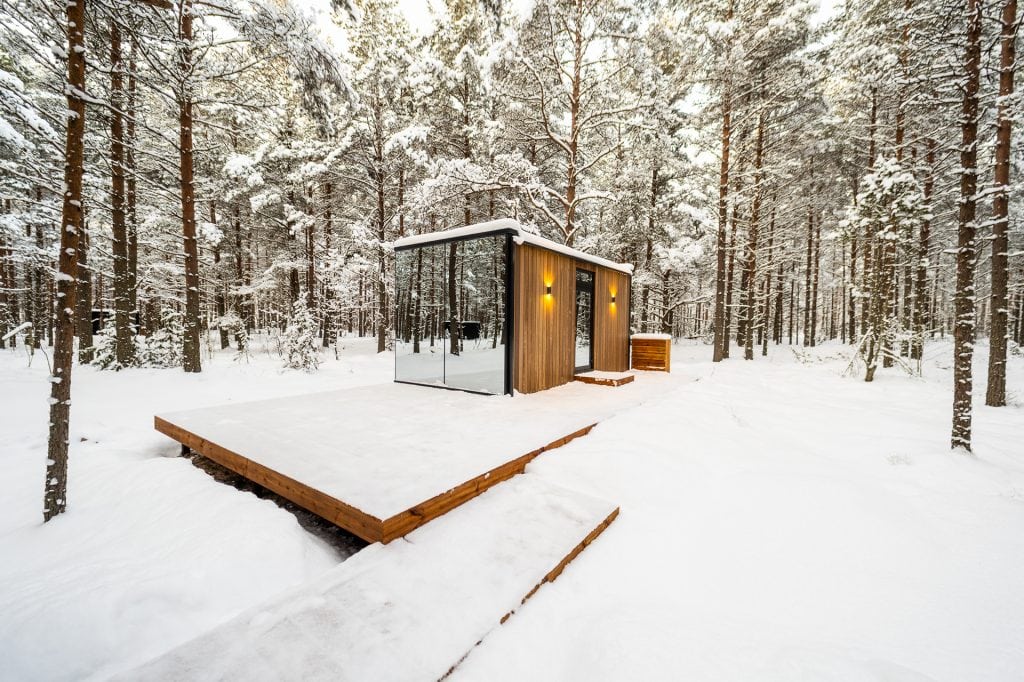 A variety of small and large-scale projects are designed with biophilic principles, starting with a house in Estonia, Maidla Nature Resort, whose dark exterior siding of Thermory ash boards have been made more durable and weather-resistant by modifying the timber with heat and steam. The cladding also makes the building blend in with the dark trees of the forested site.
Larger, well-known projects are Grimshaw's The Eden Project, which is an ecological park in Cornwall, England that has nature-focused attractions and Singapore's skyscrapers that are overflowing with plants.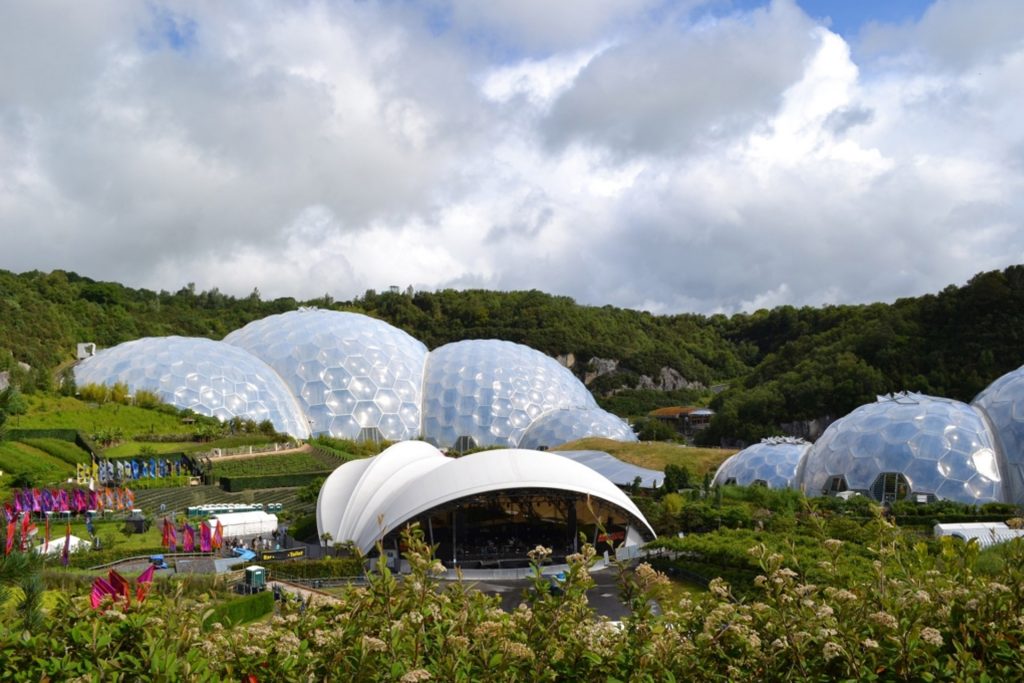 Moshe Safdie's firm Safdie Architects has designed many notable projects in the Asian city to connect people with the outdoors – a novel concept for such a congested metropolis that is very hot year-round – such as the infinity pool on the roof of Marina Bay Sands and Jewel at Changi International Airport with its massive greenhouse and indoor waterfall made by recycling rainwater.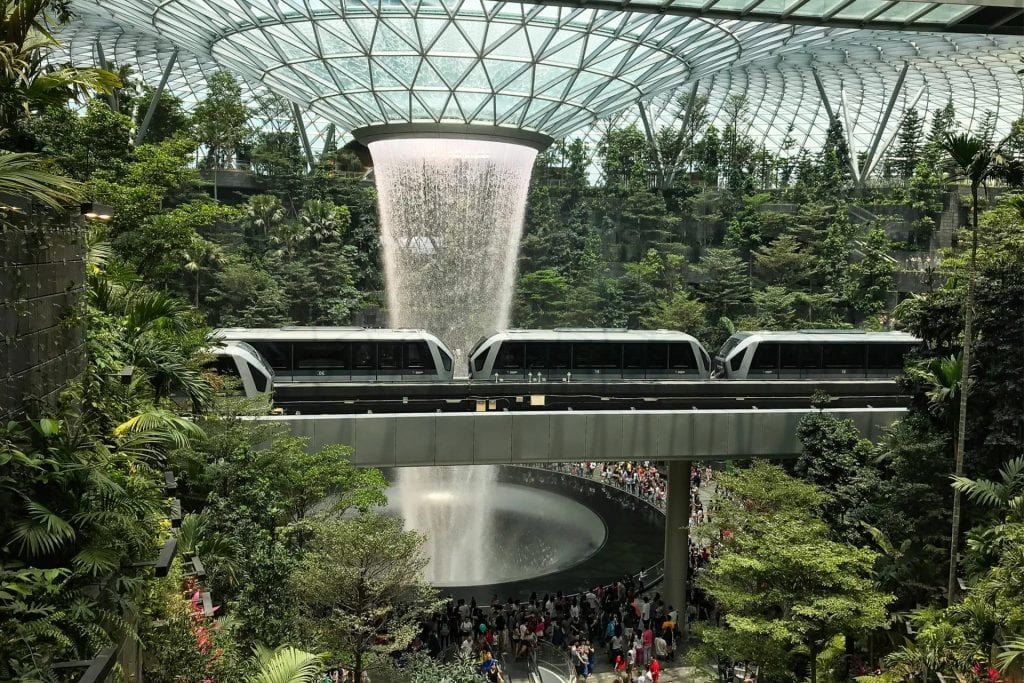 Benefits of biophilic design
Using biophilic design in the interior or public spaces can enhance numerous health benefits.
Improved air quality
Whether you include potted plants or green walls in interior spaces, especially in the offices, the result will be the ultimate improval of air quality. Living plants are using carbon dioxide to produce oxygen.
Vegetation absorbs pollutants, toxins and airborne microbes. They also make the air more humid, which promotes natural airflow and solves the problem of dry air.
Improved creativity and productivity
The biophilic design provides a positive impact on enhancing employee productivity, and also creativity because of the way in which it helps staff to relax and focus. Natural environments boost the creation of melatonin. Melatonin is important since it regulates people's sleep-wake cycles, making a noticeable difference in our energy levels.
Reduced stress and fatigue level
Stress is a known cause of both mental health disorders and cardiovascular diseases. Studies also show that our ability to directly access nature can alleviate feelings of stress.
Chaotic and stressful urban environments, disrupt our natural balance and result in energy drain and mental fatigue. This combination induces stress, frustration, irritability and distraction.
In contrast, human interaction with nature decreases stress and irritability, and increases the ability to concentrate.
Nature evokes happiness
Biophilic design principles create a more peaceful and restorative environment that inspires you every day, as soon as you set your foot through the door.
Overall well being increase happiness and human health. Positive people have a positive impact on others, take better care of themselves and are healthier.
Once we incorporate biophilic design elements into our work-spaces, we get an injection of more cheerful thinking, nourishing the positive perspective andcreating a more harmonious workplace ambience.
Using biophilic design in interior spaces
For biophilic interior design projects, Thermory's office and showroom in Tallinn's Ülemiste district are also centred around using many natural materials while still being a traditional workplace. Many of the floors, walls and ceilings feature Thermory thermo-wood, in addition to custom-made furniture.
The office was designed by local studio KAMP Architects , which is part of several studios focused on using natural materials to improve the way we live. "More and more designers are trying to use natural elements as it is important to create space for people which is human friendly and healthy," the studio said. "We are surrounded by a massive amount of synthetic materials. If we can as architects help in this matter to bring back a natural atmosphere around us, we are happily ready to do this."
The benefits of using wood and plants are not just for a pretty experience but help make people feel calm and focused.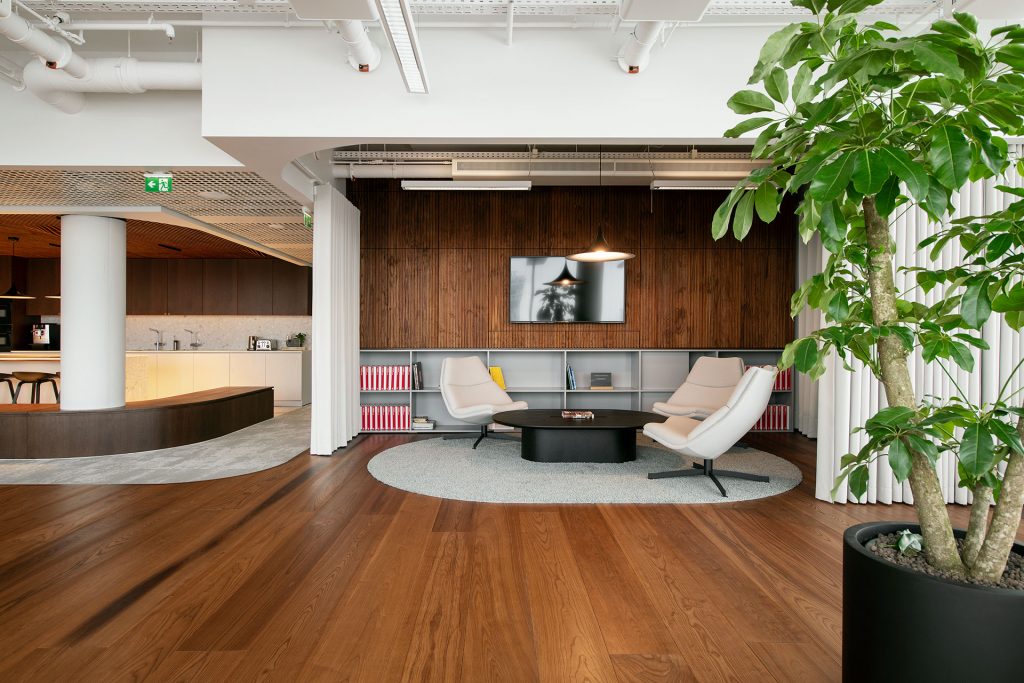 Using sustainable materials in biophilic design
Wood is often critical for biophilic design projects, and although it is a traditional building material that has been used for centuries, recent advancements have greatly improved its durability. "Estonians love to use wood in architecture," said KAMP Architects. "Using wood in the building industry gives the longest lifespan to wood after taking a tree down. Making paper from it or even using it for heating does not carry a sufficient enough framework of using the natural material."
Engineered wood is another example of harnessing the benefits of wood and improving it. Cross-laminated timber (CLT) panels are made from layers of timber glued together and enable a building to be built quickly and easily. The material is celebrated for its smaller ecological footprint and lower embodied carbon footprint as compared to concrete or steel, which are non-renewable and energy-intensive materials to produce.
Like the thermally treated wood that Thermory adopted from the knowledge of the Vikings and advancements in Finland in the 1990s, CLT was developed in Germany around the same time. Both allow timber to be more resistant to water damage, more sturdy and more insulated. Thermory's products, in particular, only use wood from well-managed forests that are renewing constantly instead of from endangered forests or rainforests. Thermally treated timber, plants and natural materials like clay and stone are great ways to incorporate nature in a space or building, which is a key tenet of biophilic design.