Private house in Poland by 81.WAW.PL
A house close to nature is a dream residence for many people nowadays. Just such a building was built in a pine forest near Warsaw, Poland on a narrow, but very long plot of land. The main wish of the owner was to hide the house in the forest as much as possible so that it would blend in with the surrounding area. The aim was to maintain the prevailing harmony of the place.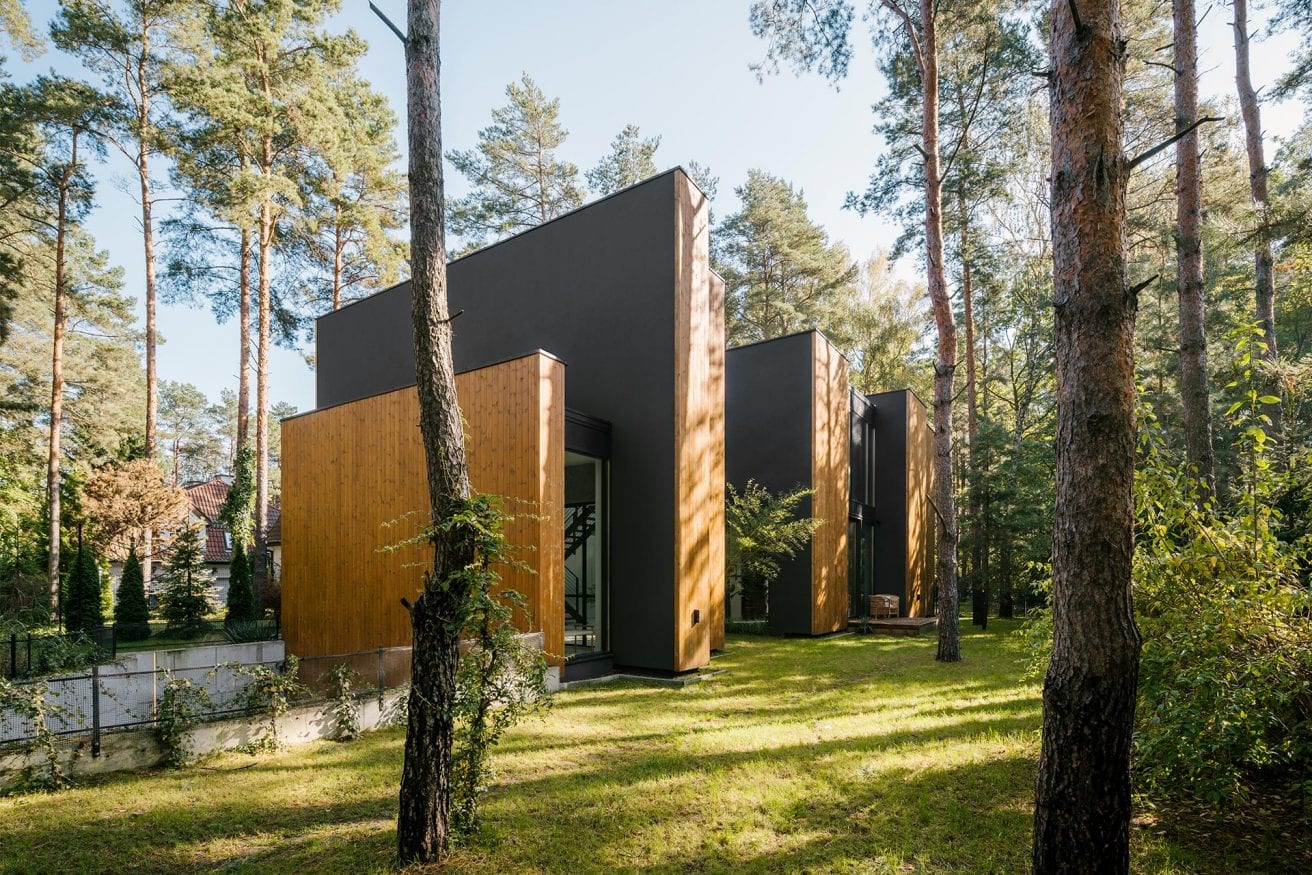 Product
BENCHMARK THERMO-PINE
Distributor
KOMPLEX MARKET
The oblong shape of the house is due to the nature of the plot. The rectangular, minimalist shape has been divided into smaller parts. In places of intersections, windows have been inserted to illuminate the interior of the house. The individual shapes are slightly shifted against each other, which makes the whole look lighter.
On the shorter edges, the façade was clad with Benchmark by Thermory thermo-pine cladding, color-matched to the pine trunks. The long walls are perpendicular to the wooden ones and finished in gray plaster.
The main entrance to the building is not obvious. At first glance, we cannot see it because it is hidden between the wooden blocks of the building. The only thing that leads us to it is the pathway of the driveway.
The solid wall you see from the street is a monolithic wall without windows, fully covered with thermo-pine cladding. It has a hidden entrance to the underground garage.
The rear part of the house, opening onto the garden, is a fully glazed façade. It is a complete contradiction of the front elevation. The panoramic window in the living room opens onto the forest, and the glazing of the same size on the first floor lets the pine atmosphere into the master bedroom. The building consists of 3 floors.
"After entering the house, we will find ourselves in a spacious, two-story hall, bordered by glazing with the internal half-patio, because one wall opens onto the surroundings. The other walls are fully glazed, thus letting a little forest into the house and illuminating this part of the building. It creates an amazing harmony and shows how close to nature you can live," says Anna Paszkowska-Grudziąż, architect at the 81.waw.pl studio.
Project overview was first published in Polish on 81.waw.pl studio webpage