If you want to create a cosy interior that's close to nature, nothing beats natural materials
Thermory's interior wood wall panels include a broad selection of timber planks with different profiles and surface finishing – everything from the true classics to more modern, eye-catching options. Anyone looking to make a statement will find some pleasant surprises waiting for them in our range, including innovative products that come with practical installation solutions.
With its beautiful color and texture it not only makes any interior instantly more cozy, but depending on the characteristics of the wood type in question, it also allows you to play with the feel of the space and the mood it generates. You can use wood to produce highly effective interior design elements on your floors, walls, ceilings, staircases, work surfaces and more. In addition to its intrinsic beauty, timber helps to strike a balance in homes and offices, bringing a softness to empty spaces and materials that would otherwise look or feel cold while offering durability and timeless elegance.

THERMALLY MODIFIED WOOD
The selection includes thermally modified wooden products

STABILITY
Dimensionally stable in changing weather conditions

ENDLESS COMBINATIONS
An unbeatable range of wood species, profiles, and finishes

DURABILITY
Highest available durability class for real wood

SUSTAINABLE
Responsibly harvested and chemical-free modification

INDUSTRY EXPERTS
Delivering superior quality and unrivaled beauty for over 20 years


Our interior wall cladding product series
We offer a broad selection of attractive wood wall panels for homes, offices and public spaces, with panels that are suitable for use in bathrooms, kitchens, saunas and living spaces. Each product series has its own distinguishing features, with a range of wood species, profiles, finishes, styles, colors, installation options and levels of thermal modification available. What they all have in common is that they are made using high-quality, durable wood to bring a timeless beauty to your space. Take a closer look at the exciting series below and create a unique interior design with the perfect wood panelling for your project.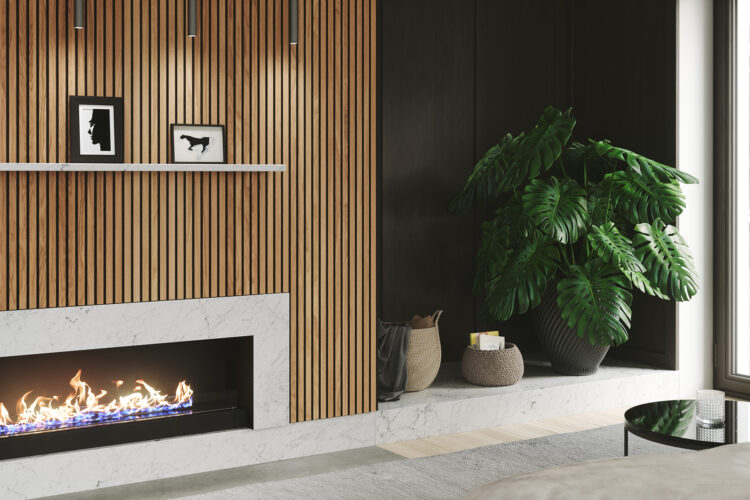 Stripes
Trendy look with half the effort
Stripes interior cladding gives your walls a stylish open look while offering the unique benefits of closed-jointed cladding such as quick, easy installation and hidden fixings. This unique wood cladding series cleverly mimics the appearance of open-jointed cladding thanks to painted black stripes in the board grooves that create an illusion of hollowness alongside the natural wood surface.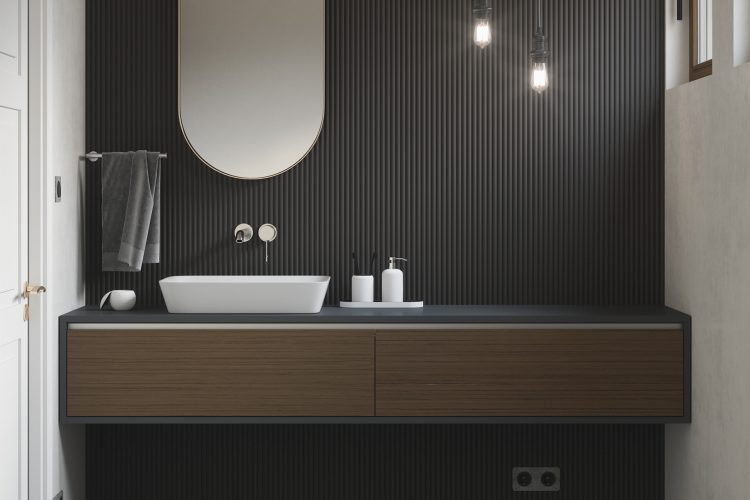 Accent
Add a bold color accent to your interior
If you want your interior to stand out in a tasteful way then Thermory Accent is the best choice for you. Accent's painted panels are ideal for giving your walls the extra touch they need.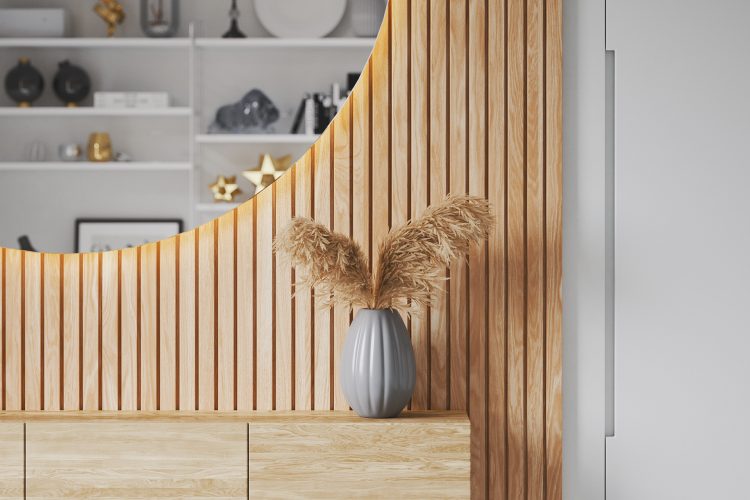 Motion
Add movement to your walls
Make your walls move with Thermory Motion! Refined wood panels with their unique patterns will give your walls an extra edge and a beautiful flow.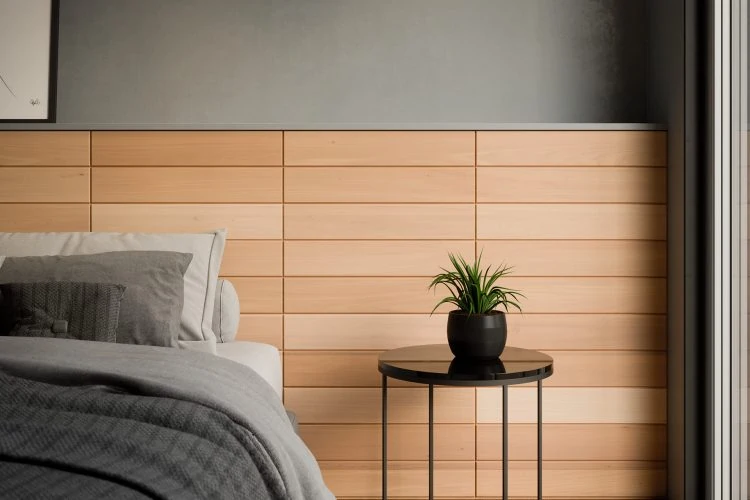 Tiles
Create your own unique pattern
Create a unique pattern with end-matched panels that allow you to combine different lengths and widths or play around with colors, textures and angles. The wood wall panels are also easy to install, with limitless options for using them in the interior.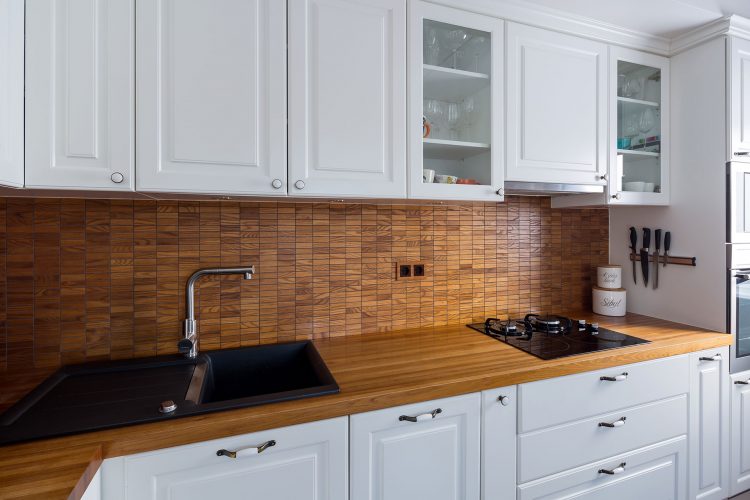 Decor
Bring your interior back to life
Thermory Decor mosaic tiles will breathe new life into your interior! Made with small medium-modified or intensely modified thermo-ash blocks and finished with lacquer, these tiles add a dynamic and colorful touch to any room. Decor tiles can be used on walls and floors, including in wet rooms. Installation is similar to ceramic mosaic tiles.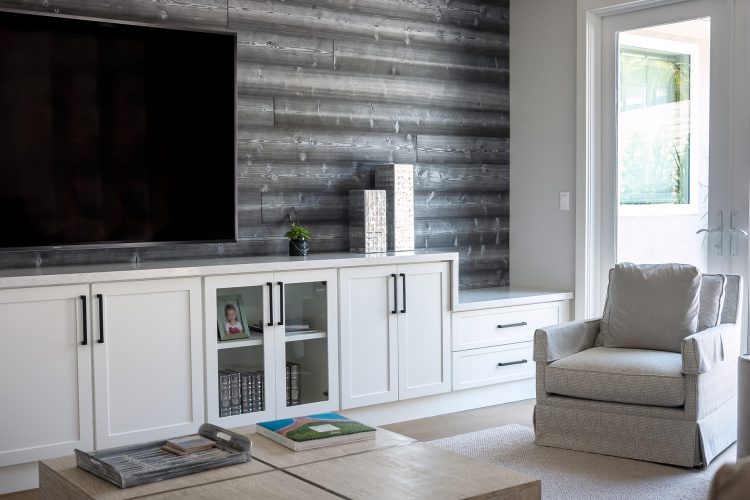 Drift
Bold spruce wall panels with a rustic look that you'll love.
Thermory's Drift Series is characterized by wall panelling with a gently worn appearance that gives the look of reclaimed wood without compromising on durability.
Just like all of our materials, this wood is extremely stable and durable. Take a step off the beaten path to create bold solutions with the aesthetics of reclaimed wood and guaranteed quality.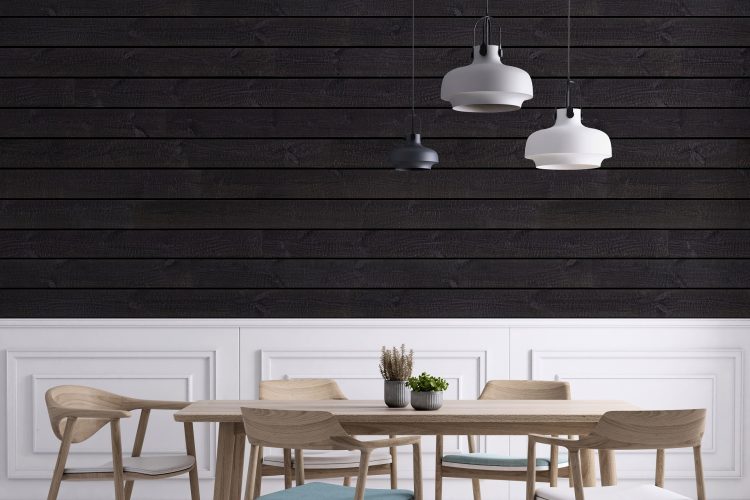 Ignite
An ancient tradition with reliably modern performance.
Hundreds of years ago, Japanese woodworkers discovered that they could prolong the life of wood by charring the exposed surface. This process, called yakisugi, created enviable results that are still in high demand. Ignite combines the stunning look of yakisugi with superior strength and durability all the way to the core. And unlike with charred wood, there's no messy residue – just lasting beauty that's ideal for both indoor and outdoor use.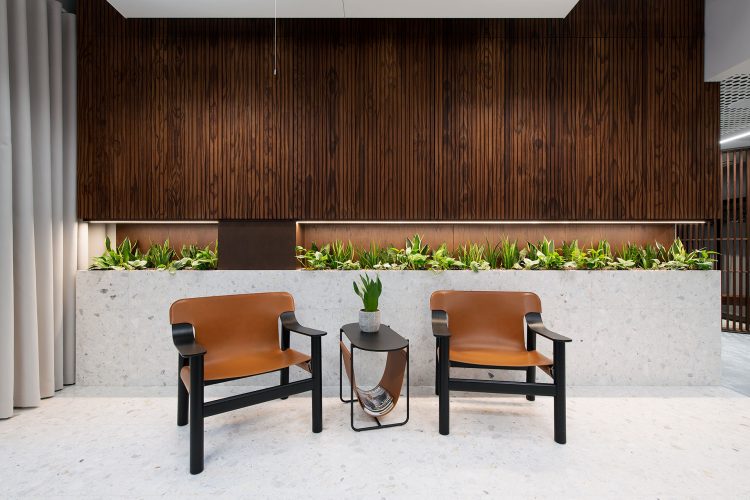 Benchmark
Timeless wall panels with unequaled stability.
Timeless, functional, durable and sustainable – that's exactly what our Benchmark Series is all about. Each board is thermally modified, resulting in naturally beautiful and environmentally friendly products that last for generations.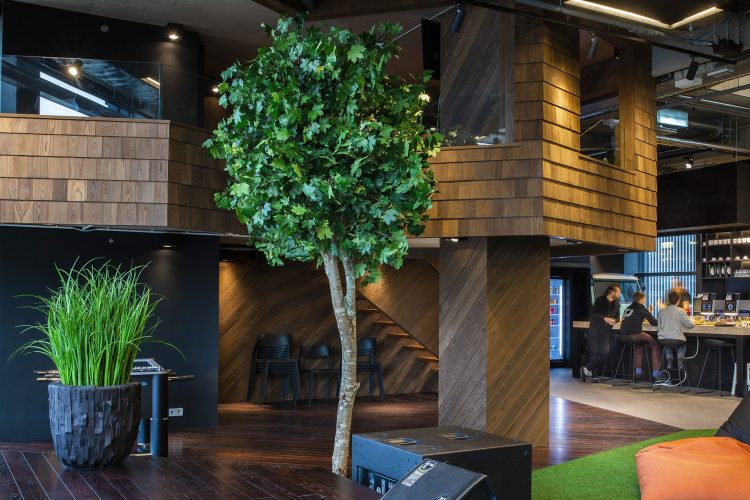 Shingles
Add a timelessly elegant texture to your walls.
Shingles by Thermory, with its resawn surface, is a trendy way to add texture to your interior or exterior walls. The intense thermal modification increases the dimensional stability and durability of the wood while bringing out its natural beauty. Like all Thermory products, the shingles will naturally gray over time, bringing a uniquely elegant tone to your design.

Dune
Dune thermo-spruce wall panels – the touch of rugged nature in your home
Create a rustic yet modern style in your home with these effortlessly attractive wall panels. Dune by Thermory evokes the spirit of the desert, combining ruggedly worn spruce panels with a strikingly natural look and feel, all with the durability and dimensional stability that intense thermal modification provides.

Contact us
We export our products all over the world – find inspiration in our photo gallery