The real wood cladding that your walls have been pining for
Benchmark thermo-pine sets a new standard for softwood cladding. Thermal modification makes the pine more durable and stable while emphasizing its warm golden-brown color and characteristic knot pattern – all without any chemicals.
We offer a wide range of profiles, including profiles that allow for hidden fixing, enabling a flawless finish and easy deck installation.
Thermally modified wood is a natural, durable and environmentally friendly choice.
| | |
| --- | --- |
| Application: | Cladding |
| Species: | Thermally modified pine |
| Modification level: | Intense |
| Use: | Exterior, interior |
| Durability class: | 2 (15+ years' protection against wood decay) |
| Finish: | Unoiled |
| Texture: | Smooth, brushed |
| Installation types: | Visible, hidden |
| Installation methods: | Screws, clips, PaCS Clad |
Highly durable cladding with beautiful knots

VISIBLE KNOTS
Showcasing the natural beauty of pinewood

THERMALLY MODIFIED WOOD
Thermally modified wood is more durable with a lower moisture content

DURABILITY
Thermory's thermo-ash cladding has the highest available durability class

SUSTAINABLE
Wood sourced from sustainable forests with chemical-free modification
Thermory's Benchmark thermo-pine cladding is highly valued for designs in both homes and public spaces
Why choose Benchmark thermo-pine cladding?
Thermory Benchmark thermo-pine cladding is perfect for you if you enjoy the characteristic charm of pine but you need a more durable result.
Thermal modification increases the durability of pine (class 2, 15+ years), which is extremely important for outdoor use.
The lower moisture absorption capability and rate of thermally modified wood results in less moisture-induced deformation, making it a great choice for outdoor use.
Thermal modification gives pine a beautiful golden-brown tone.
In addition to being durable, our thermally modified pine is environmentally friendly, as the thermal modification process is chemical free and no harmful waste is generated.
We offer thermo-pine cladding with the Nordic Swan Ecolabel, which certifies that the wood originates from responsibly managed forests, is free of chemicals and is extremely durable when used outdoors.
Read more about thermal modification
Additional options for easy installation and a flawless finish

HIDDEN FIXING
An attractive finish with no visible screws

END-MATCHING
Reduces waste, saves expenses

EASY INSTALLATION
Ingeniously simple fixing methods

BRUSHING
Highlights the wood's natural grain
Our standard selection of Benchmark thermo-pine cladding products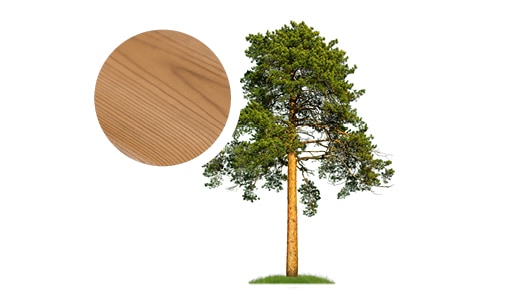 Pine offers exceptional mechanical properties
Scots pine (Pinus sylvestris) is a coniferous tree of the pine family, which is widespread in Europe and Asia. Wood from Nordic pine trees is highly valued for its mechanical properties, and this quality material is characterized by evenly spaced annual rings. Pine is well suited for thermal modification as it becomes significantly more durable and stable through the process, acquiring a beautiful golden-brown tone.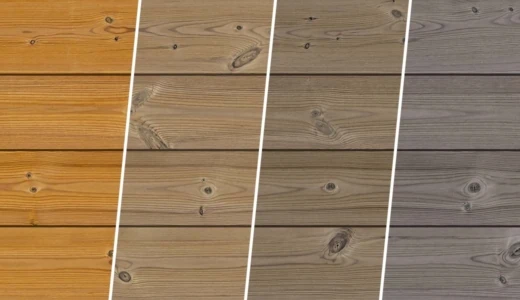 The color of the wood changes over time
Thermal modification gives pine a naturally beautiful golden-brown tone.
As with any wood, the surface of thermally modified pine will fade to a natural silver-gray color over time. This process starts immediately after the products are installed and can take a few months to several years depending on how much UV light they are exposed to. The durability of the boards is not affected.
If you would like to preserve the darker tone of thermally modified wood, we recommend oiling the boards once a year using a UV-resistant oil.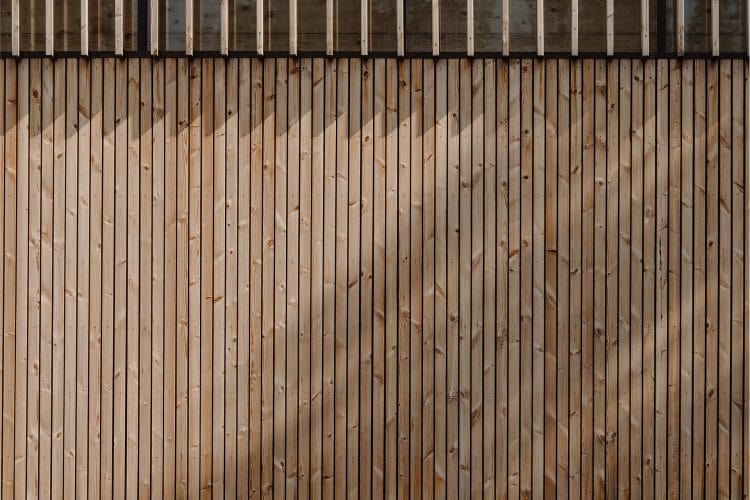 Wall cladding maintenance To oil or not to oil?
Thermally modified wall cladding does not necessarily require surface treatment. However, if you would like to preserve or change the tone of thermally modified wood, we recommend oiling the boards before installation using UV-resistant oil and repeating the oiling process every 3 years. The oil should be applied only to clean, level, dust-free surfaces. Before applying oil to the whole cladding, test it on a small piece of wood using a small quantity of oil. Observe the oil manufacturer's instructions.
Four recommendations for installing Benchmark thermo-pine cladding
To make your paneling last as long as possible, it's extremely important to use the correct installation techniques.
For the substructure, we recommend using joists of thermally modified pine with durability class 2. This way, the substructure will last just as long as the paneling.
Choose PaCS Clad, B1-1, T6, Tiga or Dekora clip fastenings to create a façade with no visible screw holes or screws.
By choosing cladding with end-matching, you can minimize time, labor and material costs when installing boards of different lengths. With end-matching, the boards don't necessarily need to meet directly over a joist.
Download cladding installation guide