Waterfront by AART Architects
The Waterfront, a stunning residential building featuring 128 flats, convenience shops and cafes and a gorgeous promenade along the water, features Thermory Benchmark Pine cladding, decking and roofing to create this multi-faceted facade.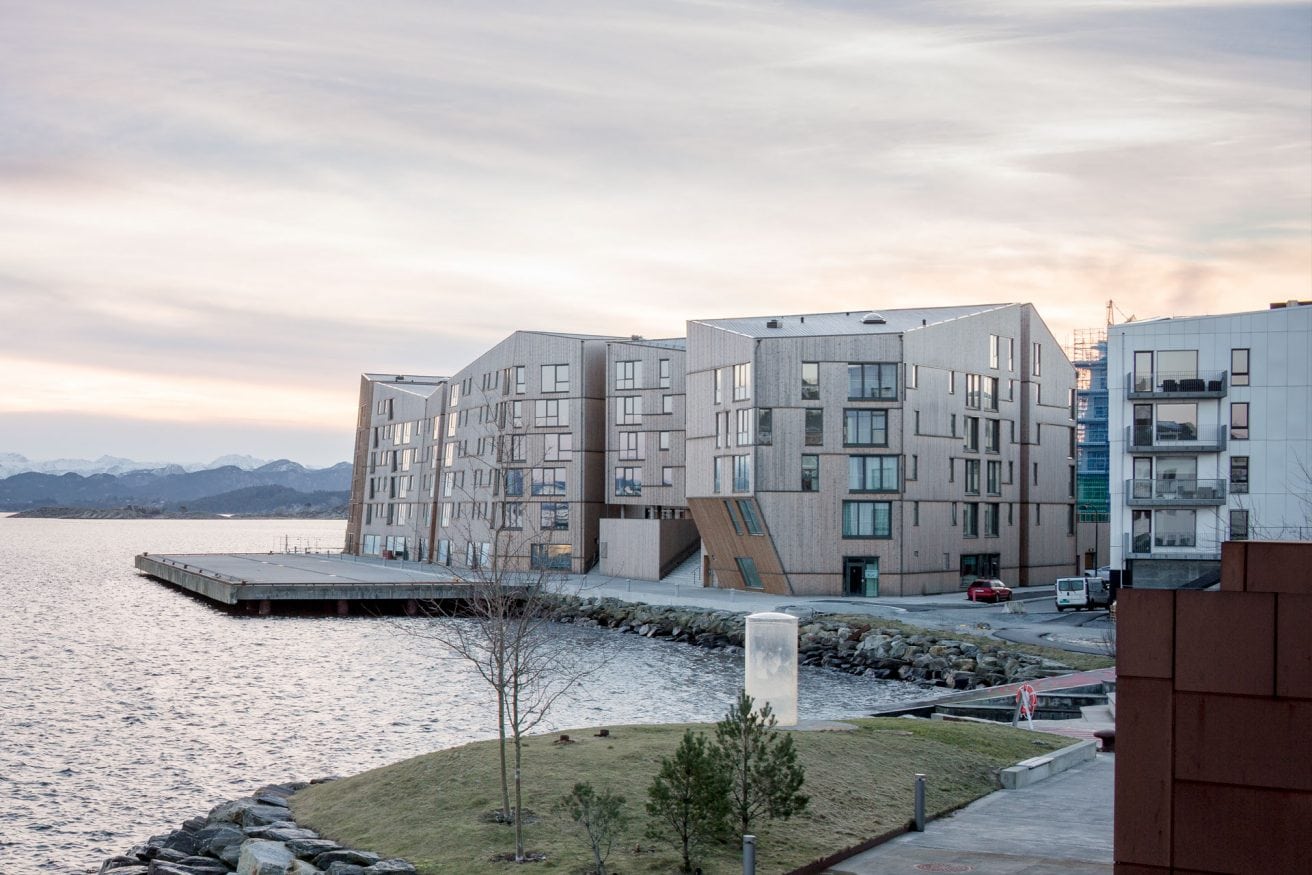 Architect
AART ARCHITECTS AND KRAFTVERK
Product
THERMORY BENCHMARK THERMO-PINE CLADDING C3 20X115 MM, ROOFING C10 20X140 MM AND DECKING D4 SG 26X140
Stavanger has a long and proud history of natural woodwork. The thermally-modified wood products used were left unoiled, furthering the tradition of naturally-aged wood as it slowly transforms to it's final, beautiful silver patina.
The Waterfront is one of the largest residential developments in Europe, inspired by the gorgeous Norwegian scenery. Local building traditions of natural, unoiled wood were combined with innovative architecture and the dimensionally-stable Thermory products to create a truly unique reflection of Norwegian values with captivating views of sea and city.
Thermory Benchmark Pine is thermally-modified using only heat and steam, resulting in a naturally light color and 20+ years of rot-resistance. Responsibly sourced Scots Pine from Scandinavia, Thermory's expert modification process makes Benchmark Pine the unrivaled leader in durability in the softwood market.
Because of the highly-controlled modification process by true industry experts, Thermory Benchmark Pine will retain its strength, stability and smoothness for decades with very little maintenance required. The choice of Thermory Benchmark Pine for this project offered an ideal opportunity for the beauty of truly natural wood, allowed to age at its own pace, to shine in the Norwegian landscape of mountain, sea and forest.
AWARDS:
WAN Residential Award 2014
Best on Archilovers Finalist for Plan Awards
Finalist for MIPIM Awards
Products used in this project