A closer look at wood as a building material
Throughout the history of architecture, surely no other material has been as influential as wood. It's rare to see a building that's been produced without any wood at all, and it remains a fundamental element of most buildings to this day.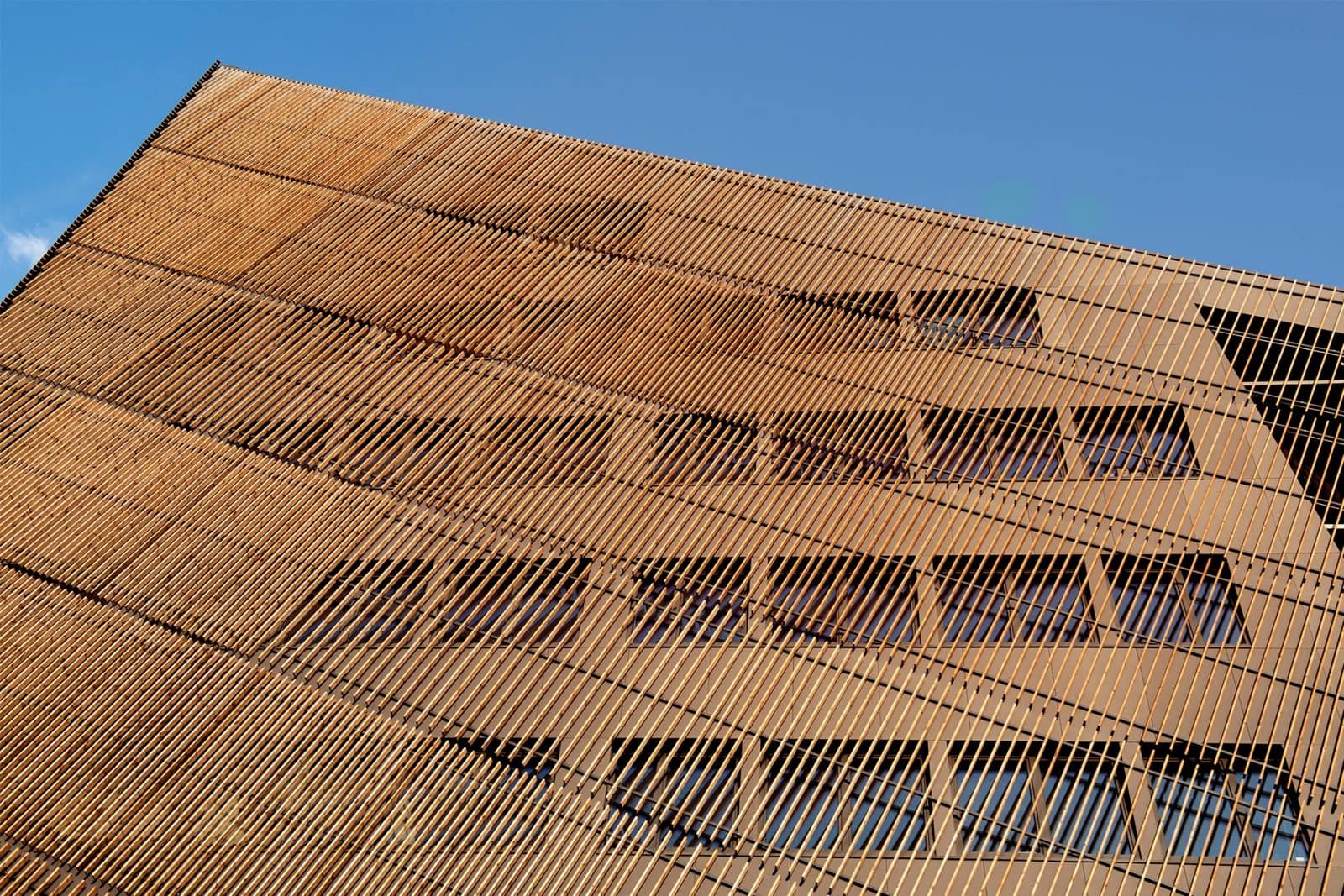 People have always sought to customize their dwellings to their own needs, from early humans adopting caves as living environments and ancient tribes building simple shelters right through to the full range of sizes and styles that can be seen in modern housing around the world. With its usefulness and versatility, wood has always had a lot to offer.
In honor of this most magnificent building material, we take a closer look at the important role that wood has played, and continues to play, in our architecture.
Wood through the ages
Wood's role in architecture has evolved over time, with the use of timber as a primary building material starting over 10 millennia ago. The world's oldest wooden building that can still be seen today is the Hōryū-ji in Nara, Japan, a temple that was first built around 670 AD, while Greensted Church in the UK, built around 1053, is the oldest wooden church in the world and also thought to be Europe's oldest wooden building that is still standing. The oldest wooden building that has been continuously inhabited is Roykstovan, a farmhouse built around the middle of the 11th century in the Faroe Islands.
The examples above illustrate how wood can be used to create both grandiose architectural statements and simple, rustic constructions – in regard to the latter, log cabins, barns, early saunas and the wooden housing that dominated up until the industrial revolution spring to mind. Indeed, alongside its abundance in every corner of the world and its renewability, wood's versatility is perhaps the feature that has contributed most to its popularity. Offering a wide variety of shades, with softer and harder varieties to choose from, wood can be cut, shaped and bent to provide equal utility in practical applications like substructures and beams and aesthetic ones such as façades and decorative elements. Wood is at once durable, strong and flexible – and always attractive.
Of course we have a special interest in thermal modification at Thermory, and it should be noted that although this process has been constantly developed and refined over time to be as effective as it is today, it was first used earlier than many may suspect, with the Vikings discovering that heat-treating wood could improve its durability and strength.
Bringing wood into modern times
Although wood hasn't always been the main material used in buildings – with clay and stone also featuring heavily and metals like bronze and iron eventually entering into the construction mix – it has always been present. And as highlighted in William Hall's book Wood, its combination of beauty and sustainability benefits have seen it making a comeback in recent times, with a number of inspiring building projects using exclusively wood. Some notable examples pointed out by Hall include a pine church in Norway, an office that doubles as an abseiling wall in Austria, and a Chinese library whose façade is decorated with twigs from fruit trees.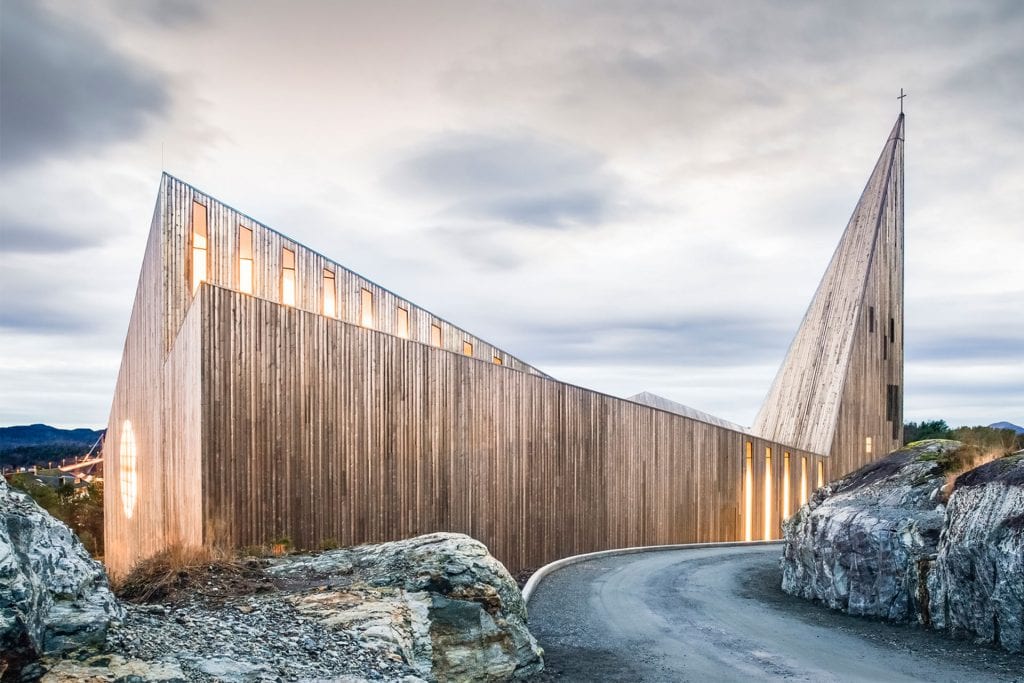 These days, wood is commonly used to create durable frames and attractive façades for buildings, as well as interior elements like staircases, bannisters and floorboards. Different wood types bring different benefits, with stronger hardwoods generally preferred for structural elements and woods that can offer better insulation properties and appealing looks used for interior walls and flooring. Thermal modification can enhance many of these desirable qualities, offering improved durability, rot resistance and dimensional stability. One of wood's most attractive features for many modern architecture firms is its sustainability credentials.
Sustainability benefits of wood
We discussed the sustainability of wood in an earlier article and among other benefits, we found that its renewability and re-usability are positive features, as well as its lower environmental impact and its ability to hold in carbon that has been absorbed by the tree during its lifetime. According to communications campaign Think Wood, "maximizing wood use in both residential and commercial construction could remove an estimated 21 million tons (approximately 19,050,880 metric tonnes) of CO2 from the atmosphere annually – equal to taking 4.4 million cars off the road." Think Wood also points out some health benefits of using wood in buildings, such as stress reduction, enhanced concentration and work satisfaction.
For these reasons, countries and municipalities are increasingly considering using more wood in cities, with the French government recently announcing plans for a law that will require 50% of all new public buildings to be constructed with wood or other natural materials, and Helsinki's new "Oodi" library showcasing the best of modern design with its sweeping wooden façade. Many prominent architects are also increasingly turning to wood in recognition of its benefits – for example, Japanese architect Kengo Kuma has shown what's possible with a number of designs that really catch the eye.
Other interesting and sustainable uses of wood include A Quiet Place to Sit and Rest, a bench designed by Kyle and Alyssa Trulen, who were inspired by Shel Silverstein's story The Giving Tree. As well as having a tree growing in the middle, the bench's design represents the rings of a tree – and the inner "rings" of the bench, which is made with Thermory ash and pine, can be removed to accommodate the tree as it grows.

Meanwhile, Forest Green Rovers is a football club in England with a strong sustainability focus – already the world's first 100% vegan football club, Forest Green Rovers FC has now secured planning permission for an all-wooden stadium, with construction planned for the near future.
Wood is here to stay
Wood has been used in architecture throughout history, and this seems unlikely to change anytime soon. In fact, with the growing recognition of the need for more sustainable solutions in buildings around the world, if anything its use will increase to replace other materials that harm the environment. This trend only highlights the need to look after our forests in order to keep this valuable resource available.