Celebrate spring in style with a well-maintained deck!
The warmth of springtime is fast approaching, and our thoughts are naturally turning towards spending more time outside. If you have a wooden terrace or balcony in your outdoor space, you're probably starting to imagine all the barbecues and small gatherings that you might enjoy over the summer months.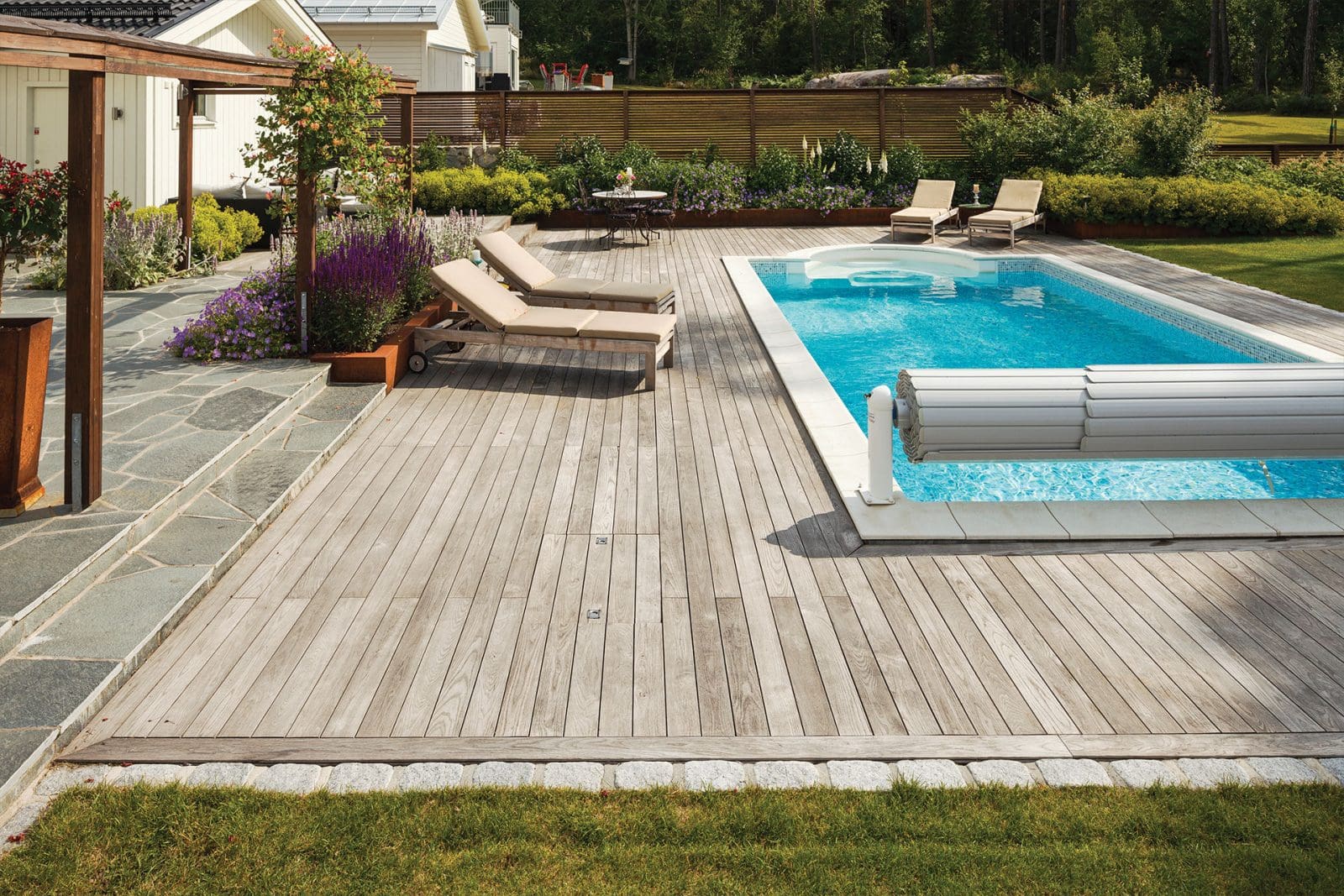 With that in mind, now feels like the perfect time to remind you about some simple strategies you can use to keep your thermally modified decking in the best possible condition, so that it gives you many more years of enjoyment. To help you, we've dipped into our decking maintenance guide and picked out some key pointers.
Let's start with some basics
As well as giving it a beautiful deep shade, thermal modification naturally enhances the durability and stability of wood right to the core, making it ideal for outdoor use. Using the proper installation and maintenance techniques will maximize the longevity of your thermally modified wood decking, so always remember to follow the instructions that come with your Thermory products!
Make sure that your terrace is kept free of leaves, needles and other debris that might get moldy. It's also important to note that spilled household chemicals, food and drinks may stain the surface, which can also get scratched by your pet's claws or high heels. Most of these will fade over time, but any deeper stains or scratches can be easily removed by lightly sanding the area – needless to say, if the boards were oiled then you'll need to apply a new layer after doing this.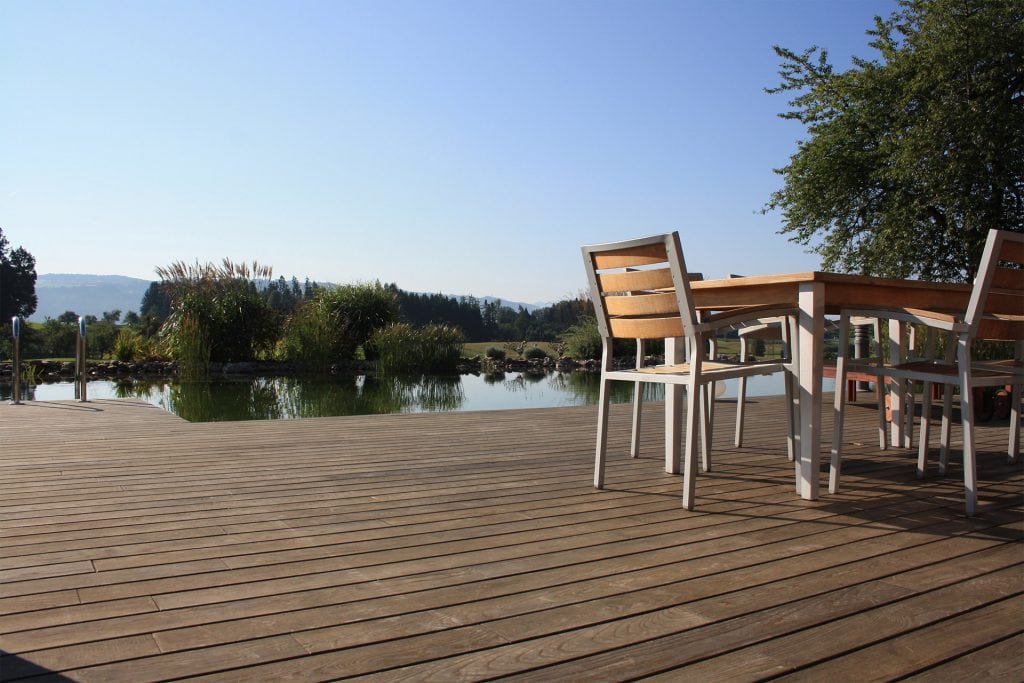 When to maintain your decking
Although it's not strictly necessary to treat your thermally modified decking, doing so regularly will keep it looking fresh, help it retain its natural shade and make it easier to clean. Generally, once a year should be enough.
How often you need to do this will depend on a number of factors including:
your local climate
how much usage your deck receives
how exposed the boards are to the elements
the kind of finish you're using.
It's a good idea to clean your decking regularly and to do any maintenance work before the start of the summer season when it will likely see more action. It's also best to do the work during warmer weather as the boards should be dry before you apply any oil or other surface treatments. If you're oiling your deck, don't do it when it's too windy or too hot, as this may cause the oil to dry before it's had a chance to seep into the wood.
Spare a thought for the environment and your health
Sustainability is important for us at Thermory. We enhance our products naturally, without chemicals, and when maintaining your decking boards we recommend that you use water-based products as an environmentally friendly and healthier alternative to solvent-based ones.
Cleaning your deck
Thermally modified boards can be simply washed with a wood cleaning product and warm water – if it's particularly dirty you may also require a brush. Then, rinse with a garden hose on the spray setting. Use a low water pressure and test it on a small area beforehand to ensure it doesn't cause damage – a strong jet of water can make the surface of the wood visibly uneven.
Once it's clean, make sure that your deck is nice and dry before carrying out any more maintenance work.
Maintaining the color of the wood
Like any wooden products, thermally modified wood will turn gray over time – don't worry though, this won't affect the durability of your deck, and you can prevent this using a UV-resistant finish if you want to. Regularly finishing the wood with oil or another protective product will also prevent it from cracking and help it repel water and dirt.
If you're treating wood that's already discolored, lightly sanding the boards will remove the gray from the surface and bring out its deeper original tone – or if you're happy for the wood to fade over time but you'd like to protect it from cracking, you can choose a colorless oil instead.
If you want to maintain (or change) the color of your thermally modified wood, make sure that you only apply the treatment to a clean, dust-free surface. You can protect your Thermory decking boards by coating them with a UV-resistant pigmented finish, such as a wax, stain, paint or mineral oil, and a darker-colored finish will help to reduce discoloration. We don't recommend using organic oils outdoors however, as they provide nutrition for biological organisms like bacteria and mold.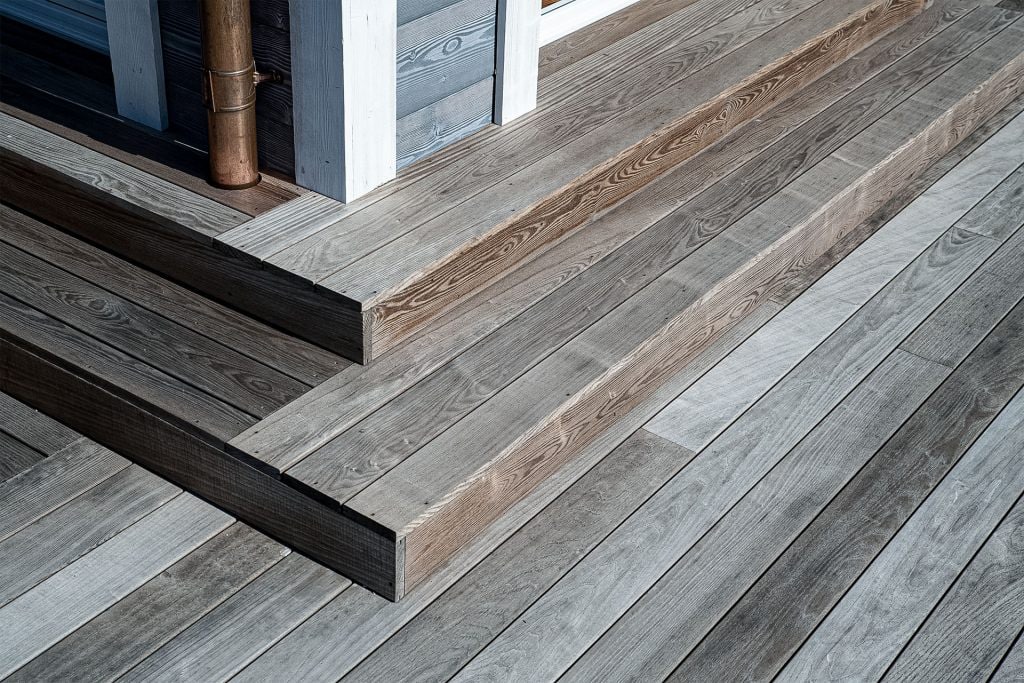 Preparing your deck for oiling
While this article provides some handy general guidelines, remember to always read and follow the oil manufacturer's instructions, as the ideal application method and drying times may vary from one product to another.
Before you get started, remove all furniture and other items from the deck and cover any plants or grass around the edges to protect them from cleaning agents and oil, then clean any dust or dirt from the surface using a brush and some water, as well as a wood cleaning product if needed. If you find any moss, remove this too – you might find that a scrubbing brush or terrace cleaning machine helps.
How to apply the oil
Start with a clean and dry surface, and select a suitable tool such as a brush, sponge or mop. If you're using tinted oil, we recommend stirring it thoroughly and testing it on a small area first to ensure that it's the right shade – and if you need more than one can, mix them together to ensure an even tone. You're now ready to begin the oil treatment.
Stirring the oil occasionally as you go, apply a thin layer to the decking boards – be careful not to apply too much at once. Start at one edge and make your way over the entire deck, one board at a time. If you notice that too much oil is pooling in certain areas, wipe up any excess with a cloth before it dries – be especially careful if you're oiling ribbed decking, as thick layers of oil can gather in the grooves. One or two layers should be enough – if you haven't maintained your deck for a while, it's best to apply a double coat. Once the deck is dry, replace your furniture and enjoy!
So there you have it – now you know how to keep your Thermory deck in tip-top condition for all of those snapshot summer moments!