Creative outdoor living ideas
Introduce comfort, style and practicality into your outdoor space so that you can enjoy more time in the fresh air during the coming warmer months.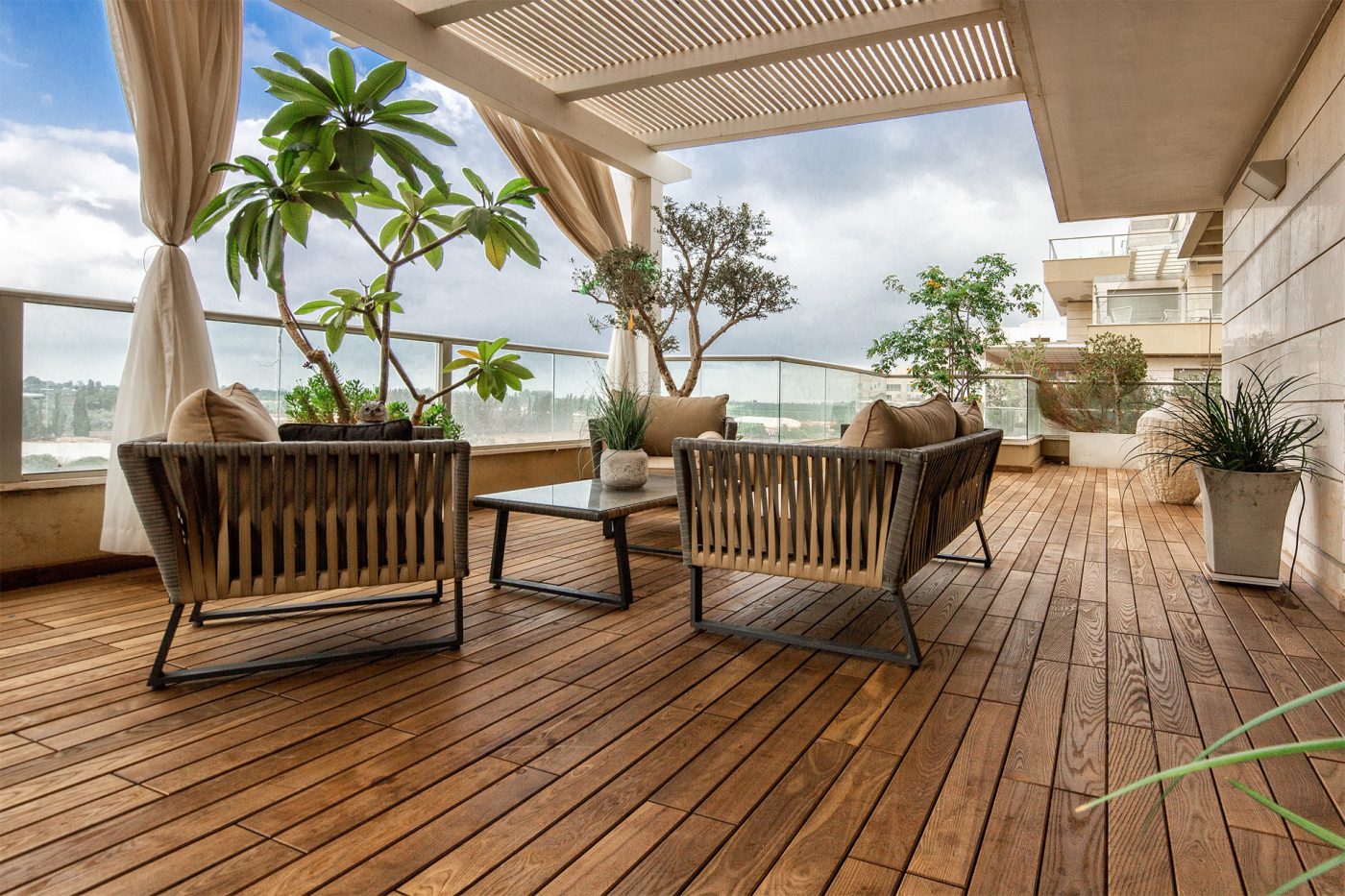 Extend the living space outwards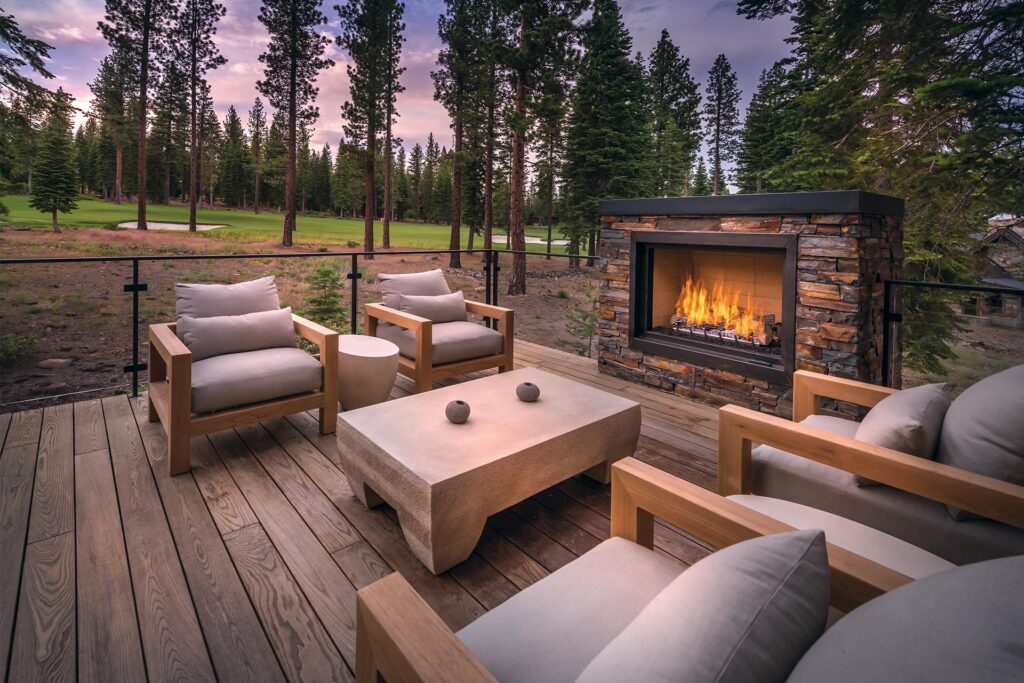 When it's warm, we naturally want to spend more time outdoors and a great way to do that is to bring some of the trappings of everyday life into the garden, such as a pizza oven, a dining area, an outdoor bar or garden furniture like that shown in this example.
There are multiple contemporary decking ideas that you can play around with, with lots of options for wood species, profiles, patterns and designs. Whether you choose to have a small deck or fill up more of your outdoor space depends on how you will use your garden decking, whether you have a large or small garden and what your overall vision is for using the space.
Shelter from the sun's rays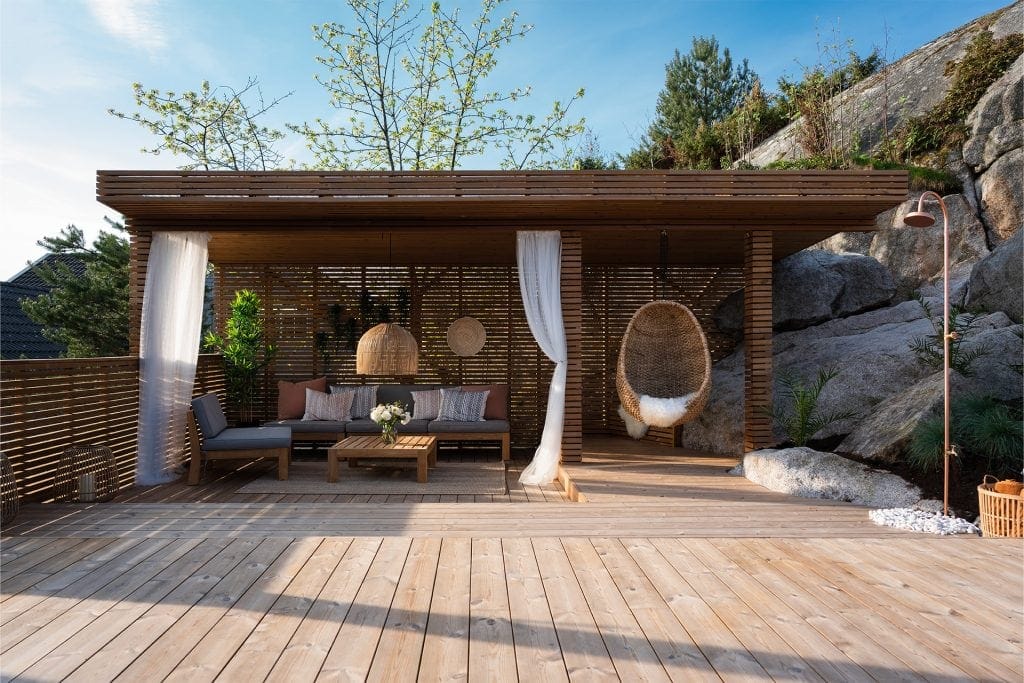 While it's nice to soak up the sun, having a covered deck can provide protection from harmful UV radiation when it gets too strong, while also offering shelter from the rain when needed.
This garden in Norway, with thermally modified pine decking, is a great example of how wood can be used to create shade while also leaving plenty of space to work on your tan.
Cook in the open air with an outdoor kitchen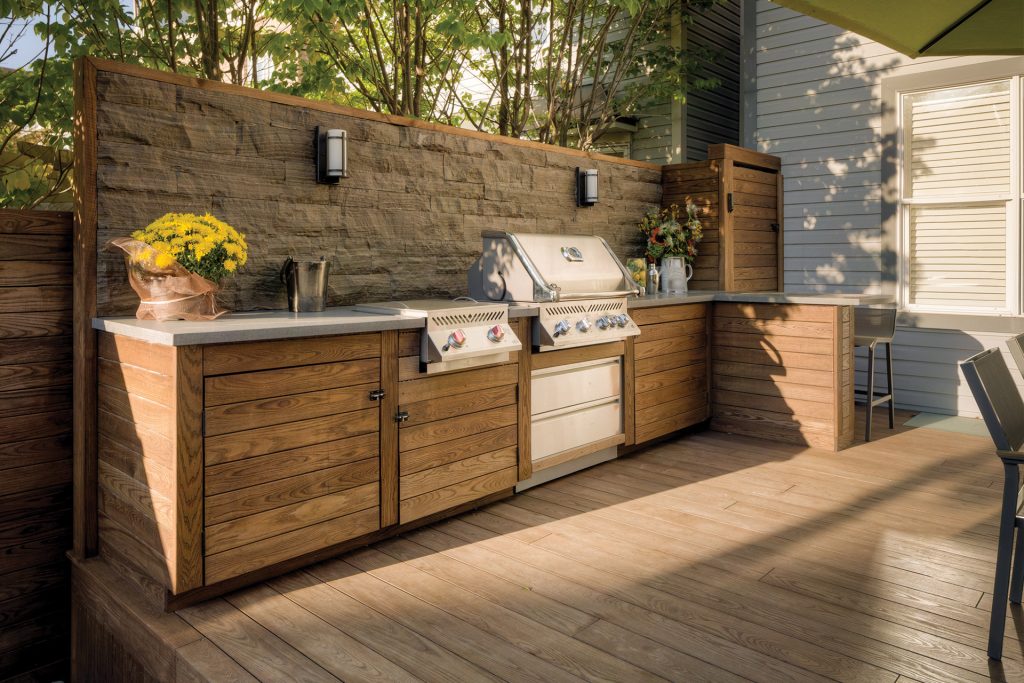 There aren't many activities more satisfying than cooking outdoors. If you have a large garden, something you might want to incorporate into your decking project is an outdoor kitchen with a charcoal barbecue or gas-powered grill.
If you really want to get in touch with your primal side you could even consider having a fire pit, which, as well as keeping you warm on cooler evenings, will also allow you to carry out simpler culinary processes like toasting marshmallows and cooking jacket potatoes.
Eat al fresco with a decorative outdoor dining table

Creating an al fresco dining area means you don't need to eat indoors on those summer evenings when the weather is delightfully warm and you just want to stay in your outdoor space.
Extending the wood theme from the deck boards to the furniture, as in this example found in Norway, creates continuity and helps to create a relaxed feeling, as you'll be surrounded by more natural materials.
Make DIY flowerboxes using your leftover decking materials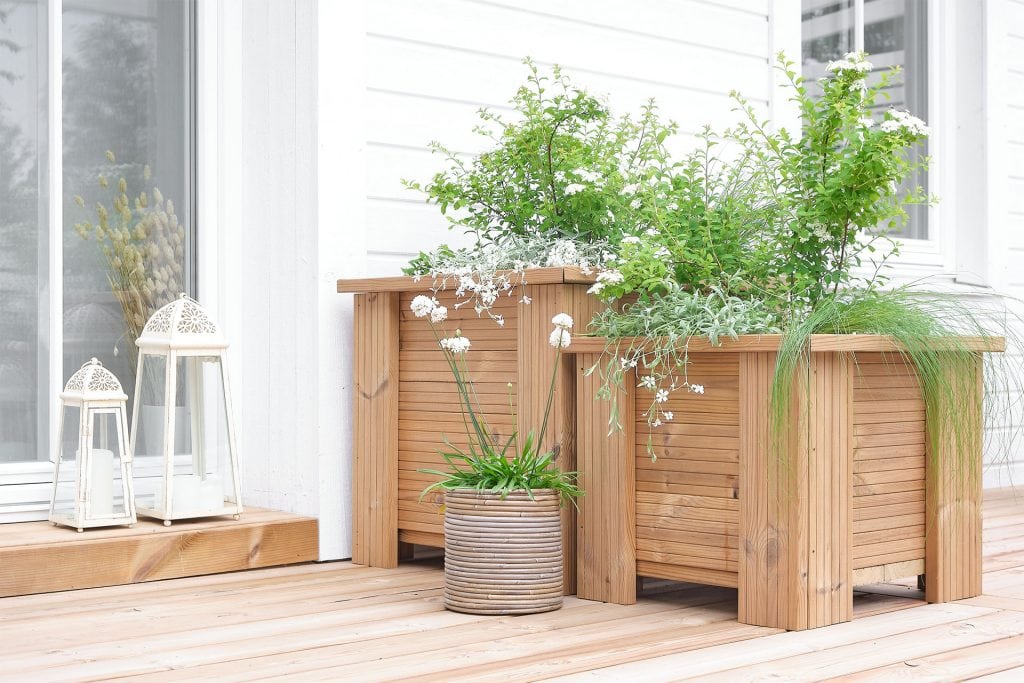 These planter boxes can be made from any wooden material that is surplus to requirements from your decking project and they come in all shapes and sizes, making them a perfect decking idea for displaying different kinds of potted plants. You can find the instructions for making the flower boxes here.
Use climbing plants to create a living wall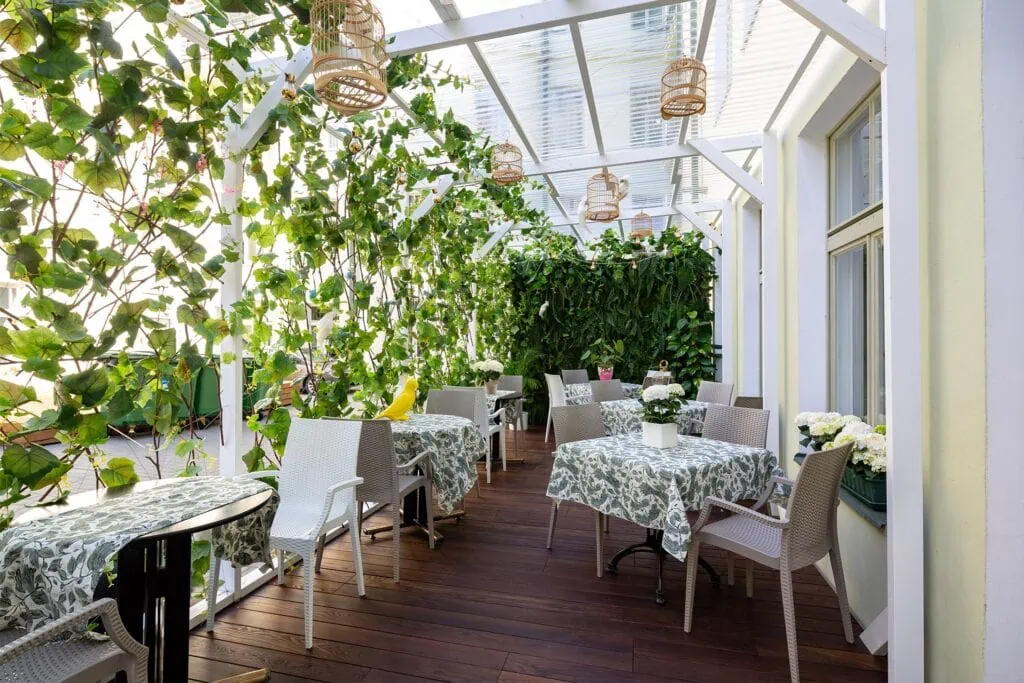 The natural living wall in this image is a lovely example of how a little bit of greenery can go a long way to creating a calming, relaxing space. If you have a vertical flat surface but you don't have enough garden room for plant pots, this can be an especially handy way to create a sense of natural serenity.
Turn up the atmosphere with festoon lights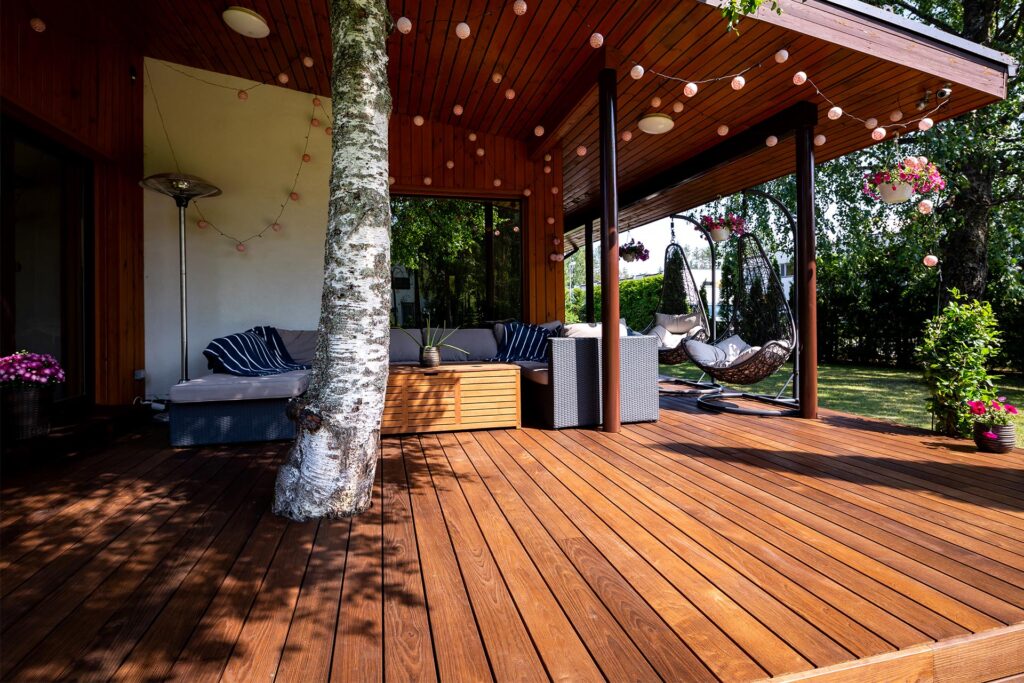 To enjoy the best outdoor living experience when using your space, lighting is an important aspect to take into account, especially if you're planning to spend a lot of time outdoors after the sun goes down. Lamps, lanterns, festoon lights or even LEDs are all options to help you create the right mood in your garden design.
Create a cozy, undisturbed space with privacy screens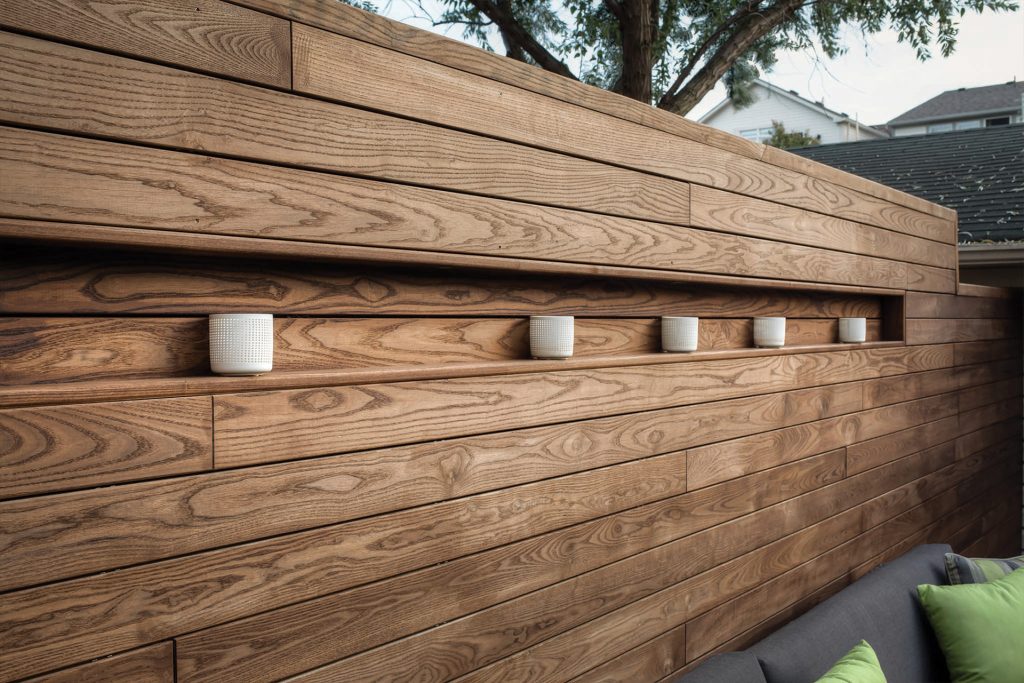 Although your garden is a part of your private space, because it's out in the open it can sometimes feel a little exposed compared with the indoor part of your property.
One way to combat this is with a privacy screen, which, in addition to its practical benefits, also presents a great opportunity to further enhance the visual appeal of your existing patio area with wood.
Choose garden furniture that makes your garden feel like home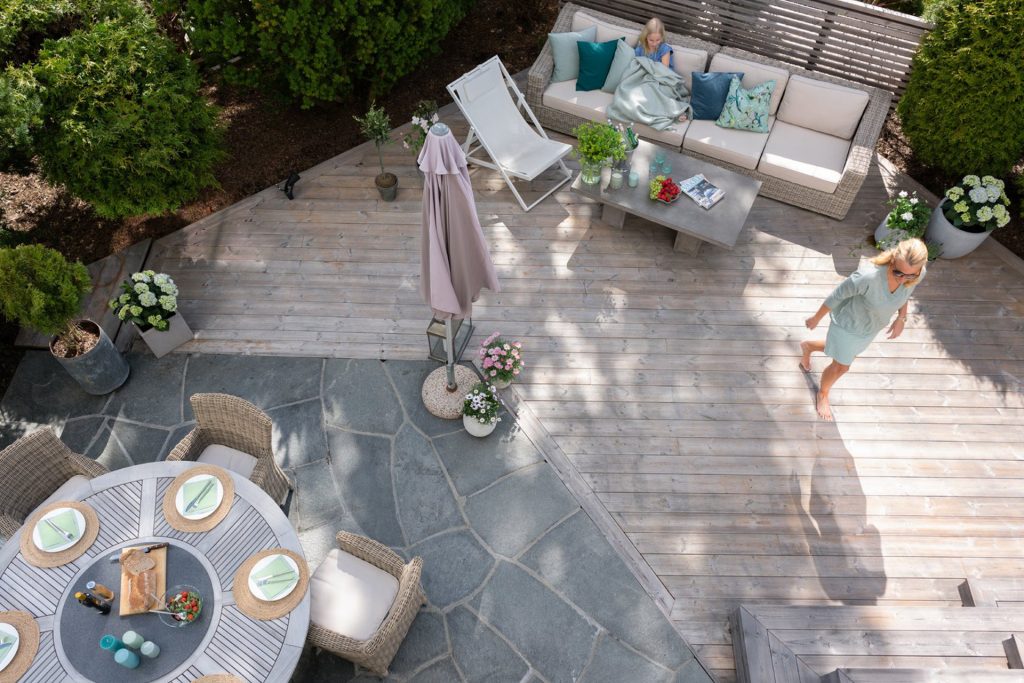 Outdoor furniture is a great way to make your deck comfortable and homely, meaning that you simply won't want to go back inside. Depending on the size of your decking area and how you intend to use it, you might choose to have a dining table with chairs, sun loungers, an armchair or sofa with a coffee table, a parasol to protect you from the harsh sunlight, bean bags to lounge in, and many other creature comforts to make your outdoor living space more special.
Add some comfy cushions and you could almost be in a cozy living room – except for the added pleasure of the scent of flowers carried on the gentle summer breeze to remind you that you're outdoors.
Get creative and design your perfect outdoor living environment!
If you're looking to enhance your garden space ready for the summertime, the versatility of thermally modified natural timber presents almost limitless possibilities.
Hopefully, the outdoor living and garden decking ideas we've presented in this article have helped to inspire you for your next project. Whether you're still looking for more inspiration or ready to get started, now is the perfect time to check out Thermory's broad range of wooden decking products.