Discover inspiring wooden decking ideas
Summer is just around the corner, and as we eagerly look out to see the evidence of rising temperatures, that can only mean one thing – we're ready to start spending more time in the great outdoors.
If you're fortunate enough to have a home with its own outside area there are many ways you can make it more appealing, which will both encourage you to spend time in your garden or balcony and help you to enjoy it more when you do. Adapting your outdoor space with the addition of a natural wood deck or modifying it in other ways to make the experience as pleasant as possible are both good options.
Your perfect deck will reflect your personality and meet your needs, so the style and layout you'll ultimately opt for is a very personal choice. As you explore how a decking project can make the best use of your garden, whether you have a large or small outdoor space to play with, the ideas below will hopefully provide some inspiration along your journey.
Why is wood better than composite decking and other materials?
Before we get stuck in with some suggestions to help you create a decked terrace that you can be proud of, let's quickly look at why natural wood is such an ideal material for a decking area in the first place. The main options for decking materials, besides wood, are plastic, aluminum and composite decking.
Compared with composite decking, wooden decking is comfortable as it offers a smooth surface and doesn't overheat too much in the sun, and as a natural material, it offers sustainability benefits too. It's also strong, durable and reliable.
Lay decking boards in a pattern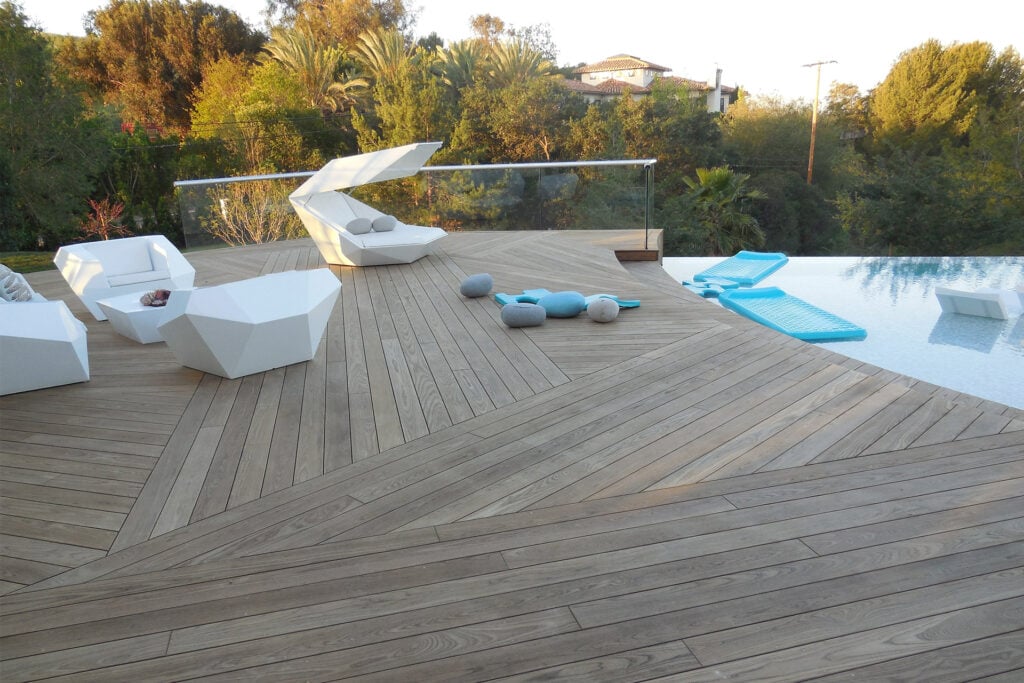 When you come to lay decking in your garden, one of the simplest decking ideas to create an appealing look is to lay the boards in a pattern.
Whether you use a regular, repeating pattern or opt for something quirky and angular, there are many options you can consider for a striking effect that will impress visitors and give you a deck where you can enjoy whiling away the hours.
Discover different garden decking patterns for inspiration.
Use the same material for cladding and decking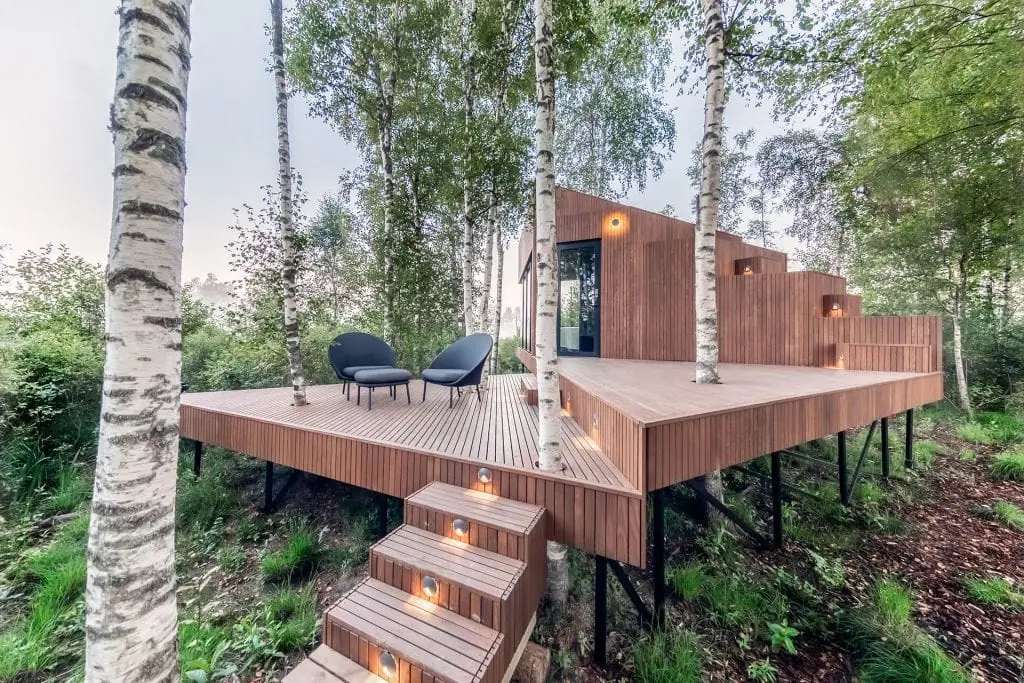 With so many materials to choose from for your decking project, it can be tempting to mix and match the patterns, colors, wood types and profiles to create a striking effect.
However, sometimes the simple option is more eye-catching than you might expect, and this is one situation where that is very much the case, as you can see in this image from Estonia's Maidla Nature Resort.
Creating a sense of visual continuity between the decking area and the surrounding walls can give your garden design a surprising appeal.
Embrace natural patterns and lines

The addition of a wooden decking area makes a garden feel more natural by introducing more organic materials into the space.
You can enhance this effect further by using decking boards with natural patterns, such as Thermory Flow, which uses wavy lines to create visual harmony with the surrounding nature. Because most decks use straight lines and symmetrical patterns, this will give your decking project a natural distinction.
Save the trees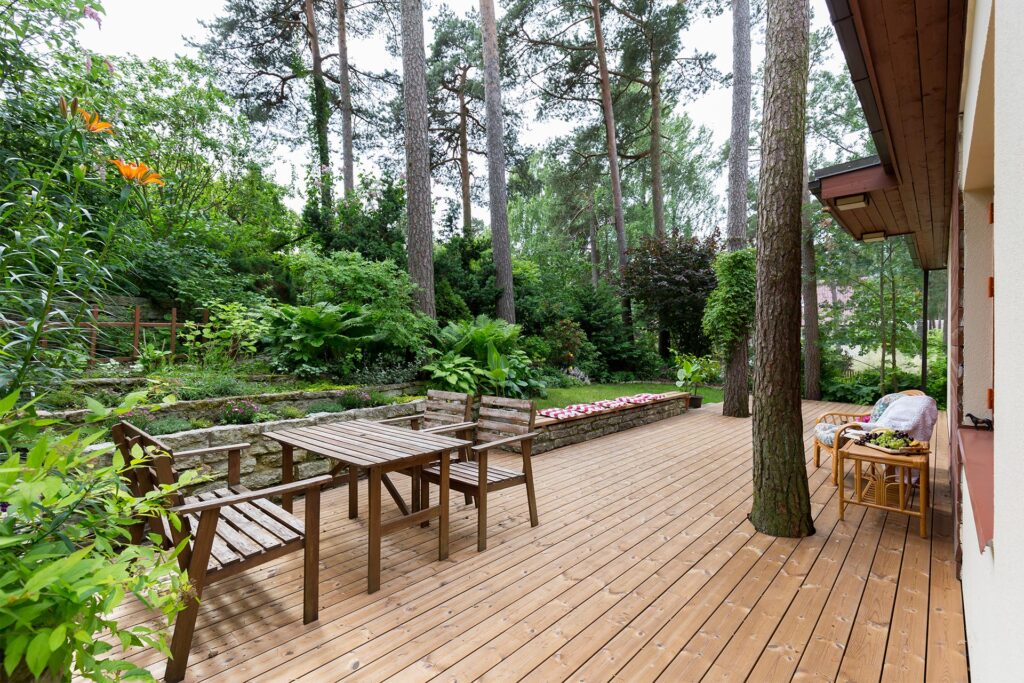 When it comes to compelling garden decking ideas, this is one that's sure to stand out. If the space you've earmarked for your decking contains trees, you might be tempted to cut them down to make space for your grand vision.
However, as you can see, there is a way around that – and we mean that literally. Trees are beautiful and it would be a shame to remove them from your garden decking area unless absolutely necessary, so hopefully the image above will inspire you if this is a situation you find yourself faced with.
Create a perfect poolside paradise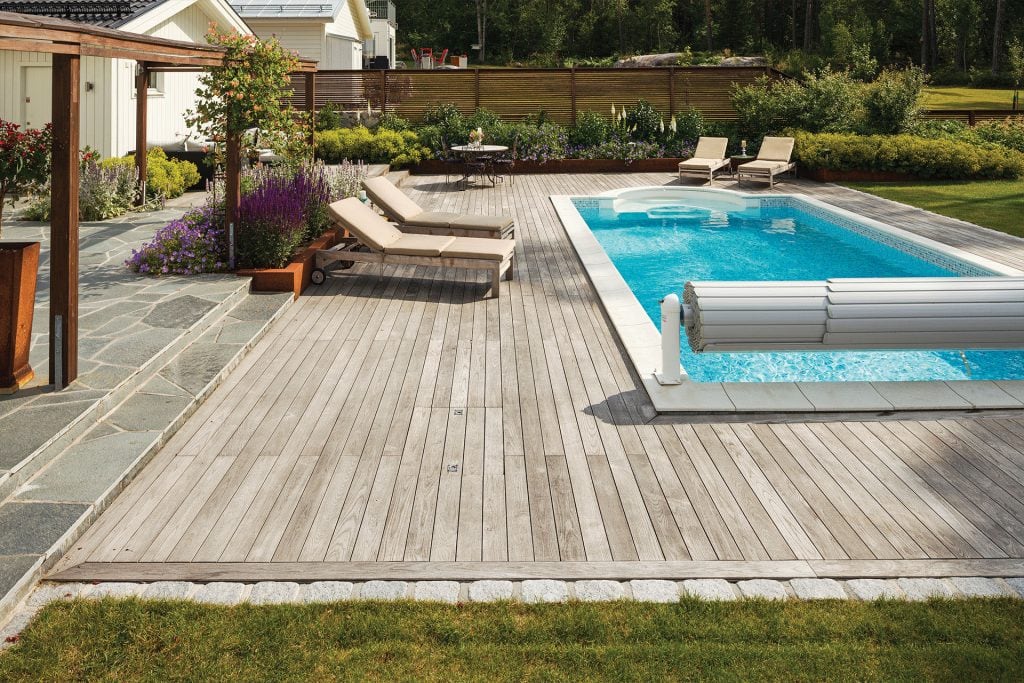 Wood decking can be used around a swimming pool. A major advantage of thermally modified wood decking, like the thermo-ash design in the picture above, is that the ground beneath your feet won't get too hot, meaning you'll be protected from the heat when getting in and out of the pool.
Installing an outdoor shower can also help you stay fresh, while if you have enough space, hot tubs will enable you to keep using your garden as summer turns to autumn and the weather starts to cool. The splash zone around the pool, hot tubs and outdoor shower can also be made from wood as long as you use the right kind and treat it correctly.
Get in touch with the rugged wilderness of nature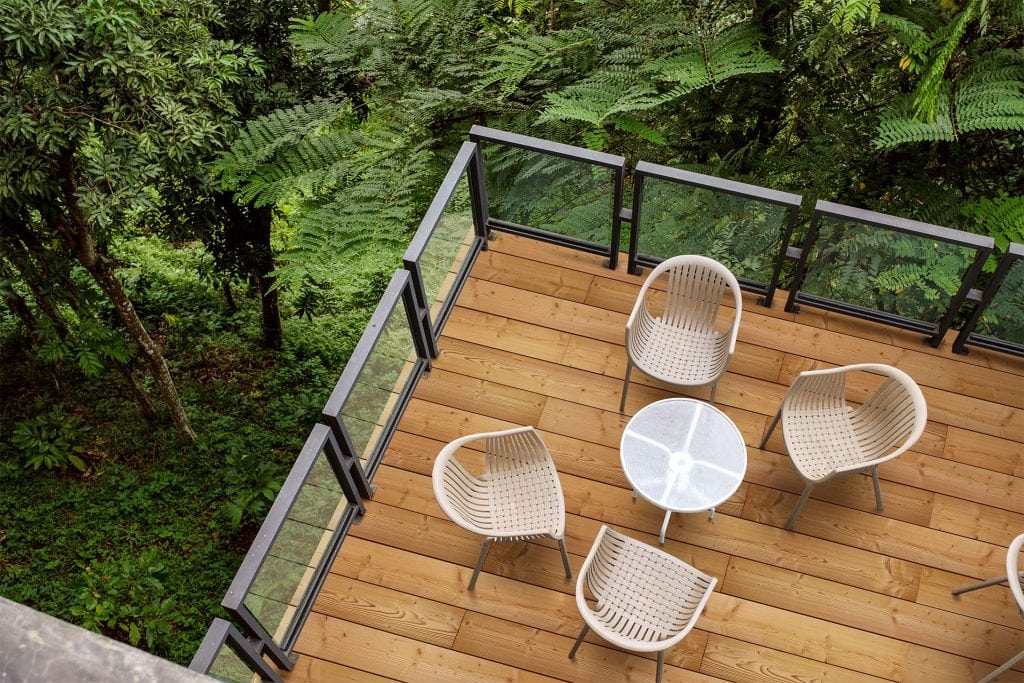 Nature is all around us, and being surrounded by it provides many benefits for health and mental well-being. While it's nice to have a deck as part of your garden design, it's ideal if you can install it without losing touch with the flora and fauna that can be found in your back yard.
Having your deck designed with the intention of allowing the natural vibrancy of life to flourish around you will be good for users of your outdoor space and the environment alike.
Keep it simple with QuickDeck modules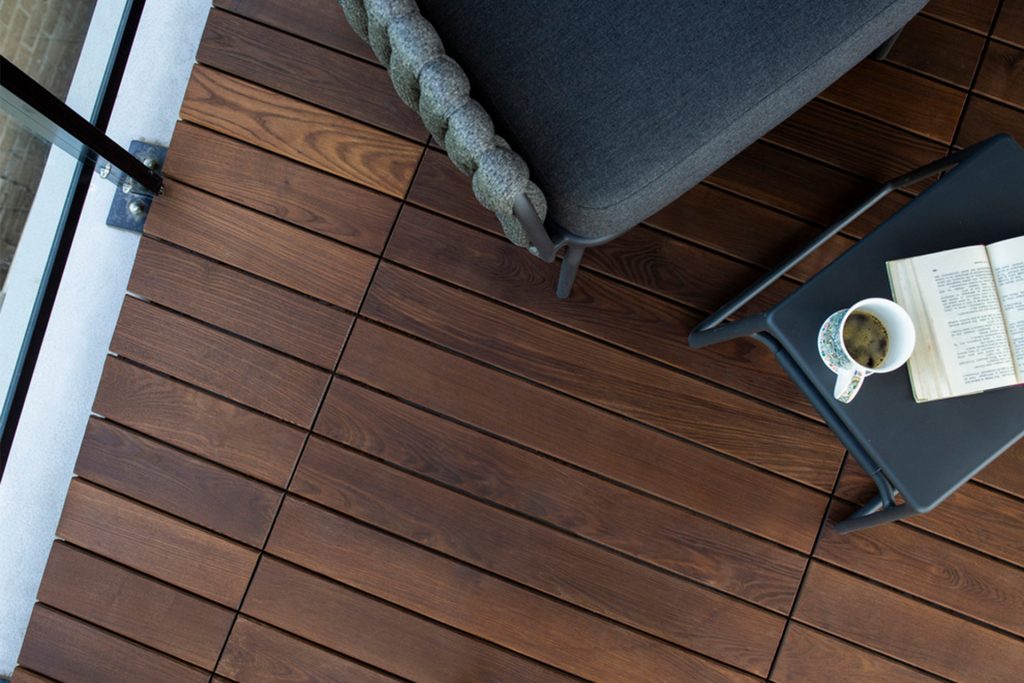 Even small outdoor spaces, like balconies, can and should be well designed. With QuickDeck by Thermory, it's surprisingly easy to create a deck design that looks simply stunning.
The QuickDeck modules are held in place by weatherproof plastic supports, requiring no substructure, tools or even screws to install. The easy-to-lay decking modules are made with knot-free thermally modified ash, which boasts a rich, deep color and impressive durability.
Make a scene with oiled boards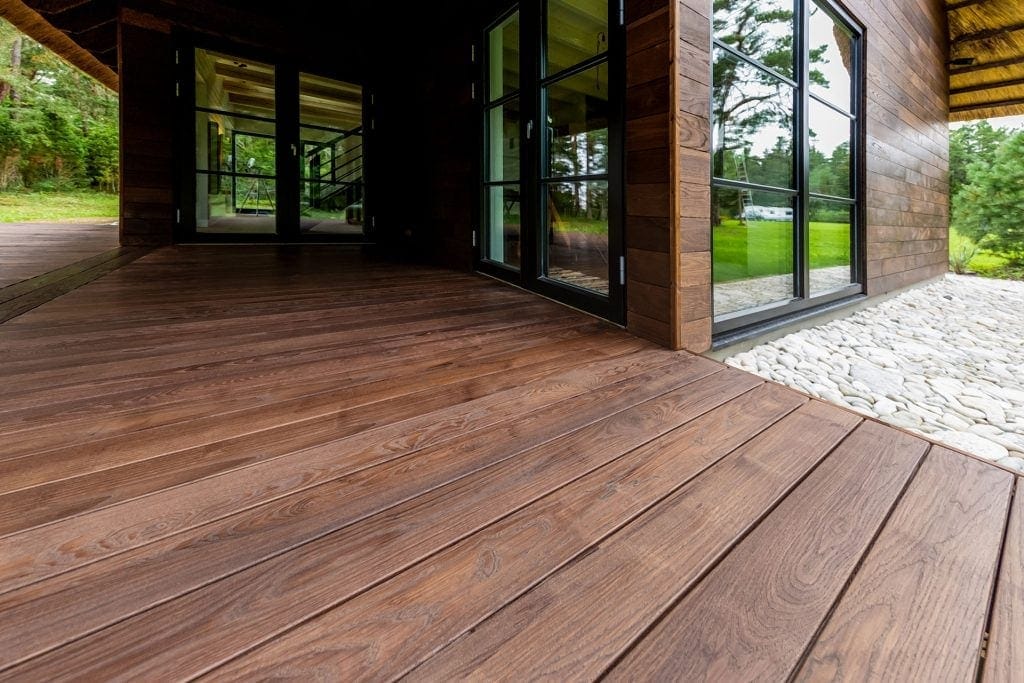 Having devoted a significant amount of time, money and energy to selecting, designing and installing the perfect garden decking, you'll no doubt want your new deck to look as good, and last as long, as possible.
Giving your deck a regular coating of UV-protection oil will preserve its natural color for longer while also improving its durability, weather resistance and overall appearance.
Depending on the look and level of protection you want to achieve, you can also consider using an appropriate outdoor paint, decking stain or wax to protect and enhance your deck boards.
Use a herringbone pattern for a touch of class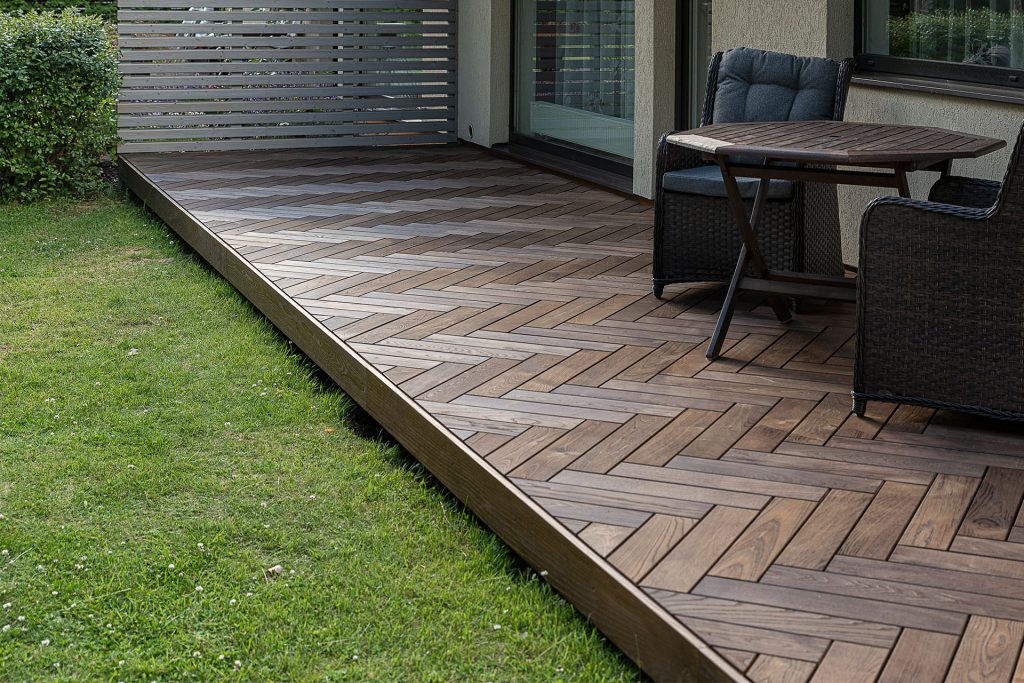 Styles will always come in and out of fashion, but herringbone is a classic look that will never get old. With Herringbone by Thermory it's easy to create an elegant patterned deck design thanks to the innovative modular system.
The knot-free thermo-ash deck boards are also extremely durable and smooth to the touch, with a rich, deep tone. If you're looking to lay decking that will stand the test of time in every sense, you can't go far wrong with herringbone.
Explore urban garden decking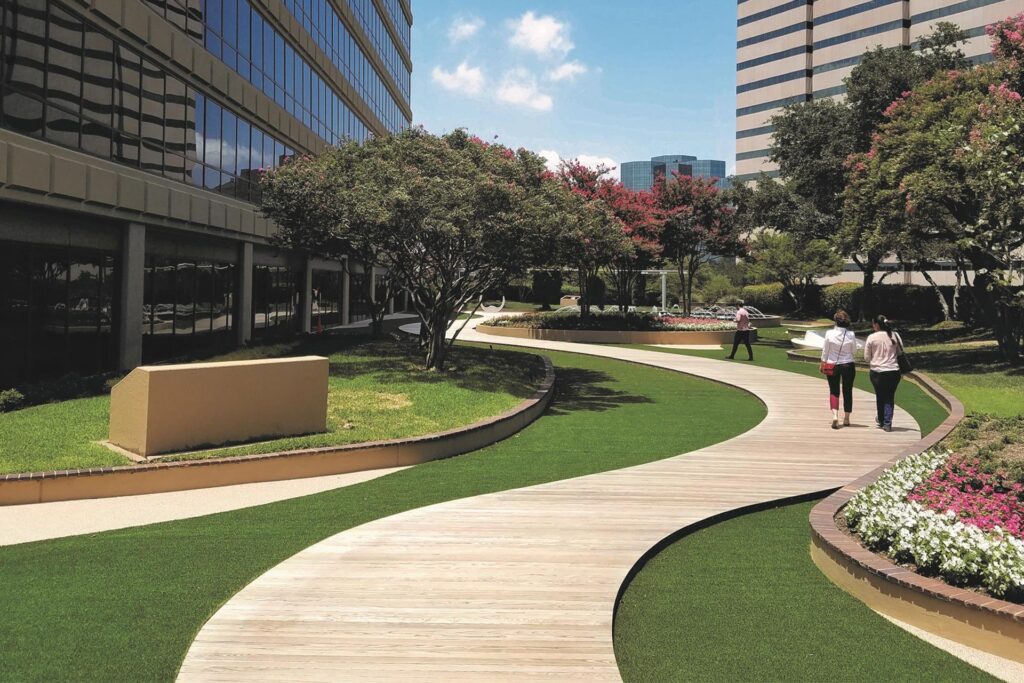 Wooden decking is not just for private gardens – it's often used to create stunning public outdoor spaces too. When you're out and about, why not look around for inspiration and see how architects have used decking to enhance areas that are open to the public?
If you're considering decking ideas for your own design, the Gardens by the Mandalay, shown in the image above, is a great example of how this magnificent material can be used to create a harmonic visual masterpiece where anyone can enjoy basking in the summer sun.
Maintaining your wood decking
Once you've created your beautiful new decking area, of course you'll be excited to get out there and enjoy it as often as you can. However, it's also important to remember that regular maintenance is required to keep wooden decking in tip-top condition for years to come.
Fortunately, this is relatively simple to do if you just follow some straightforward guidelines. To keep your decking at its best long into the future, you should keep the surface free of leaves, needles and other moisture-retaining debris that can promote mold.
You should also give your deck a thorough clean before the start of the season each year, in the spring or early summer. For this purpose, you can use a pressure washer or simply clean it with a brush.