Press & Click System powered by Grad now available with Alu Rail
PaCS (Press and Click System) product ranges combine high-quality Thermory thermowood with the unique installation system by Grad. It is a popular hidden fastening solution designed for fast and easy installation.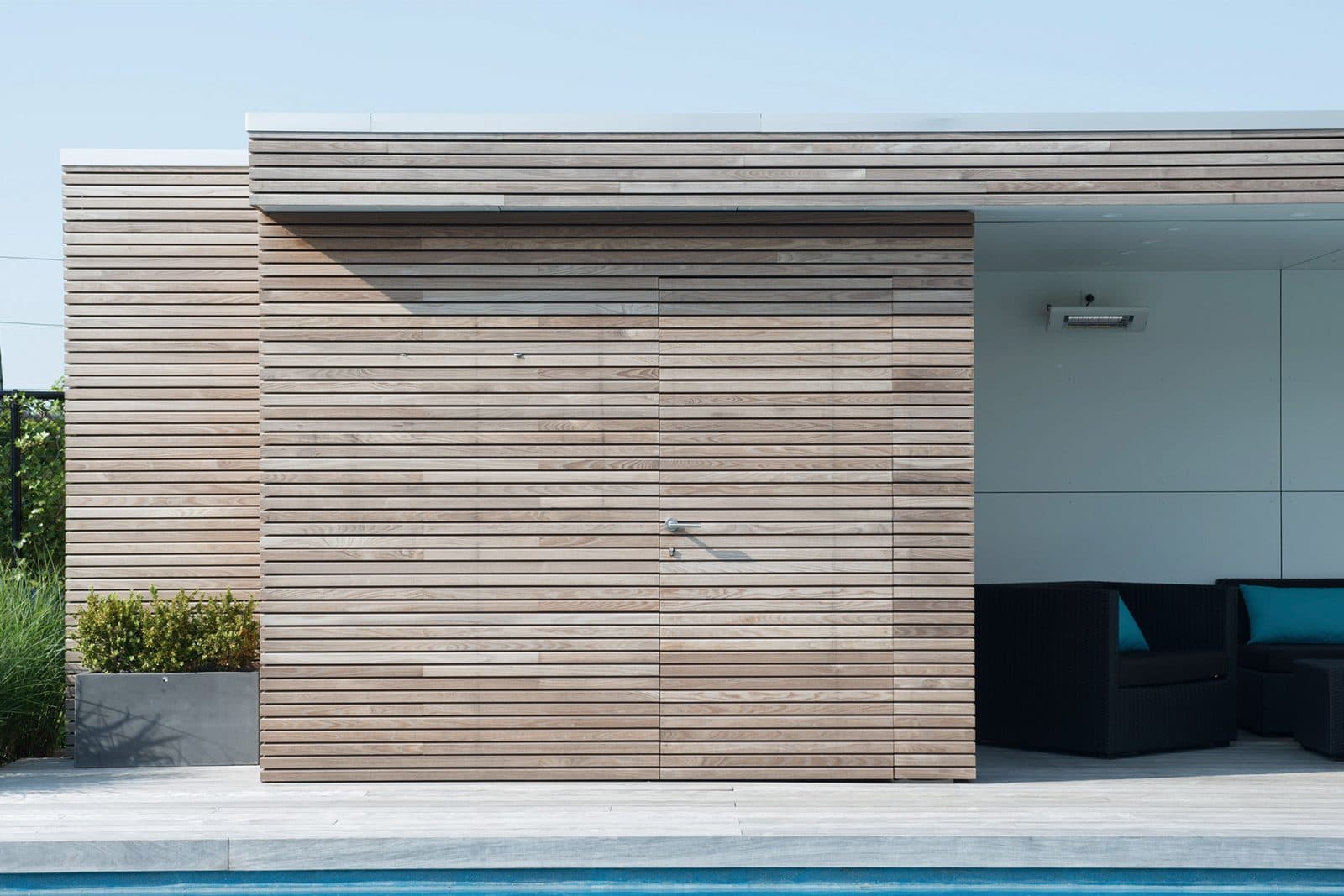 Thermory PaCS consists of specially profiled Thermory boards with grooves on the underside that perfectly fit the Grad clips or aluminium rails with pre-mounted Grad clips. Meaning, the boards are simply pressed and clicked into place (PaCS) without showing any screw heads, making Thermory and Grad products very popular worldwide.
Thermory now offers two new products for Press and Click System that will provide better decking and panelling benefits to our customers worldwide.
What is Grad?
Grad is a genuinely invisible fixing decking system. The clips are entirely hidden under boards and not on show between the boards. Grad is not only a fixing system for decking and cladding, it is part of a company that creates fixing systems.
Usually, hidden fix decking has involved clips that are individually fitted all along the edge of each board. Still, the unique 'clip grip' design mentioned above means that boards can now be installed much faster than traditional screw methods. Grad clips are pre-mounted into an aluminium joist in our factory, meaning faster installation.
Another benefit of using Grad clips is that they grip deep into each board and not only along the edge. So once fastened in place, the boards are impossible to dislodge.
However, if needed, any decking board can be easily and quickly removed using a unique key that does not damage or mark the wood material (please note, the key is not included and will need to be purchased separately). This benefit is for installations with board gaps because the keys must fit between the boards.
This durable system allows invisible fixing (no visible screws), easy and quick installation (boards are just snapped on rails pre-equipped with patented clips), easy maintenance and endless possibilities in terms of design thanks to customisable clip steps (regular or variable).
The unique clip and groove design at the heart of the PaC System means that cladding can be installed 2-3 times faster than other products.
Designed and manufactured in France, Grad has been refining and improving its invisible fixings system since 1988. Grad is part of Burger industrial group, a 150-year-old family-owned business with recognised expertise in woodwork, framework, aluminium rails and plastic injection. Grad specialises in the conception and manufacturing of innovative fixing systems for decking, cladding, ceiling and other applications.
Why Thermory thermowood?
At Thermory, our thermowood decking boards are designed, treated and milled with the perfect outdoor experience in mind. Each board is naturally beautiful, expertly modified and highly functional – the perfect mix of art and science.
Our decking boards undergo intense thermal modification, which gives them unrivalled durability and stability that runs all the way through to the core.
Depending on the profile, Thermory thermowood decking boards can be installed with screws, clips or PaCS – as per Grad's system. Meaning that Thermory boards and panels and Grad's fixing system create perfect products for consumers and businesses looking to convey luxury through using sustainable wood materials that last.
Introducing PaCS Grad Alu Rail products powered by Grad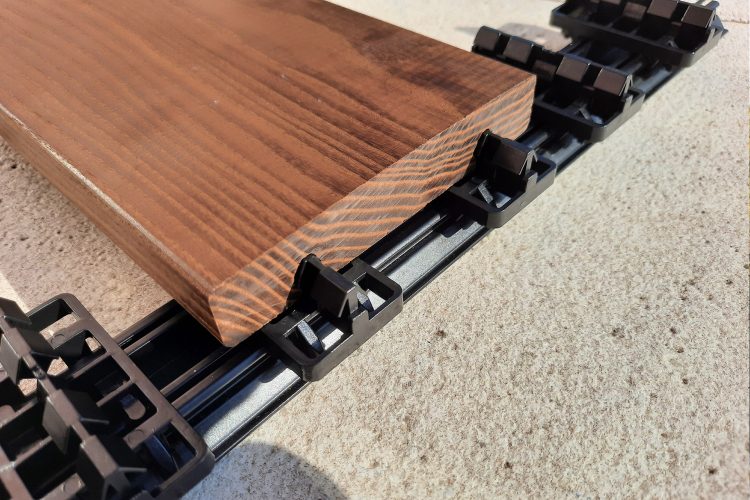 PaCS Grad Alu Rail Start
PaCS Grad Alu Rail Start is a non-load-bearing aluminium joist with pre-mounted Grad clips that can be laid on a flat surface or on wooden joists.
The Grad clip raises the board 6mm from the joist, ensuring the required ventilation. Fix the rail with screws every 500 mm. PaCS Alu Start Rail raises the boards to a height of 18 mm (rail 12 mm + clips 6 mm).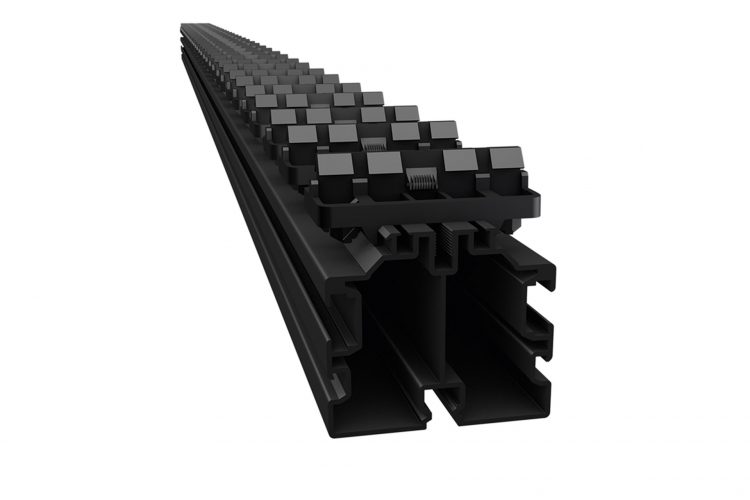 PaCS Grad Alu Rail 56
PaCS Grad Alu Rail 56 is a load-bearing aluminium joist with pre-mounted Grad clips.
Boards will be raised to a height of 62 mm with PaCS Grad Alu Rail 56 (rail 56 mm + clips 6 mm). PaCS Grad Alu Rail 56 is perfectly fitted with Top Lift pedestals.
Benefits of PaCS Grad Alu Rail
Fast and easy installation
Grad's easy to install system with pre-assembled clips on aluminium rails and pedestals for varying heights means that installation can be up to twice as fast in several cases. It's why Grad is a popular, proven and tested system for many households and businesses.
Removable boards
Because PaCS is a press and click system, should the boards need to be removed for any reason, they do not require unscrewing that could damage the wood and impact its durability.
Thanks to the Grad clip, the installation is invisible and removable. It does not damage the wood, making it easy to slide out the boards that need replacement and ensuring that they look as they were initially set up when the boards are returned.
Beautiful clean surfaces, no screws are visible
As Grad's clips are deep into the heart of the board, there are no visible screws or fasteners on display.
This gives the boards and panelling a beautiful, 'clean' look that is not found elsewhere.
Luxury look and feel
The decking boards in Thermory's thermowood collection are unique in providing a luxury look, whether used for indoor or outdoor settings.
Unlike chemical impregnation, thermal modification enhances the wood's properties both inside and out. The result is boards that are stable and durable in every sense.
Concerning their appearance, thermally modified wood has a beautiful, deep colour. Meaning that our thermally modified ash has the appearance of tropical hardwood yet is far more sustainable.
Protection against wood decay
Our unique heat treatment process in our thermowood provides our decking and panelling with the highest durability class possible for wood.
Wood's biological resistance increases when the nutrients in wood alter during thermal modification, becoming less accessible to pests and microorganisms. So, this increases the durability of the wood in outdoor conditions, thus protecting against wood decay for several years.
Thermory's thermally modified class one (ash and spruce) lasts for 25+ years and our class two (pine and radiata pine) will last for 15+ years. 15 + years. Our thermo-ash and thermo-spruce wood lifespan are similar to tropical teak and ipe, whilst our pines are similar to bangkirai, oak larch and cedar.
Grad + Thermory = the perfect match
Now you know that using Press and Click System powered by Grad for your thermowood decking or cladding installed and ready to use, you'll be basking outside for the summer in no time at all.
You can read more about our thermally modified thermowood on our website or the Grad concept here.