Building a stunning deck is now astonishingly easy!
Thanks to Thermory QuickDeck modules, installing smart, attractive decking for your terrace has never been easier. With no substructure, tools or even screws required, these decking modules can be quickly and easily connected with the help of weatherproof plastic supports. This beautiful screw-free decking is an ideal solution for roof decks and apartment balconies, with two modular solutions available to create your desired floor pattern.
QuickDeck decking modules are made with thermally modified ash, which is extremely durable, dimensionally stable and knot free with a rich, deep tone. Thermally modified wood is natural, chemical free and harmless to the environment.
| | |
| --- | --- |
| Application: | Decking |
| Species: | Thermally modified ash |
| Modification level: | Intense |
| Use: | Exterior |
| Durability class: | 1 (25+ years' protection against wood decay) |
| Finish: | Unoiled |
| Texture: | Smooth |
| Installation types: | Hidden |
| Installation methods: | Modular system |
Comfortable, knot-free decking that's naturally durable

KNOT FREE
An even, aesthetically pleasing look and feel

SMOOTH FINISH
A splinter-free, comfortable deck

THERMALLY MODIFIED WOOD
Thermally modified wood is more durable with a lower moisture content

DURABILITY
Thermory's thermo-ash cladding has the highest available durability class

SUSTAINABLE
Wood sourced from sustainable forests with chemical-free modification

NO HOT FEET
The decking doesn't overheat in the sun
With QuickDeck modules, you can build a beautiful terrace for homes and public spaces
A beautiful, easy to install terrace

HIDDEN FIXING
An attractive finish with no visible screws

EASY INSTALLATION
Ingeniously simple fixing methods

SUBSTRUCTURE NOT NEEDED
Can be installed on any even surface
Why choose QuickDeck thermo-ash decking?
If you care about the environment and you're looking for a durable and stable material that's suitable for outdoor use, Thermory QuickDeck thermo-ash decking is right for you.
Thermally modified ash is an environmentally friendly alternative to tropical wood – our wood comes from sustainably managed forestsand we never purchase timber that originates from endangered woodland, tropical forests or rainforests.
Thermally modified ash has similar durability characteristics to tropical wood (class 1, 25+ years) with superior dimensional stability.
Thermally modified wood's lower moisture absorption capability and rate results in less moisture-induced deformation, which means that the wood shrinks and expands less when used outdoors.
Our thermally modified ash is a nature-friendly material as no chemicals are used and no waste is generated in the thermal modification
Read more about thermal modification
Our standard selection of QuickDeck thermo-ash decking products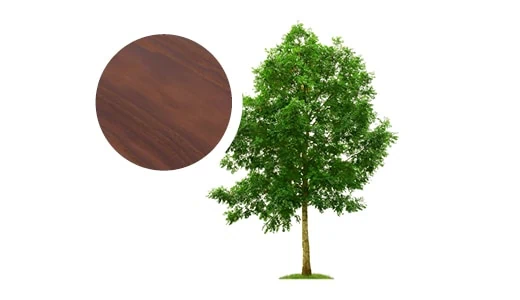 QuickDeck decking modules are made with Benchmark thermo-ash
Ash (Fraxinus excelsior or Fraxinus americana) is a deciduous tree of the Oleaceae family that grows in Europe and North America. Ash wood is valuable, durable and strong, and with its decorative look and attractive texture, it's the perfect material for walls and floor surfaces. Thermal modification gives ash exceptional durability and an exotic tone, making it an environmentally friendly alternative to tropical deciduous trees.

Contact us