Sauna on wheels
"For a long time, I'd been dreaming of a sauna on wheels that would bring the sauna community together in different places – at the lake, at parties, trade fairs, summer and winter festivals," says Peter Jančár (Woodmaster SK). Built in cooperation with the architectural firm Woven Studio, the sauna is covered with Thermory's thermowood and decorated with illustrations by Hedviga Gutierrez.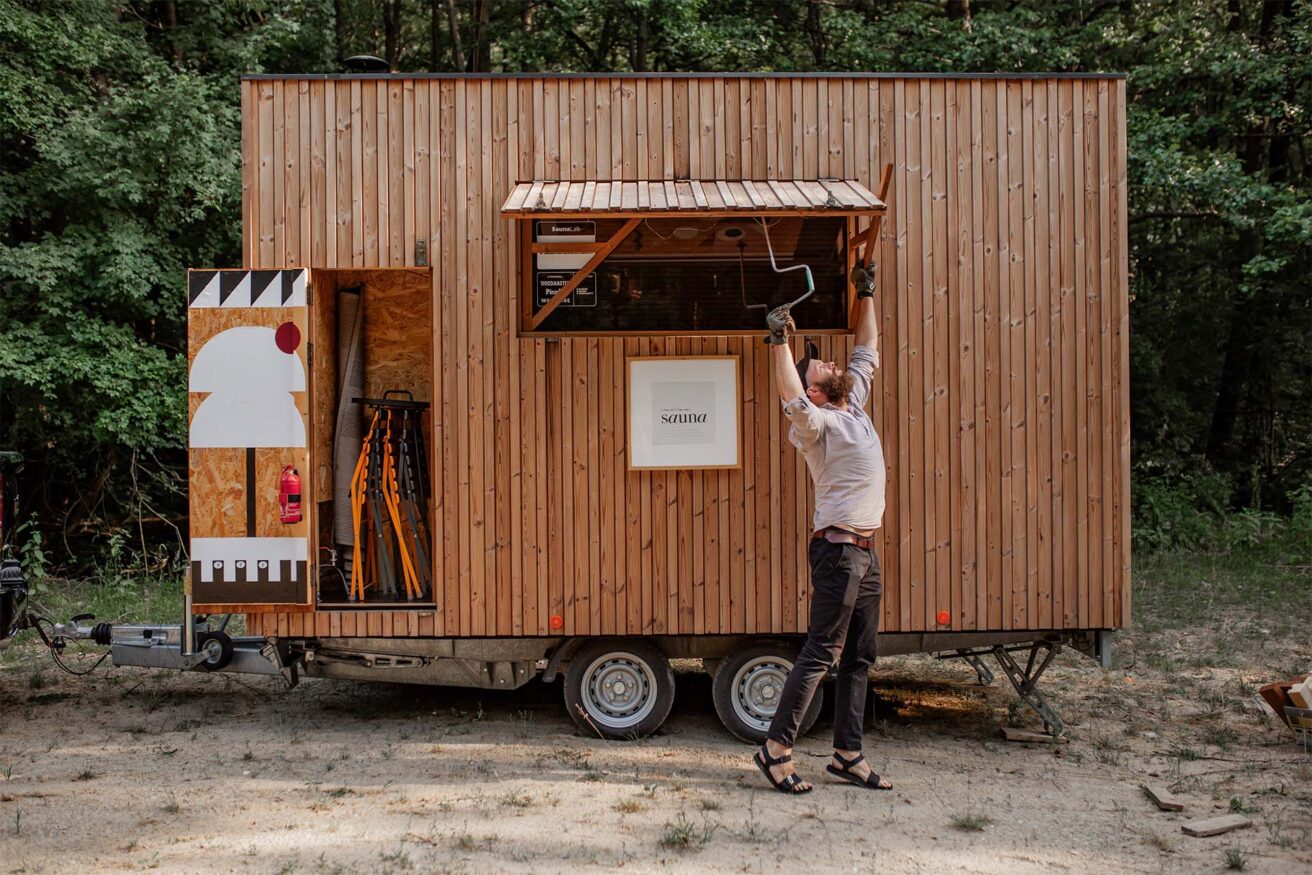 Product
THERMORY BENCHMARK THERMO-PINE, STP ALDER
Since the intention was to build a mobile sauna as a vehicle that could be attached to a trailer, the sauna was built on a trailer frame according to the requirements for vehicles. The small interior is purely for the steam room, whilst service areas such as cupboards and shelving and the bar can be accessed from the outside.
The sauna is like a minimalist block, with all the doors and openings discreetly hidden in the façade. Graphic illustrations on the inside of the cupboards turn the sauna into a work of art when you open them. The thermally modified pine cladding boards used in the exterior finish give the sauna a natural look and help the sauna blend into the natural environment. Thermal modification ensures the durability and dimensional stability of the cladding boards, which is essential in the demanding climate of Slovakia. As only heat and water vapour are used during thermal modification, wood treated in this way is an environmentally friendly alternative to chemical treatments.
In contrast to the external minimalism, there are no sharp angles in the steam room, and the sauna bench is designed with a flowing form. The bench boards made of natural aspen with a uniform texture cover both the sauna bench as well as the ceiling and part of the walls of the room. STP-profiled alder cladding boards have been chosen as the finish for the remaining walls. Alder is a sensible choice for saunas, as it is durable, water-repellent and does not get too hot.
The sauna on wheels offers the chance to find an exciting place to enjoy the sauna without compromising on comfort. This is an elegantly crafted, bold and inspiring project.
Products used in this project