Birch Le Collaboration House
Hygge Supply has created a black house in the woods near Lake Leelanau, Michigan, available for rent, as a way to champion sustainable architecture and design practices. Called Birch Le Collaboration House, the project features products that fell in line both aesthetically and ethically with the principles of the Hygge Supply brand, including thermally (instead of chemically), treated wood products from Thermory.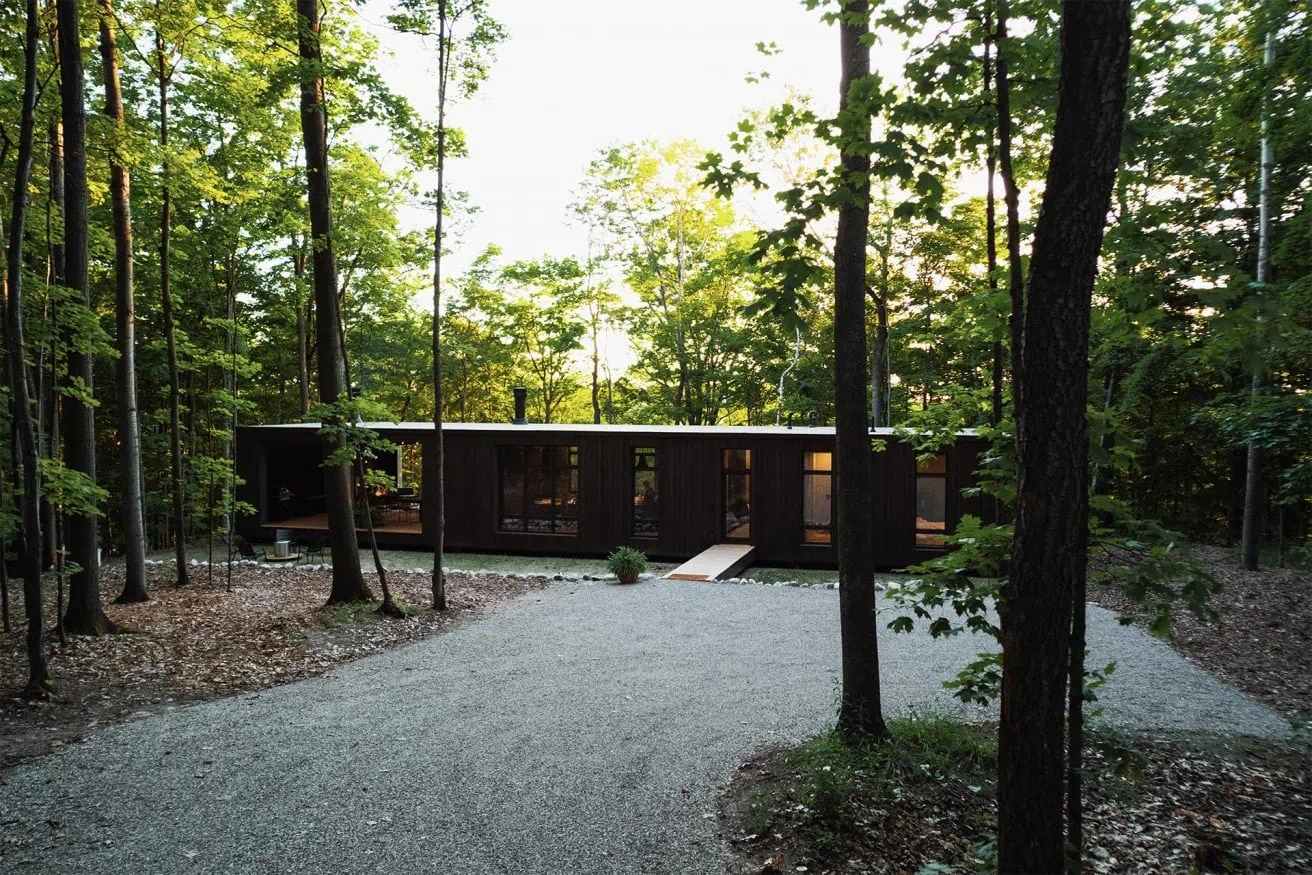 Product
KODIAK THERMO-SPRUCE
A modern kit home company, Hygge Supply is based nearby, in northern Michigan, and provides prefabricated house designs in a variety of sizes and floor plans with eco-friendly materials. Founded in 2016, the company is the brainchild of Kelly Sean Karcher, who came to the concept after discovering these similar design concepts coming out of Scandinavia.
For Birch Le Collaboration House, the home is rectangular with a flat roof and dark black Kodiak by Thermory cladding. Thermory is also used for the floors and decking. "This was our first time using the cladding for the exterior," says Hygge Supply's Karcher, noting they used Thermory flooring and decking products as well, as they do for all of their projects. "We now use the cladding as well, in each of our homes."
Thermory holds up well to Michigan's long, cold winters. Similar to Northern Europe, the state averages at -3 °C (27 °F) in the winter months. "We also like Thermory because its practices line up with our values," Karcher added. "The products are made from responsibly sourced wood which is treated without the use of chemicals. The process used to enhance the wood was innovative – using cutting-edge heat and steam technology." However, Thermory is not common in Michigan, but that added to the appeal for Hygge Supple: "We consider it a niche product, but that also was attractive while making some of these [design] decisions."
Like Thermory, each product was for Birch Le Collaboration House because of its innovation and sustainability. Steel framing and prefabricated structural insulated panels (SIPs) cut to spec left little-to-no waste on the job site and also allowed for a quick construction time. Floor-to-ceiling windows and sliding glass doors bring the lush outdoors in, particularly the surrounding trees.
A large covered porch on one far end of the residence has a fireplace, further embodying the concept of living in nature, and allows residents to be outside all year long. It has a large blue dining table and wood chairs, and an outdoor couch, coffee table, and chairs – all by French manufacturer Fermob. "It's an opportunity to unwind and connect to the environment around you," explained Karcher.
Inside, the home comprises two bedrooms with en-suites and built-in closets, and a central hallway with a built-in bunk bed, half bath, and plenty of cabinets (quality millwork and storage is a signature of Hygge Supply's designs, and done in-house). The rest of the interiors is outfitted with an open-plan kitchen, dining area, and living room, which accesses the covered porch. Much of the furniture is by Rove Concepts, including two sofas in matching pale fabric. All of the cabinets, including the kitchen island and bathroom vanities, are also designed in-house and covered in no-VOC powder coating, resulting in no harmful fumes. Kitchen cabinets are dark with dark green Durat countertops from Finland, made from recycled materials, and bathroom vanity tops are Durat as well.
Birch Le Collaboration House is available to rent on Airbnb, and the company has four upcoming rentals in Ohio as well. Aside from holiday properties, Hygge Supply also has designed permanent residences across Michigan, California, New York, and Ohio. All include Thermory cladding, flooring, and decking.
The kit-of-parts housing company stemmed from Karcher's The Modern Farmhouse, in Northport, MI, which he bought and renovated almost entirely on his own, and rented on Airbnb with much success. The result was Hygge Stay, a short-term rental management company. Karcher then bought and renovated another property, The Wayfarer Treehouse, to grow Hygge Stay's offerings. This second property has a prefab component, inspiring Karcher to build a new home, rather than renovate, resulting in the original Hygge Supply home. He received many inquiries after its completion, with a large interest in replicating the process for new clients quickly. Thus, Hygge Supply was born. The company is on a mission to champion sustainable practices and environmentally conscious materials through building houses efficiently and quickly, without compromising on quality or design.