Hit and not miss with new sauna products, tips and trends
For centuries, the sauna has been a place to relax and unwind, both physically and mentally. By choosing modern, trendy materials to build your sauna, you will be giving yourself a unique space that is not only enjoyable to be in, but also nice to look at.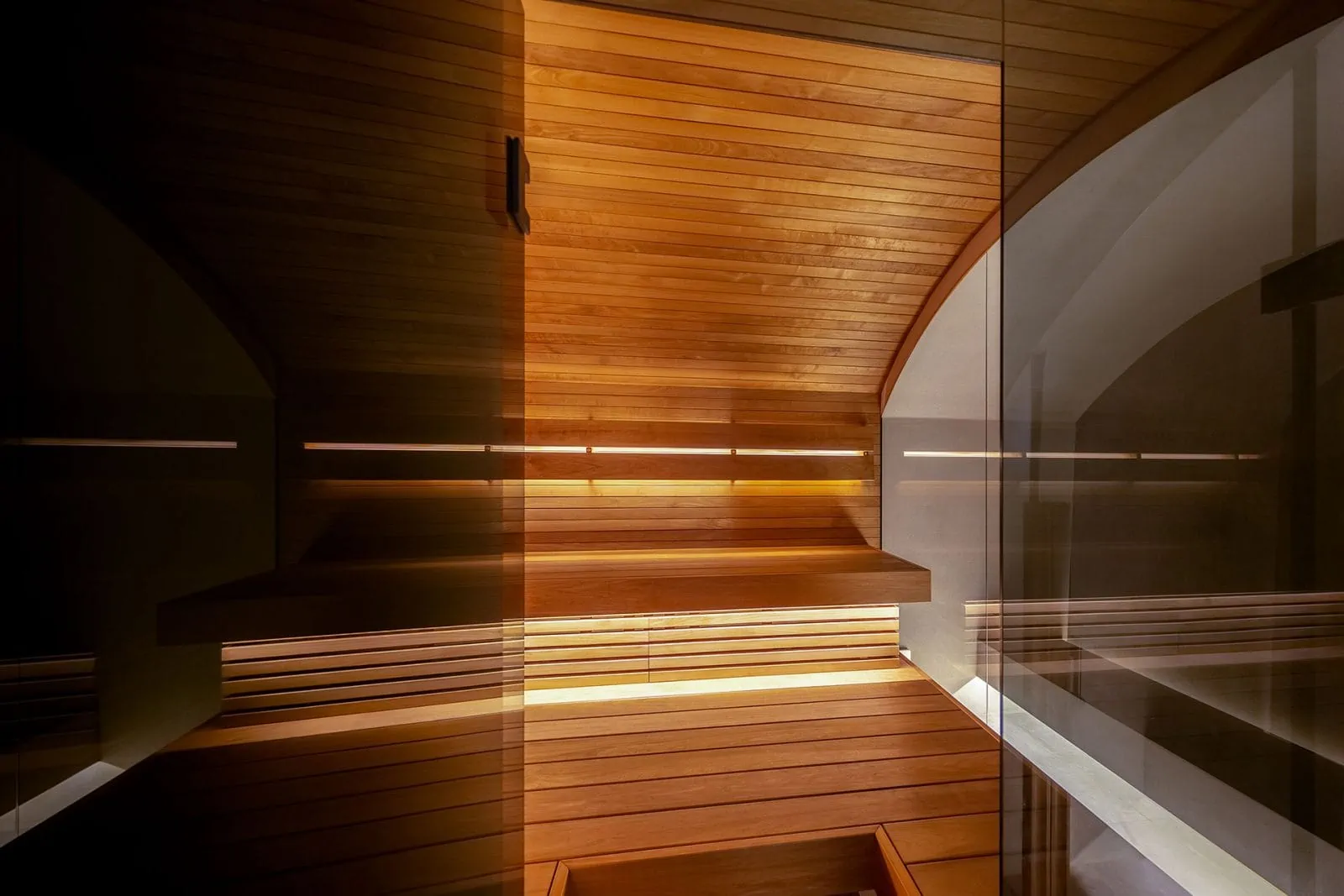 A wide range of timber to choose from, coupled with a selection of treatment and finishing options, means that everyone can create a stylish sauna that is unique to their home. In addition to aspen, alder and spruce, more exclusive options like magnolia, cedar and radiata pine are equally well suited to saunas, all of them unique and easy to distinguish from one another on a wall. Radiata pine is a knot-free type of timber with a lovely wavy pattern to its grain. Cedar and magnolia both catch your eye for seeming so 'alive' and are rather variegated. Every board made from these timbers has its own distinctive appearance. What makes them stand out more than anything else is their tonality. While thermally modified cedar is perfect for those who prefer a brighter sauna, magnolia is an ideal option for those who favour lower light.
Certain tenets apply to the materials you use for a sauna, and they should be followed for the best results. For example, for the bench, you should always use a type of timber that will neither overheat nor exude resin. The majority of sauna materials – aspen, alder, cedar, poplar and others – are suitable for the construction of benches as well.
Panels and boards ranging from elegantly narrow to luxuriously wide
Wider boards are on trend at the moment in saunas, since they help bring out the unique nature of the timber. As a result of chemical-free thermal modification, wood is more durable and its reactions to fluctuations in temperature and humidity are minimal. Lovely eye-catching value is the exotic darker tone. By combining wide boards with the stunning beauty and practical qualities of thermally modified timber, you can easily create an elegant and luxurious sauna atmosphere. Wide boards and panels are also more convenient to use than narrow ones, since there are fewer of them and they take less time to install.
An unbeatable range of wall panels to choose from depending on your preferred design

In addition to traditional rounded STP panel, sharp-edged STS sauna cladding board has grown in popularity among sauna lovers over the last four or five years. It is used a lot with exclusive timbers like magnolia and radiata pine, but STS will lend even classic choices like alder, aspen and thermo-aspen a surprisingly modern twist.

Graded wall panels and boards with a relief pattern have become more popular in the last 12 months as well, such as the STEP profile in Thermory product range. These panels add an exciting 3D effect to walls, and depending on the placement of lights can also produce an amazing play of light and shadow. These sorts of boards display the type of temperament and character that smoother, more traditional panels tend to hide.
A handy hint is to use products with matched tongue-and-groove ends, as they grant you an enormous number of options when it comes to design – since the boards come in three different lengths and in four different tones, you can create whatever pattern you like in your sauna. Panels with end matching are also a practical choice, since little or no material is left over when using them.
Thermally modified timber, brushed materials and patterned finishing offer endless design options for unique saunas
There are many ways of treating wood. In addition to chemical-free thermally modified timber, whose qualities are enhanced with heat and steam, wood grain can be highlighted by brushing it. Treating the timber in this way lends it a lovely rustic finish reminiscent of old wood.
One of the biggest hits in the world of saunas of late has been painted saunas, which are particularly popular in Scandinavia (although the trend is slowly spreading outwards from there). The most popular colours are white, grey and black which, being neutral, create a perfect base for the use of other materials and tones in the sauna. However, you can go one step further again: anyone interested in an even bolder design should take a look at the coloured products with pressed patterns now on offer.

A good example here are panels finished with black sauna wax which imitate yakisugi charred timber. By combining these with sauna benches made from lighter wood, you can create a striking contrast. A clever lighting solution along the edge of the ceiling or behind the backrest will help bring the pressed pattern that is characteristic of the product. The imitation of charred timber looks so real that you will be tempted to touch it, but we promise you won't be left with any soot on your fingers as a result. The product neither smears nor crumbles, either during installation or while enjoying the sauna.
Thermory's painted boards are treated using a Supi sauna protection product to which a white, grey or black tone (or another specially commissioned colour) is added. These boards can be safely and comfortably used straight away, since the client has no need to treat the timber themselves at home.
Let your imagination run wild and find your unique style by combining products

All sauna materials can be combined with one another – all you need is some imagination and a good eye for what will work. If you plan to use your sauna a lot and want it to look good for as long as possible, light-coloured benches and dark walls are perhaps not the most practical choice – light boards need more cleaning and care. A combination of darker benches and lighter panels, on the other hand, will look just as great and do not need as much looking after.
You can introduce materials to your sauna individually or group them together. For example, if you choose dark thermo-alder for the walls and a lighter aspen for the benches, you can also use aspen for the backrest, adding a touch of elegance and cohesion to the overall design of the sauna. The options are endless, so play with them – let your sauna reflect your creativity and character. Trust your instincts and the result will not only be beautiful, but just as unique as you are.
Lighter tones and horizontal boards are the best choice for small saunas

There isn't always room to spare in apartments for a luxuriously large sauna. Where there is limited space, you should bear in mind that light-coloured materials will make a sauna look bigger. Dark timber, conversely, will make it seem even smaller than it already is.
Also, board and panels should be installed horizontally in a confined space, not vertically. Doing so – especially when using a lighter tone of wood – will give the effect of widening and opening up the space. Vertical boards will make a small sauna seem narrower and taller. You should also avoid using overly wide boards in a small space, because their full beauty can only really be appreciated in a larger sauna.
Whereas in the past the sauna was simply a practical room in a house, people today are interested in making their saunas a modern, trendy oasis of relaxation and an eye-catching interior design element of their homes. Luckily for us, the choice of materials available today gives us plenty of opportunities to do just that.