Thermally modified red oak – exclusive hardwood with inherent beauty and sophistication
Thermally modified red oak is a premium hardwood species that is part of our Benchmark series. Attractive reddish-brown cladding is designed for those seeking nothing less than the best in quality and style.
Thermo red oak features the same superior durability as thermo-ash. Distinctive, delicate rays on the wood's surface create a unique and characteristic look, delivering real wood aesthetics and unrivalled charm that no other material can match. The red oak cladding gives the walls an elegant and timeless finish that will retain their noble appearance as the wood ages gracefully.
| | |
| --- | --- |
| Application: | Cladding |
| Species: | Thermally modified red oak |
| Modification level: | Intense |
| Use: | Exterior, interior |
| Durability class: | 1 (25+ years' protection against wood decay) |
| Finish: | Unoiled |
| Texture: | Smooth |
| Installation types: | Visible, hidden |
| Installation methods: | Screws, clips, PaCS Clad |
Knot-free cladding with the highest available durability class

KNOT FREE
An even, aesthetically pleasing look and feel

THERMALLY MODIFIED WOOD
Thermally modified wood is more durable with a lower moisture content

DURABILITY
Thermory's thermo-ash cladding has the highest available durability class

SUSTAINABLE
Wood sourced from sustainable forests with chemical-free modification
Why choose Benchmark thermally modified red oak cladding?
Our Benchmark thermo-wood cladding board series stands for simplicity and natural wood aesthetics. Heat-treated red oak is a unique and innovative addition to complement this product range.
Oak is a high-quality hardwood valued for its exceptional properties. Our thermal treatment enhances these qualities even more, assuring the first-class durability and dimensional stability of Thermory cladding and decking boards—the properties that are crucial in outdoor applications.
The attractive reddish-brown tint and natural surface checks make thermally modified red oak an appealing cladding and decking solution for those who cherish the inherent beauty of natural wood. Red oak cladding gives an exquisite and timeless finish to exterior walls, retaining the elegant look even as the wood ages. Exceptionally weather-resistant and durable, red oak decking boards are built to last
Thermory heat-treated red oak has the highest durability class and rot resistance for 25+ years.
Red oak ages beautifully. If left untreated, oak will eventually take on a silver-grey tone without losing its durability. Maintenance of your deck or cladding has never been easier.
Thermally modified red oak is suitable for both exterior and interior use.
Read more about thermal modification
Additional options for easy installation and a flawless finish

HIDDEN FIXING
An attractive finish with no visible screws

END-MATCHING
Reduces waste, saves expenses

EASY INSTALLATION
Ingeniously simple fixing methods
Our standard selection of Benchmark thermo red oak cladding products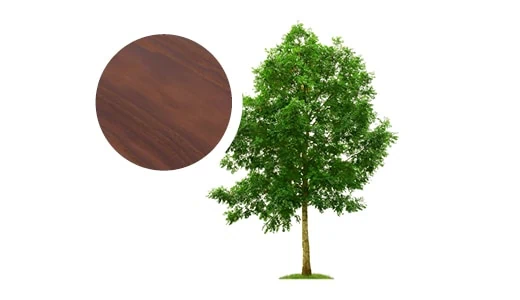 Red oak is characterised by beautiful, clear wood grain
Red oak (Quercus rubra) is native to North America. This abundant species is characterised by beautiful, clear wood grain and a slightly pink undertone. Distinctive and delicate open rays on the wood's surface enhance its natural beauty and create a unique and characteristic look that no other material can match.
Because of its density, strength and durability, red oak is widely used timber in North America. The tree has a straight trunk, fewer branches and low internal stress. The latter is particularly important since it ensures that even the long decking and cladding boards remain dimensionally stable and resistant to warping and cupping throughout the products' lifespan.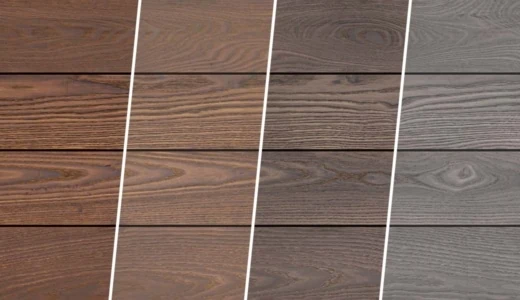 The color of the wood changes over time
Thermal modification gives red oak an exotic deep brown color. As with any wood, the surface of thermally modified red oak will fade to a natural silver-gray color over time. This process starts immediately after the products are installed and can take a few months to several years depending on how much UV light they're exposed to. The durability of the boards is not affected.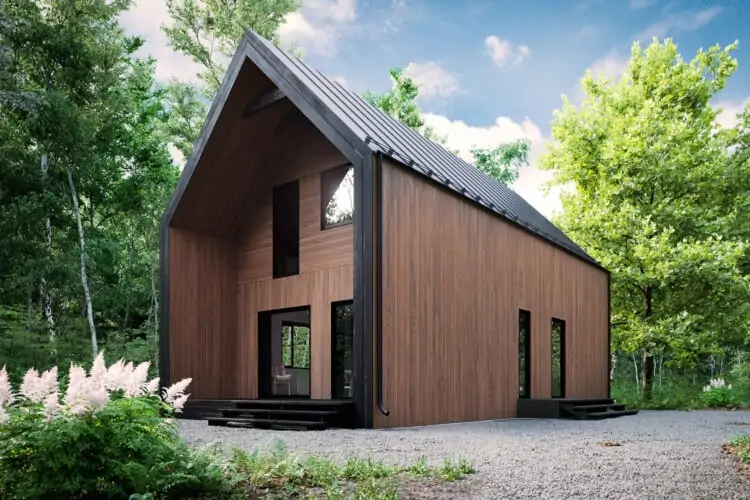 Wall cladding maintenance to oil or not to oil?
Thermally modified wall cladding does not necessarily require surface treatment. However, if you would like to preserve or change the tone of thermally modified wood, we recommend oiling the boards before installation using UV-resistant oil. The oil should be applied only to clean, level, dust-free surfaces. Before applying oil to the whole cladding, test it on a small piece of wood using a small quantity of oil. Observe the oil manufacturer's instructions.
Four recommendations for installing Benchmark cladding
To make your paneling last as long as possible, it's extremely important to use the correct installation techniques.
Choose PaCS Clad, B1-1, T6, Tiga or Dekora clip fastenings to create a façade without any visible screw holes or screws.
If you decide to use screws when fixing the cladding, we recommend pre-drilling the screw holes in the boards to avoid splitting the wood with the screws.
By choosing cladding boards with end-matching, you can minimize time, labor and material costs when installing boards of different lengths. With end-matching, the boards don't necessarily need to meet directly over a joist.
Download cladding installation guide

Contact us