Useful tips for sauna care and maintenance
All wooden surfaces in your sauna must be regularly cleaned and maintained to keep them looking fresh for many years. How should you proceed?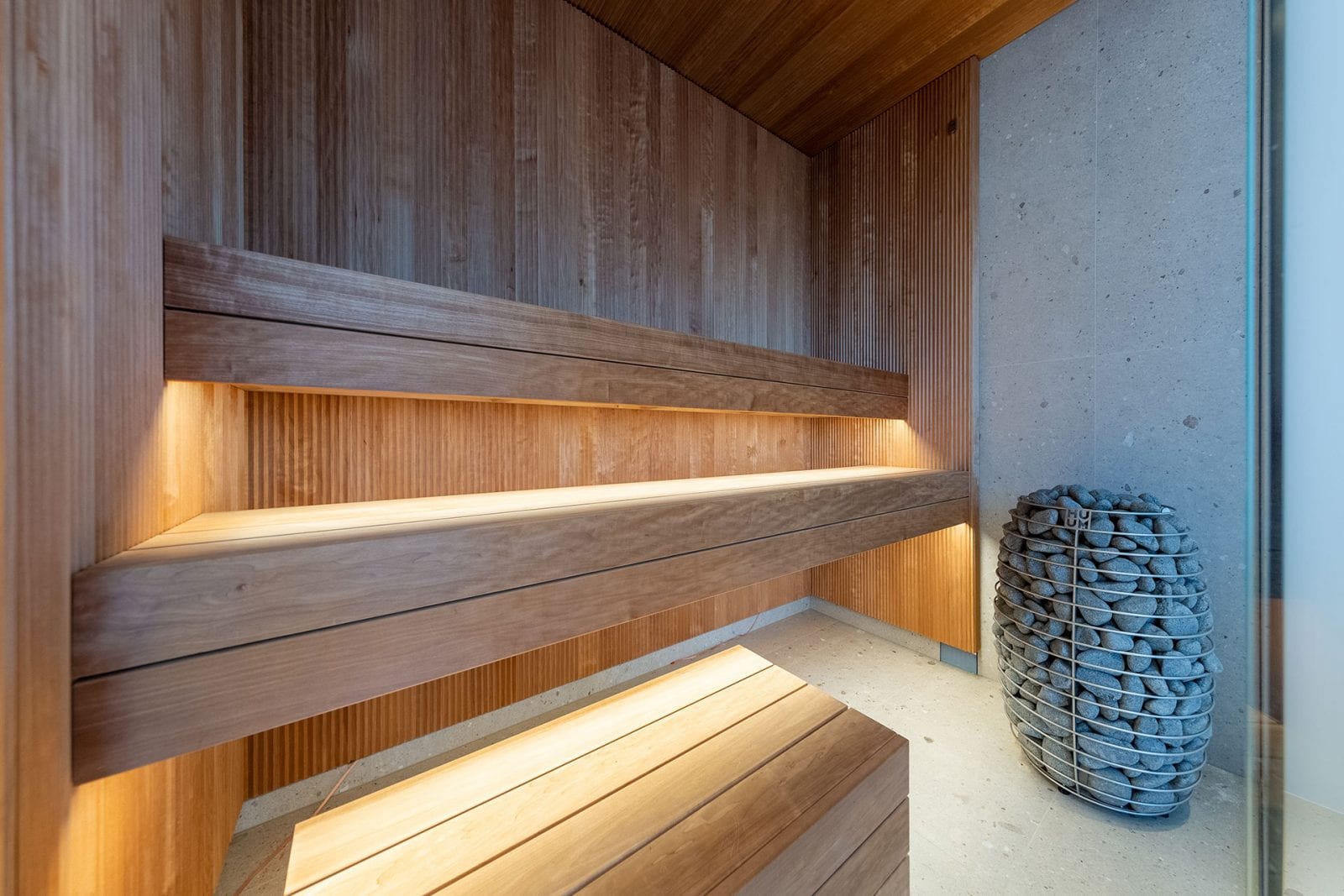 All sauna owners might not be aware that, as an organic material, the wood used in saunas requires regular care and maintenance. Temperature fluctuations may cause cracking or warping of the wood surface, and wood materials located in the parts of the sauna most exposed to heat vapours may also darken over time. As wood is a natural material, such changes are normal, considering the extreme changes in temperature and humidity occurring in a sauna over a short period. The risk of damage depends on the intensity of use of the sauna and the particular product – for example, changes are more visible in wider boards.
Maintenance requirements depend on the frequency of use
When building a new sauna, it is essential to protect wooden surfaces before using the sauna for the first time. Maintenance procedures should be repeated at least once a year, but if the sauna is used often, you should also treat the wood more often.
We recommend regular treating of all wooden components, elements and frames of the sauna with a breathable wood preservative to prolong the life of your sauna. Preservatives improve wood's resistance to dirt and moisture, making it easier to clean. As a bonus the appearance of wooden material is enhanced by such maintenance, acquiring a deeper and more vivid tone.
You should clean your sauna properly before proceeding with the refreshing maintenance. Wipe all wooden surfaces clean of dust – clean all seating surfaces, walls and ceilings using a soft brush or cloth. After that, clean the surfaces with a special cleaner and let them dry.
Disinfectants are not suitable for saunas
Use a special detergent, such as the Supi Saunapesu sauna cleaning agent, as domestic detergents are a little weak for this task. Be sure to follow the instructions on the detergent. Avoid using cleaning agents that are not suitable for wood, such as disinfectants. They could bleach the wood, causing irreversible damage to its surface.
Avoid using a pressure washer and flowing water when cleaning your sauna, since strong pressure and excessive moisture may permanently damage the structure and top surface of the wood.
You may sand the wood to remove stronger stains and dirt. To do this, moisten the wooden surface gently with water, let it dry and then polish it using a fine sandpaper. Sweep up the dust created and then treat the sanded surface with a wood preservative.
Wood needs dirt-repellent protection
Apply the protective substance longitudinally to the grain of the wood. Choose a special sauna finishing product, e.g. Tikkurila Supi Saunawax, for maintaining the walls and ceilings of your sauna – this is a moisture-resistant protective substance that can be tinted, containing mould-resistant additives and forming a thin water- and dirt-repellent protective layer on the wood. After that, treat all seating surfaces of your sauna bench with a preservative, e.g. Tikkurila Supi Laudesuoja. This is a colourless protective substance absorbed into the wooden surface and intended especially for use on bench boards. Do not use paints or varnishes in your sauna, as the wood must be able to breathe.
Check the fastenings of the benches and supports when maintaining your sauna. If necessary, re-tighten the screws that may have gotten loose over time, as wood is a living material and 'plays' under the influence of heat and moisture.
Sauna materials made of thermally modified wood
Thermory's assortment of wooden sauna products also includes a wide selection of thermally modified products. These luxurious details with an exotic appearance have been made of wood treated at high temperatures, for example, using alder or Radiata pine that is more porous but has a wonderful wood grain pattern.
Thermally modified wood has a characteristic scent that will weaken over time. Some like it, some do not. The scent can be diminished faster by simultaneously heating and airing the sauna over an extended period of time and treating the wood with a suitable wood oil or wood maintenance product.
Simple rules for using your sauna
Avoid heating the sauna over the maximum temperature specified by the heater manufacturer, as excessive heat could create a fire hazard or cause warping of the wood. It is recommended to leave the heater on for at least half an hour with the air vent open and the door and windows closed.
To make sauna maintenance easier, always follow these simple rules during and after using your sauna: throw water only on the heater, not on the walls or benches and do not wear wet swimsuits in the sauna, as water from these will damage the bench. We recommend using seat covers while enjoying your sauna to keep the bench fresh-looking – as a bonus they also make sitting on the hot wood more comfortable.
Clean the bench with a clean, moist cloth after each use. Do not use running water for cleaning the bench and make sure excess water does not pool on the wooden surfaces. Allow the surfaces to dry after cleaning the sauna and ensure good ventilation in the room. If possible, lift up the benches so they can dry better. It is not a good idea to dry things, particularly textiles, in the sauna as excessive moisture could damage the wooden surfaces.
By following these simple rules, you will noticeably extend your sauna's life so you can feel satisfied and relaxed in a room that will permanently stay clean and fresh.